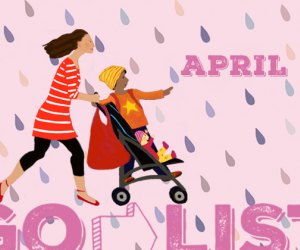 April GoList: Best Things To Do with Long Island Kids This Month
Congratulations. You're made it through March and all of the madness of winter. April begins our journey into spring and all of its majesty.
We on Long Island are blessed with four distinct seasons, and April, of course, begins the transition to warmer weather and outdoor activities. By the end of April's 30 days we will have experienced Easter Sunday, Passover, the return of leaves to our trees, and even baseball played on our Little League fields. (Reminder to tune up your lawn mower; by the end of the month you are sure to need it.)
We at Mommy Poppins are here to assist you in your march toward April. We've got the lowdown on Easter Bunny brunches and egg hunts, spring break fun, seasonal festivals, even the start of carnival season. When you see our lineup of special events, you'll hardly even remember we just exited the winter.
As always, if you are interested in an event, click through for information on dates, times, and addresses. And see our Long Island Spring Fun Guide for a detailed look at the best seasonal entertainment. For ideas that won't punish your pocketbook, take a look at our roundup of FREE things to do with kids on Long Island in April.
Lastly, don't forget to check our Long Island Events Calendar for more exciting family options as they develop throughout the month.

Enjoy egg hunts at Benner's Farm in East Setauket and all across the Island. Photo courtesy of Benner's Farm
Easter Fun — Islandwide
All month long
From Manhasset to Montauk, Long Island celebrates the great spring feast in style. Port Jefferson hosts its annual parade and egg hunt in the heart of its downtown. You can also enjoy Easter brunch at the Long Island Aquarium, the East Wind resort in Wading River, Library Cafe in Farmingdale, and more. See our guide to Easter brunches for more options. Benner's Farm in East Setauket and Pump It Up in Great Neck host grand egg hunts, and there's even an Easter Sunday roller skate at United Skates of America in Seaford.
Long Island's Got Talent — Stony Brook
Friday, April 5
Long Islanders ages 10-17 can showcase their musical skills at the Ward Melville Heritage Organization's annual talent competition. Performers must submit a registration form and an audition tape. Each of seven finalists will perform at a WMHO's summer concert on a Sunday evening in July or August. The final event is scheduled for October.
Chocolate Seder — New Hyde Park
Saturday, April 6
Temple Tikvah in New Hyde Park plans a special Passover celebration that includes a pizza and salad dinner, a seder designed around chocolate, and Havdalah, the religious ceremony that marks the end of the sabbath. According to the temple, Jewish youth groups have celebrated seder this way for generations.
Princess Tea Party — Ronkonkoma
Saturday, April 6
Dress up your little princess in her best royal attire and celebrate with Ballet Long Island. Enjoy a performance and photo-ops with some of her favorite princesses, then adjourn to the Princess Tea Room for tea, lemonade, cupcakes, and cookies.
Family Fishing Festival — Belmont Lake State Park, North Babylon
Saturday, April 6
Learn fly fishing in a kid-friendly seminar with experts from the New York State Department of Environmental Conservation. Prior to the clinic, Belmont Lake is stocked with nearly 4,000 trout, almost ensuring a catch for all participants. Kids can also participate in a Spring Fling casting contest for prizes. Fishing equipment is not required: Loaner rods and bait are available. FREE
RELATED: 100 things to do with Long Island kids before they grow up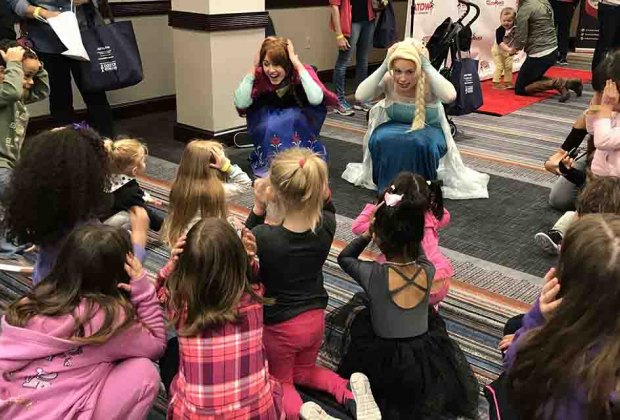 Join in the fun at the annual All Kids Fair at the Hilton Long Island. Bring a book for donation. Photo courtesy of the event
All Kids Fair — Melville
Sunday, April 7
Head to the Hilton Long Island for this celebration of children and teens, featuring more than 80 exhibitors, kids classes, magic shows, arts and crafts, and costume play. Also enjoy a petting zoo, face painting, a bounce house, photo booths, coding, and plenty more. Vendors showcase family products, including many for children with special needs. Visitors are asked to bring a book for donation to Long Island-based nonprofit The Book Fairies.
RELATED: Great rainy-day activities for Long Island kids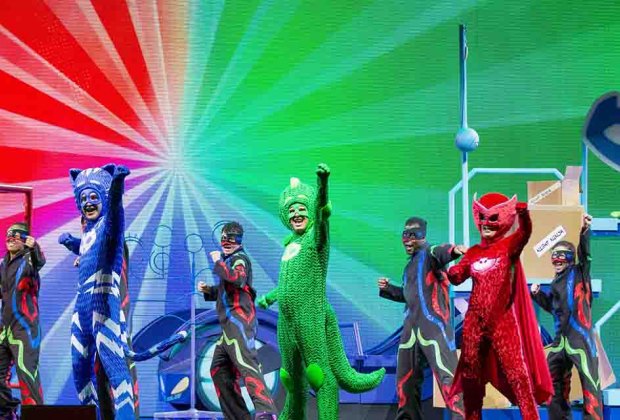 Can the PJ Masks heroes fend off their sneaky opposition? Find out at the NYCB Live Nassau Coliseum. Photo courtesy of the production
PJ Masks Live: Save the Day — NYCB Live Nassau Coliseum, Uniondale
Friday, April 12-Sunday, April 14
The heroic trio from the Disney Junior series of the same name return to the Coliseum with a leaping, flipping, and climbing musical performance. Watch as Catboy, Owlette, Gekko and new friend PJ Robot try to fend off sneaky villains Romeo, Night Ninja, and Luna Girl. There is a single performance on Friday night, three on Saturday the 13th, and another on Sunday the 14th.
Easter Parades and Egg Hunts — Islandwide
Beginning April 13
The weekend before Easter is the traditional start of egg hunts and other seasonal activities on Long Island. On Saturday, April 13, enjoy an Easter parade in Bellmore; and egg hunts at Belmont Lake State Park, Sagamore Hill National Historic Site, home of former President Theodore Roosevelt, and Heritage Park in Mount Sinai. On Easter weekend (April 20-21), enjoy a bunny breakfast at the Vanderbilt Museum in Centerport or an egg hunt at the Long Island Aquarium in Riverhead. On Easter Sunday, there's a delightful Easter bonnet parade and egg hunt in Port Jefferson Village and a popular egg hunt at the Cathedral of the Incarnation in Garden City. See our Events Calendar for more Easter weekend activities.
RELATED: The best parks and playgrounds on Long Island for kids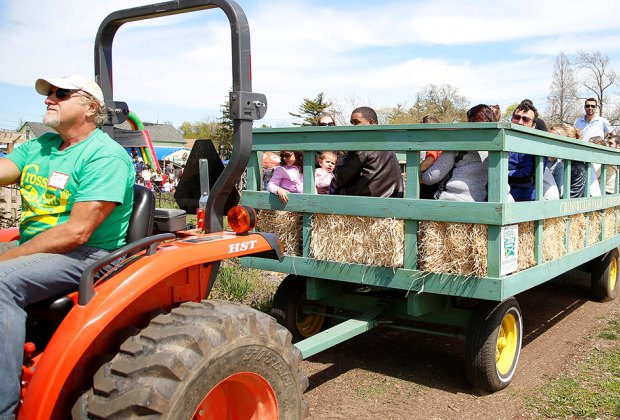 Thrill to a hayride at Crossroads Farm's Earth Day celebration. Photo courtesy of the farm
Earth Day Celebrations — Islandwide
Saturday, April 13; Saturday, April 27
Long Island pays tribute to the planet this month with several Earth Day celebrations. Part of the run-up to the Town of Huntington's annual Tulip Festival, Huntington Village's Earth Day Expo promises children opportunities to learn about the environment through recycling, green energy presentations, waste disposal education, and more. And, oh yes, there is entertainment: Kids will thrill to the touch a truck display, marine touch tank, and more. Meanwhile, Tackapausha Museum and Preserve promises nature walks, animal presentations, science activities, crafts, playground activities and more. Visit Crossroads Farm in Malverne on Saturday, April 27 for its season-opening Earth Day festival featuring a petting zoo, food trucks, live music, and more. Bring the kids to any of these events and teach them how valuable it can be to go green.
Sayville Spring Fest — Islandwide
Saturday, April 13
Expect a crowd— this welcome-to-spring event typically draws more than 5,000 to the sleepy village on Suffolk's south shore. Enjoy jugglers and stilt walkers, magicians, superheroes and princesses, face painting, a petting zoo, and scores of local vendors.
Spring Appreciation Day — Stony Brook
Saturday, April 13
Usher in the season, this time on Suffolk's north shore, with a ;petting zoo, balloon artists, dance performances, a market, and more. This Ward Melville Heritage Organization-sponsored event also features a student art show, dances performances, Bluegrass music, and more.
Spring Break Camps — Islandwide
Monday, April 22-Friday, April 26
Schools are closed on Long Island, but that doesn't mean the learning has to stop. From science and technology to nature and wildlife, history, sports, theater, and more, there's still time to enroll your child in a spring break camp. Hofstra University in Hempstead offers a variety of engaging full-day courses for kids in grades 2-12. Some camps even allow drop-in daily visitors should a weeklong commitment not fit your schedule. Perhaps you'd prefer merely visiting a Long Island science museum, animal farm, or nature center; either way, we've got you covered. See our spring break guide for great entertainment options with schools closed.
Arbor Day Festival — Oyster Bay
Saturday, April 27-Sunday, April 28
Enjoy a springtime celebration at Planting Fields Arboretum, featuring face painting, circus performers, caricaturists, comics, garden tours, a children's tree climb, live music, and more. Families enjoy FREE admission to Coe Hall.
National ParkRx Day — Fire Island
Sunday, April 28
Celebrate the majesty of America's national parks at Fire Island National Seashore. Take a one-mile nature discovery hike beginning at the Wilderness Visitor Center, located adjacent to Smith Point County Park at the south end of the William Floyd Parkway. The Otis Pike Fire Island High Dune Wilderness is the only federally designated wilderness area in New York State. FREE