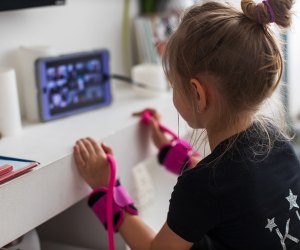 20+ Free Online Summer Camps in 2020
There seem to be new online summer camp options cropping up daily for the 2020 season, and we wanted to share some of the new offerings with you.
Although throughout our parental history the summer camp scramble always began in March (or even January!) and continued through May, by which time kids were enrolled and set for a summer of fun, things are naturally scramblier this year as many camps got off to a late start due to health concerns or just delayed reopenings as they figured out new safety precautions.
Now, in mid-July, we're seeing a host of new camps, especially FREE online summer camps from big-name corporations like Apple and Google, as well as top-notch nonprofit organizations, such as 4-H Club and UNICEF. So if you're nostalgic for camps of yore (i.e., last year), note that these FREE virtual camps are open to kids all over the US, from New York to Los Angeles, so kids in cities thousands of miles apart still have a chance to meet and connect with kids they might otherwise never have known—just like a sleepaway camp.
Remember you can also always find more camps, both virtual summer programs, and in-person, right in our Camp Directory or on Poppins@Home where we're constantly adding new online camps and classes, like fashion and sewing camps and Pokémon and Jedi-themed summer camps.
The secret sauce to devising your at-home summer camp in 2020 is that you can mix and match programs from multiple sources: spend an hour on a project devised by Apple, then switch over to a 4-H activity, or a cheerleading class. Throw in some dancing, art sessions, or Wiggling to keep kids alert and energized. There's never been a better time to try new things.
Ages 3-10
Weekly through August 15
Camp Tinkergarten's weekly camp programs are released each Friday after you sign up, providing fresh activities for the coming week. You also get lots of virtual support docs, including info on setting schedules for kids and creating play centers. The program culminates in an online "Great Camp Out/In," a Zoom meeting with other campers and parents to celebrate the end of the program.
RELATED: How to Make Backyard Summer Camp Fun (Free Schedule Template)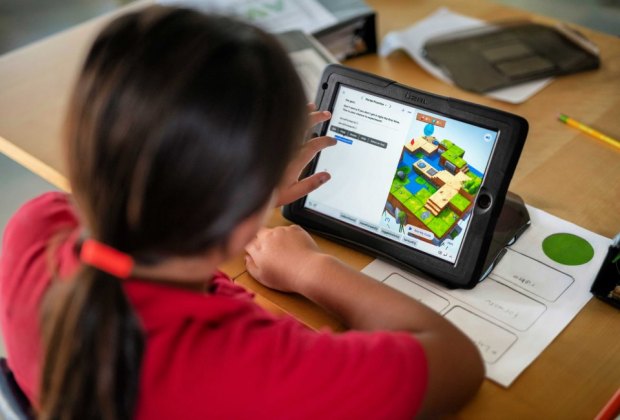 Apple makes coding as easy as Apple pie. Photo courtesy of Apple
Ages 8-12
Weekly sessions
Apple Camp takes place entirely online this year, but with live orientation sessions to kick off each project, and drop-in Q&A sessions to get help. Activity books and a project road map keep kids focused on activities that include building a helpful robot and designing a "happy" space.
Grades pre-K through 12
At your own pace
The 4-H Club's online summer camp offers kids a variety of fun learning activities in arts and crafts, STEM, and food and nutrition, as well as additional resources and gear to help campers continue growing and learning all summer long. The at-home activity guide provides 16 additional projects and activities to help keep kids focused and busy this summer.
Ages 4-18
At your own pace
In addition to some very reasonably priced virtual summer camp options, the Girl Scouts' website is packed with activities for all ages that can be molded into a summer camp experience. From creating banana boat snacks (pre-K) to creating an underwater museum (grades 11-12), the Girl Scouts have some fun ideas to share. And you don't have to be a Girl Scout (or a girl!) to join.
Ages 4-18
Weekly modules at your own pace
The New York Public Library offers families six weeks of virtual summer camp activities. Three times a week, videos with NYPL librarians and staff are available to help kids and their families learn about and complete projects. Each module is set up with ideas for three specific age groups, pre-K through grade 2, grades 3-5, and middle school and up. You can also opt for a downloadable Activity Packet for some ideas of projects you can do at home.
RELATED: Stay-at-Home Activities Guide for Kids: 100s of Things to Do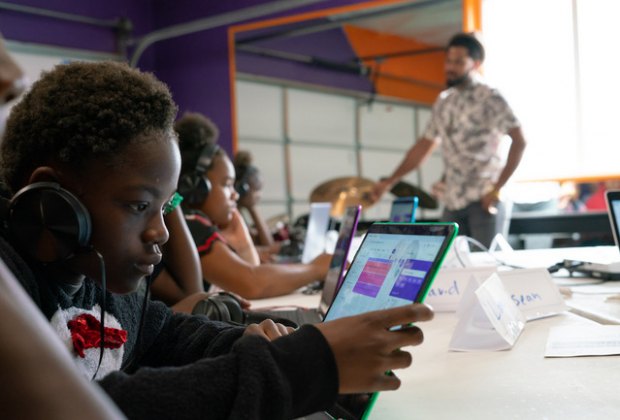 Turn the headphones up and make some noise! Photo courtesy of Department of Sound
Ages 6-18
Ongoing at your own pace
If your kids are into podcasts, Department of Sound is a great way to learn about the basics of music and podcast production. In partnership with Soundtrap, a Spotify Company, the self-paced program provides all the tools students need to learn everything from crafting their own songs to broadcasting their thoughts through the airwaves digitally.
Ages 2-7
Every Monday in July, parents who are signed up for the Khan Academy Kids app (available for smartphones, and tablets) will receive an email announcing the week's online summer camp themes and a self-paced schedule of suggested activities for reading, learning, and playing. The daily schedule includes 5 activities per day, but families can mix and match based on what works best for each child. Weekly themes include Water Week, Music and Movement Week, Animals and Nature Week, and Arts and Crafts Week.
Ages 8 and up
At your own pace
Older Khan Academy kids (and newbies) have their own free virtual camping site, with grade-level programs for grades 3-8 and special math programs in geometry, algebra 2, and pre-calc.
RELATED: 25 Water Games for Kids to Play Outside This Summer

Learn how to make a movie with Lego at Varsity Tutors. Photo courtesy Varsity Tutors
Ages 5-18
At your own pace
Looking for STEM? Ethics? Magic potions? Varsity Tutors provide a wide range of options so kids can crazy quilt their own special summer camp experiences, hopscotching from one interest to another. New online camps are added daily.
Grades pre-K through 12
Weekly, at your own pace
Wide Open School provides camp-like activities and learning support for kids in grades pre-K through 5 and 6 through 12, including plenty of emotional support options to get kids through the pandemic. It also provides printable worksheets to help with planning and scheduling.
Grades K-8
At your own pace
Camp Kinda sets campers up with 3-4 hours' worth of activities each day, all connected to a weekly theme. Options range from exploring the art of graphic novels to unlocking the mysteries of history, or jumping into the world's craziest sports.

Power up with UNICEF Kids. Photo courtesy UNICEF USA.
Ages 6-12
At your own pace
Camp@Home with UNICEF Kid Power features 75+ short videos (sports, crafts, cooking, campfire songs, and more) that inspire kids to "press play" on-screen, then "go play" off-screen. As kids have fun and learn new skills, they'll also make a global and local impact because the more they play, the more they unlock donations to help other kids.
Grades K-12
At your own pace; new programs daily
Why should Apple hog all the tech fun? Microsoft teams up with Smithsonian Museums to add a little natural history and regular history to the STEM stream. Participants in this online summer camp receive a "digital passport" and can collect digital badges when they complete a workshop—so they can document their summer learning journey with accomplishments as they "travel" through each theme.
Grades 9-11 (rising)
July 13-August 21, M-F, 10am-5pm
This online summer camp from NYC's School of Interactive Arts is one of the more substantial freebie offerings around this summer. It runs every weekday for the bulk of the summer and will school kids in programming with the aim of game design, but also entrepreneurship and other critical tech skills. It's open to all in 2020, but apply now!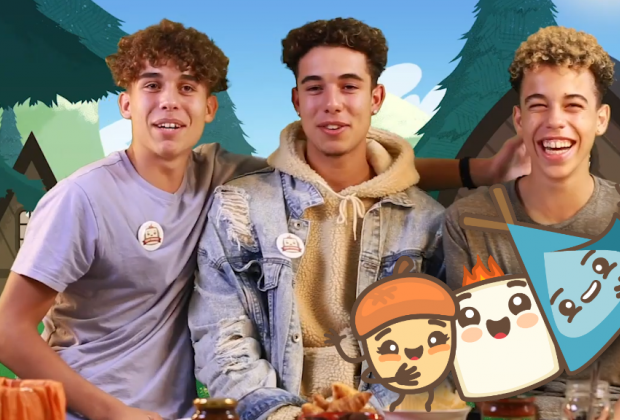 Hang out with new friends at Camp Bonkers. Photo courtesy Camp Bonkers
Ages 6-12
Mon/Wed/Fri at 4:30pm Eastern, 3:30pm Central, 1:30pm Pacific
Pack your bags, grab the sunscreen, and report to… YouTube!? Camp Bonkers is a new and irreverent digital twist on summer camp, offering kids a safe and creative space online in the comfort of their own homes. Campers can hang out with friends, play games, go on adventures, sing songs, make fun food, conduct a cool science experiment, and more. The thrice-weekly live programming continues on demand if you have to miss a session.
Ages 8-12
Monday, August 3 through Thursday, August 20
DMF Youth's free, three-week online summer camp focuses on dance styles and cultures from around the globe. The sessions explore the food, history and culture of various countries, while kids dance to the local music. Space is limited and registration is required.
All ages
At your own pace
Walmart and the experiential venue CAMP teamed together to create a celebrity-studded online summer camp for the 2020 season. Find all the activities, videos featuring the likes of LeBron James, Drew Barrymore, and Neil Patrick Harris, and how-to crafts on the Walmart app. New "shows" and activities are uploaded weekly.
Ages 3 and up
Sunday, July 12 through Friday, August 1
Crafting store Michaels is hosting a daily Zoom activity session for kids in the second half of July for its online summer camp offering. The sessions run for an hour at 3pm central and follow a daily theme, such as yarn or friendship. Free downloadable coloring pages are also available, and the store, of course, supplies materials lists.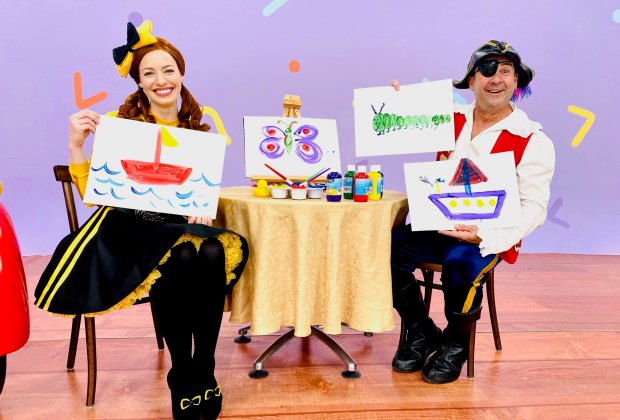 Emma and Captain Feathersword brush up on their painting skills. Photo courtesy The Wiggles
19. Virtual Camp with The Wiggles and Rascal + Friends
Ages 2-6
July 14-23
Emma Wiggle and Captain Feathersword host a camp program designed to entertain young fans with arts, crafts, singing, dancing, and prizes. The 20-minute sessions are scheduled to pop on the Wiggles' Facebook page and the Rascal + Friends Facebook page at noon Eastern time (11am Central, 9am Pacific) on July 14, 16, 21, and 23. Can't be there on the dot? No worries, the fun will be archived for access any time for the rest of the summer.
Ages 3-10
At your own pace
Molly Simms is cooking up virtual camp activities for kids with the folks at OshKosh B'Gosh, and the result is a curated list of summer fun activities parents can do with younger kids, or older kids can try on their own.
Ages 7-12
Weekly, at your own pace
No more slouching on the couch! A cool roster of excellent coaches (lots of Olympians, including Johnny Weir) team up under the auspices of a partnership between NBC and Chelsea Piers in NYC, and the result is an arena-full of videos designed to get kids up and breaking a sweat. Soccer, basketball, cardio, gymnastics, and sportsmanship all come in to play.
Ages 3-10
At your own pace
GoNoodle has a mass of great videos curated just for kids, but it does take a little parental patience, not to mention trial and error, to find a bunch just right for your kids. If you're looking for a yoga break in the middle of the camp day, Bunny Breath is pretty cute. Think of these as camp day interstitials, just a little fun break between coding and saving the world.
Grades K-12
At your own pace
YouTube has an online summer camp? Yes, yes it does, with video offerings that include STEM, sports, arts, and adventure programs, and a Bingo card kids can download to celebrate activities as they complete them. Videos are organized so that high schoolers can work unsupervised; kids under 13 will need adult assistance.
Ages 8-15
July 30-August 14, 2pm Eastern | 1pm Central | 11am Pacific
Rachael Ray's free 16-session cooking camp connects kids to celebrity chefs who demonstrate simple recipes, skills and techniques that will up kids' game in the cuisine. Parents are welcome to join in, and younger kids are also welcome.