East Village Family-Friendly Restaurants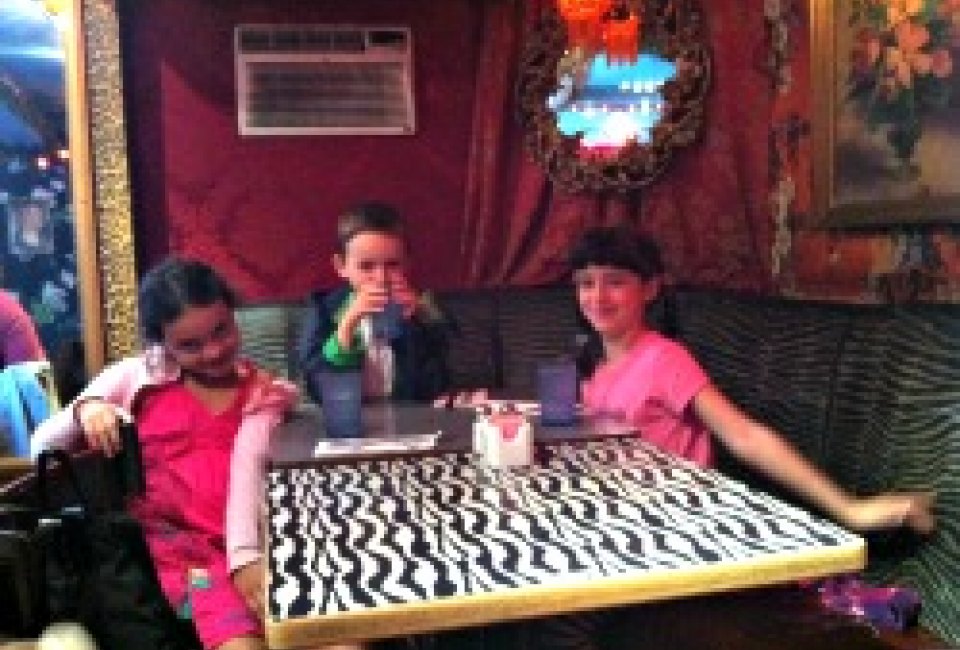 9/26/13
- By
Raven Snook
With almost as many restaurants as NYU students, the East Village offers a wide variety of places to eat. The big issue for parents is that many of the eateries aren't traditionally family-friendly. They're pricey with exotic dishes (by kid standards, anyway), and filled with black-clad twenty-somethings who roll their eyes at the very sight of a child.

But as long as you're not expecting high chairs or chicken fingers and fries, there are a lot of great East Village restaurants that welcome families, even though they're not the main clientele. My daughter and I spend a lot of time in the neighborhood and we're big fans of a lot of local eateries, both new and old. And when I say old, I mean it: Some of our top picks, like Indian Row, date back to my childhood. Others, like Yonah Schimmel, my 78-year-old mother remembers going to as a kid!

We finish up our month-long focus on the East Village with a roundup of our 15 favorite places to eat in the area with kids, most of which my family can vouch for personally. You can find more family dining posts in our NYC Kid-Friendly Restaurant Guide.
Veselka
144 Second Avenue at 9th Street
This 24-hour Ukrainian mainstay is my family's go-to comfort food spot. Chow down on carb-heavy Eastern European staples like pierogi, potato pancakes, blintzes and borscht under lively murals depicting an array of eccentric diners. Opened by Ukrainian immigrants back in 1954, it has a wonderful retro atmosphere—even the (at times gruff) servers seem to come from another era. The menu has more traditional diner food like burgers, sandwiches, salads and all-day breakfast. My daughter especially loves the milk shakes, egg creams and homemade pastries. Bonus: Waiters will give kids Wikki Sticks to play with if you ask.

Markburger
33 St. Mark's Place between Second and Third Avenues
Sliders, fries and shakes is pretty much all they do here, and they do them well. The mini burgers are just the right size for kids, and in addition to beef you can get turkey, veggie or pulled pork. The shakes come in traditional (vanilla, black and white) and exotic (pecan pie, candied bacon) flavors and the vibe is chill. An $8 lunch special gets you two sliders, fries and a soda. Beer and wine are also served, just in case you need some.

Little India
East 6th Street between First and Second Avenues
It's hard to choose just one eatery on East 6th Street's Indian Row. (And maybe you don't have to—there's an old joke about all of the restaurants sharing the same kitchen). While I'm sure foodies argue over which one is best, in my opinion, you come here more for the experience than the cuisine. Consequently, my family's favorites are Panna II and Milon, both festooned with Christmas lights year-round and located next to each other on the corner of 6th Street and First Avenue. Apparently, they have a long-standing rivalry and when you pass by, competing waiters try to entice you to come inside like carnival barkers. I really can't say which one's samosa, chicken tikka masala or naan tastes better—I'm usually too busy being hypnotized by thousands of twinkling lights.

Yonah Schimmel
137 East Houston Street between Forsyth and Eldridge Streets
A true taste of the old Jewish Lower East Side. Opened back in 1910, this bakery serves up piping hot knishes with a variety of fillings, from traditional (potato, cheese) to contemporary (jalapeno and cheddar, salmon and pizza). My mother used to go here as a child, then she took me. Now I take my daughter. While there's a smattering of tables here, it's a no-frills atmosphere. Better to get them to go and sit in a nearby playground or community garden in nice weather.

Katz's Delicatessen
205 East Houston Street at Ludlow Street
A few blocks west you'll find the street's other iconic Jewish eatery, which was immortalized in When Harry Met Sally. People come from all over the world to taste this spot's famous pastrami on rye, bagels with lox and cream cheese, and matzoh ball soup. Even though it's pretty much thought of as a tourist destination these days, you must take your kids at least once. It gives them a real taste of old NYC, both literally and figuratively.

S'mac
345 East 12th Street between First and Second Avenues
All this local chain serves is mac and cheese. Seriously, that's it. My daughter's head almost exploded when I told her that. Of course some of the combos are pretty offbeat, like the Parisienne (brie, figs, shiitake mushrooms and rosemary), La Mancha (Manchego cheese with fennel and onions) and the Napoletana (mozzarella, tomatoes, garlic and basil). My kid usually sticks to the simple all-American or cheeseburger options in the nosh size (the major much is huge), or we split a sampler. Note: The East Village location is super-small and always filled to capacity. Staking out a table is a sport here.

Momofuku Noodle Bar
171 First Avenue between 10th and 11th Streets
Another favorite kids' food group: noodles! Fill up on bowls of ramen piled high with a variety of meat and seasonal veggies. The noodle bar is also well known for its roast buns and family-style fried chicken, which includes two whole birds, one Southern style and the other Korean, plus mu shu pancakes, veggies and sauces.

Pie by the Pound
124 Fourth Avenue between 12th and 13th Streets
A pizzeria with a great gimmick: You can request the exact amount of pizza you want! That's right, the workers size it, slice it and weigh it, so if you buy too much, it's on you. Pie by the Pound has a sleek, Apple store-like design and a wide variety of combos and even gluten-free options. There are also board games to play while you wait/eat.

Yaffa Cafe
Unfortunately this restaurants closed in 2014 after 31 years in business
Whether you eat outside in the peaceful backyard or inside the tchotchke-filled dining area, you'll have a campy old time at Yaffa Cafe. Opened in 1983, the restaurant is delightfully kitschy with red velvet wallpaper, gilded lamps, zebra throw pillows, leopard wall hangings, mismatched furniture and portraits of old pop-culture icons. (That's my daughter and her pals in the pic above, waiting for their Yaffa brunch.) The menu seems to have been pared down in recent years but you can still find basics such as sandwiches, burgers and salads, plus finger food like chicken fingers and fries if that's what the kids insist on. Like Little India, a trip here is more about the decor than the dishes.

Crif Dogs
113 St Mark's Place between First Avenue and Avenue A
Need a quick meal on the go? Then Crif Dogs is the place to beat. Choose from a wide array of haute dogs from the plain New Yorker to snappier combos with ingredients like bacon, avocado, teriyaki, cream cheese and fried eggs, and then go eat in nearby Tompkins Square Park. If those franks sound too exotic for your child, there's a Papaya King just a few avenues west. I admit. My daughter and I have eaten there a few times since it opened this summer.

Max Brenner
841 Broadway between 13th and 14th Streets
A while back Anna wrote a post about throwing a last-minute birthday party for her daughter at Max Brenner. She sums up the experience pretty well! And although the spot is currently closed for renovations through early October, we hear it's merely a facelift. In addition to all kinds of chocolate, which is what Brenner "the bald man" is known for, there's real food, too, including a kids' secret chocolate menu organized into "yummy food" (mini burgers, mac and cheese, chicken fingers, peanut butter and banana sandwiches) and "too sweet to be true" desserts (chocolate pizza, chocolate burgers and a huge chocolate syringe, the contents of which your little sugar addicts can squirt into their mouths). The place is like the restaurant Willy Wonka would open: There are tubes of chocolate running throughout and the whole place smells delicious.
And for dessert...
Big Gay Ice Cream
125 East 7th Street between First Avenue and Avenue A
The beloved ice cream truck opened this brick-and-mortar parlor a few years back. It's truly a fabulous experience, from the sparkly unicorn wall mural to the exuberant servers (many of whom dress in drag) to the whimsically named treats including ice cream sandwiches, shakes and floats, and flavorful scoops covered with lots of toppings. There's nowhere to eat in the shop but there is a bench right outside.

Davey's Ice Cream
137 First Avenue between St. Mark's Place and 9th Street
I admit I haven't yet tried this artisanal parlor, which just opened earlier this month. But I've heard great things and I love the fact that you can watch the ice cream being made from scratch through the window. For now flavors are pretty basic (not necessarily a bad thing, most kids aren't into bacon or bourbon ice cream), and baked goods, floats, shakes are soon to come.

Veniero's Pasticceria and Caffe
342 East 11th Street between First and Second Avenues
It's all about sugar at this Italian bakery, which was established in 1894. Indulge in cakes (black forest, strawberry shortcake and multiple kinds of cheesecake), tiramisu, chocolate mousse, biscotti, cannoli and more in an old-world dining room with copper ceilings, marble floors and stained glass.

De Robertis Caffe
176 First Avenue at 11th Street
Unfortunately this sweet spot closed in December 2014 after 110 years!
Less than a block away lies the competition: another old-world Italian treatery opened in 1904. You'll find all of the same sweets and a worse for wear backroom. But this is where my family and I always stop to pick up a box of pignoli cookies before we head home.