Top 12 Food Trucks for NYC Kids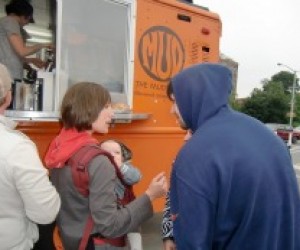 When my kids were little, they treated their strollers like rolling food carts. So now that they're big, I'm not surprised they're gaga for gourmet food trucks. No stale pretzels or hot dogs for them; they want high-end on-the-go eats, be it dumplings or desserts.

Getting grub from a food truck has many advantages. There's a huge selection of cuisines to choose from, often there's no wait (or a reasonably short one), and your kids don't have to worry about their table manners or using indoor voices.

The downside, of course, is that there aren't tables or bathrooms. But in the summer, many of them strategically park near green spaces, so you've got an instant picnic.

Here are my family's picks for the top twelve food trucks in New York City.
Wafels & Dinges
One of the first food trucks we started patronizing, this truck sells real Belgian "wafels" with dinges, a.k.a. toppings. Wafels are $5 a pop and come with one free topping. A second topping costs $1 and for $2, you can have all the toppings you want. Nutella with banana or strawberry are my kids' preferred combos. Other kid-favorites include maple syrup, whipped cream or spekuloos, a gingerbread spread. More adventurous palates can try savory options, ranging from vegetarian chili to pulled pork. See the full menu here.
Where to find it: There are multiple Wafels & Dinges carts, including two stationed in Central Park for the summer. The full-fledged truck has regular spots in Brooklyn and Manhattan. For the up-to-date schedule, follow Wafels & Dinges on Twitter or Facebook, or call 866-429-7329.
Red Hook Lobster Pound Truck
The Cadillac of food trucks, you'll pay $16 for its lobster rolls, which means you don't want to get addicted. But my kids love lobster, so this is a once-in-a-while, protein-packed treat. Whether we get it Maine-style (cold lobster with mayo, celery and lettuce) or Connecticut-style (warm lobster and butter), we usually buy one of each and share. The shrimp roll is also quite tasty, and at $9, more economical.
Where to find it: Despite the name, the truck tends to roam Manhattan. (Brooklynites can pick up the same food from the permanent storefront at 284 Van Brunt Street in Red Hook). For the most up-to-date schedule, follow the Red Hook Lobster Pound Truck on Twitter or Facebook.

Rickshaw Dumpling Truck
Dumplings are an easy-to-eat street food. We love the vegetarian edamame dumplings in a whole wheat wrapper, which cost $6 for an order of 6 and are less than 300 calories. The meat in the chicken and Thai basil dumplings is organic, but the dipping sauce may be too spicy for kids. Sides of noodles, salad and edamame are $3. See the full menu here.
Where to find it: The trucks usually roam Manhattan. One is parked at Central Park's Tavern on the Green building in summer. For the most up-to-date schedule, follow Rickshaw Truck on Twitter.
Taim Mobile
This truck serves falafel and Mediterranean salads. All of the options are vegetarian, and the falafel is gluten-free. Kids can get a side of six falafel and sauce for $3.50. At $5.75, the delicious falafel sandwich is a good deal, but a bit messy to eat on the go. Taim also makes interesting smoothies, like the date-lime-banana combo for $5.50. See the full menu here.
Where to find it: Usually roams Manhattan. Visit the website for the schedule.
The Mud Truck
Since it's known for its coffee, it may not seem like an obvious choice for children. But we've raised our kids on a diet of decaf skim lattes and artisanal hot chocolates, so this truck is a natural fit. The Mud Truck also has treats like croissants and muffins, and you get a discount if you buy a beverage and a pastry. And new parents take note: The caffeinated coffee is strong and rich—great for the sleep-deprived!
Where to find it: The Mud Truck is parked at Astor Place Monday through Friday 7am- 6pm, and Saturday and Sunday 10am-6pm.
Eddie's Pizza Truck
An offshoot of the popular New Hyde Park restaurant, the truck makes individual "bar pie" thin-crust pizzas ($7) that can easily feed a kid and parent. Upgrade to a whole-wheat crust for .50 cents or pay $1.50 more for fat-free cheese and sauce. Sixteen-inch pies and a variety of traditional toppings are also available. All of the pizzas are made to order and take about 10 minutes. See the full menu.
Where to find it: The truck roams Manhattan and Brooklyn. For an up-to-date schedule, follow Eddie's Pizza NY on or call 917-439-7522.
Mexicue
The Mexican-barbecue menu includes tacos, like the irresistible BBQ beet with goat cheese or smokey pinto beans. Meat eaters can try the $3 sliders, which come with brisket, pulled pork or chili. See the full menu.
Where to find it: The truck roams Manhattan on weekdays and hits Brooklyn on Saturdays. For an up-to-date schedule, follow Mexicue on Twitter or Facebook.


The Cinnamon Snail
This truck sells delicious organic vegan food so if you're looking for a healthy treat, you can't go wrong. The seasonal menu changes frequently, but expect things like a tofu breakfast burrito ($7), red bean scallion pancakes ($14) and raw pizza ($15). See the full menu here.
Where to find it: The truck currently only roams Hoboken, NJ, but the owners are hoping to bring their food to Brooklyn soon. Follow them on Twitter or Facebook for updates.
Coolhuas
At Coolhaus, kids get a lesson in sustainability along with their ice cream sandwiches. Cookies from Ovenly surround the homemade ice cream made from locally grown ingredients. Flavors run the gamut from kid-friendly peanut butter and root beer float to the decidedly grown-up wasabi, lychee martini, and balsamic fig and mascarpone. If your child has allergies, there are gluten-free options, as well as vegan ice cream and cookies. There's no waste at Coolhuas: Even the wrapper, which is made from potato, is edible.
Where to find it: The truck roams Manhattan. For the up-to-date schedule, follow Coolhaus on Twitter.
Van Leeuwen Artisan Ice Cream
The natural ice cream, made from hormone-free milk, is served in cones or compostable corn cups. My kids love the peppermint and chip, although we often get a double scoop of ginger with chocolate and share. The truck also sells delicious beverages, like coffee, hot chocolate and a decaf affogato: espresso poured over a cup of vanilla ice cream.
Where to find it: Van Leeuwen has three trucks. During the summer, "The Turtle" is at Central Park's Tavern on the Green building Monday through Sunday 8am-6pm. "The Panda" is parked near Madison Square Park Monday through Friday. "The Kangaroo" is at Fifth Avenue and 15th Street Monday through Friday, and in Soho on the weekends. Follow Van Leeuwen on Twitter for addition schedule updates.
The Big Gay Ice Cream Truck
This festive vehicle offers colorful toppings that range from kid-pleasing Trix to spicy options like cayenne pepper, wasabi pea dust and Siracha that might be best for mom and dad. You can't go wrong with the Belgian slipwich: vanilla ice cream, chocolate cookie and Nutella.
Where to find it: The truck usually hangs out around Union Square. Visit the website for an up-to-date schedule.
The Cupcake Stop
A pair of trucks offer mini-cupcakes that are perfect kids and weight-watching adults. Flavors include basic chocolate and vanilla, as well as more exotic options like sweet potato pie.
Where to find it: The trucks roam Manhattan and Park Slope, Brooklyn. For the up-to-date schedule, follow the Cupcake Stop on Twitter.

See more posts about eating in New York City.