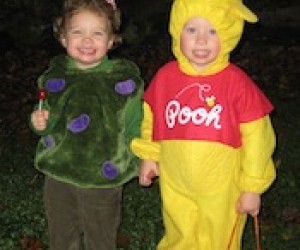 Best Places to Trick or Treat This Halloween in Litchfield County
Litchfield County is a beautiful place to live and play especially this time of year. The rural setting makes for a very pretty picture indeed. In many areas, that same rural setting might not be the most conducive for trick or treating if the next house is a mile away! We have to get creative and go where the candy is so we've rounded up a few options for you. For more Halloween fun and ideas check out our CT Halloween and Fall Fun Guide which includes places to trick or treat in other areas as well. Be sure to sign up for our weekly newsletter so that you can keep up with all of the fun events happening across Connecticut.
New Milford Parks and Rec organizes a "safe alternative" to trick or treating. Instead of trick or treating in your neighborhood people are asked to register their vehicles, decorate them and then park around the town green on Halloween night from 5:30-7:30. You can pass out candy as children "trunk or treat" from car to car. There will be a Zombie "Flash" Mob at 6:30. For more information call New Milford Parks and Rec at 860.355.6050. If there is heavy rain the event will be canceled.
The Town of Litchfield is one of the larger villages in Litchfield County with a beautiful green lined by fine restaurants, galleries and shops. The local school is right down the road and homes are quite close to one another, meaning lots of candy! In the past, thousands have gathered on Meadow Street while the firemen and police closed off the street to traffic. However, residents became overwhelmed and many shutter their homes for the night. That being said, it's still a nice place to wander on Halloween night but it might be better to stay closer to home if possible.
Roxbury is a darling historic village and the homeowners take Halloween seriously. On South Street you'll find creatively decorated homes as well as loads of children doing tricks for treats (or not). Some homeowners even put on their own mini haunted houses.
Kent For the Norman Rockwell trick or treating experience head to quaint Kent, CT. Businesses on Main Street get into the spirit with decorations and handing out candy. Children then walk over to Elizabeth Street for trick or treating from home to home. Don't miss the Thriller Flash Mob at 7pm on Main Street!
Danbury Fair Mall Put on your costume and from 4-6pm head over to the mall to trick or treat in participating stores. This option is guaranteed to bring in lots of loot and it's nice to be able to head over the food court for dinner afterwards. There's even a carousel and indoor playground to finish the night off with.
Torrington Trunk or Treat on Saturday, October 24th from 4-6 on Main Street. There will be a dj, games, hayrides, bouncy houses, and of course, loads of candy!
Originally published 10/4/11.