10 Food Trucks Your Kids Will Love in Fairfield County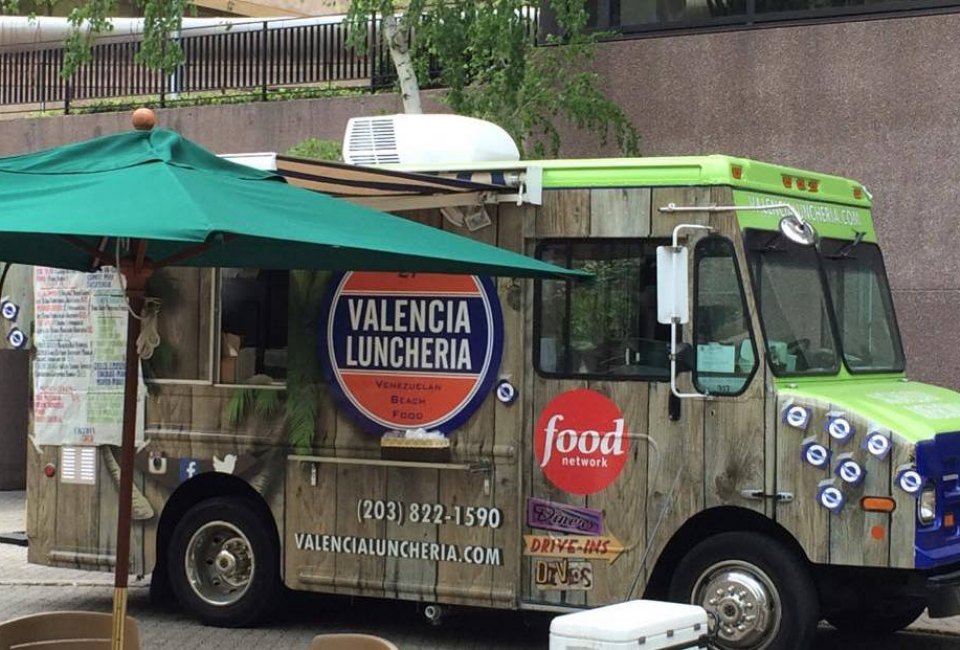 9/26/15
- By
Susan Isaak
Food trucks are all the rage and, luckily for us, they are popping up all over Fairfield County. You might have already spied one in a parking lot while running errands or saw a few trucks by your favorite farmer's market. Just because you're out with the kids doesn't mean you can't get in on the game! Kids like things with wheels and you like good food, so there's no reason to settle for the same old stuff when you're eating out.
There are a lot of great trucks out there, so we've rounded up a few that are sure to be a hit with kids and grown-ups alike. Check it out!
Top Tips Before Visiting a Food Truck:
Most trucks tweet or post their locations on their social media pages or website, so all you have to do to track down your craving is click a link.
Some food trucks are cash only, so be sure to have a few bucks on hand.
Most food trucks can be hired to come to your house and cater a party or event, a fun and unique way to feed your friends and family.
Check the weather (and Facebook!) before you go! Some food truck don't roll if bad weather is threatening.
Food trucks offer the chance to try different foods for not a lot of money, so next time you see one, stop what you're doing and try out delicious street eats!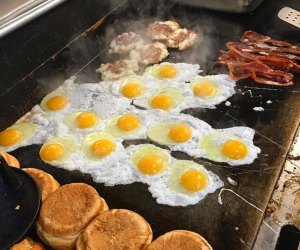 photo courtesy of The Tasty Yolk
The Tasty Yolk - Bridgeport
Nothing makes a morning happier than a hearty breakfast! And The Tasty Yolk has got award-winning, best of Connecticut and Top 100 in the America breakfast sandwiches. Don't want to wait in line for your favorite "Fatone" (breakfast burrito with eggs, fresh pico, and bacon topped with homemade hot sauce)? No worries. You can text the Tasty team your order in advance of pick up! Brilliant! Serving hot coffee, of course, and "grilled smashed potatoes." Prices at a reasonable $6-$7/sandwich. Find the truck in Bridgeport on Fairfield Ave. Tuesday through Thursday mornings, and in Bridgeport at 90 Acres Park Friday through Sunday mornings. Check their Facebook page for the most up-to-date information.
HAPA Food Truck - Stamford, Norwalk, (and Beyond)
The word "HAPA" is a noun which means to be of mixed racial heritage, with partial roots in Asian or Pacific Islander ancestry. So this is American street food with Asian influences... as shown in the yummy furikake fries, grass-fed and pork belly-topped HAPA burger and Korean short rib tacos, to start. Vegan options are available. Check the HAPA calendar for locations, but it's usually parked Thursday lunches at the Atlantic Street courtyard in Stamford; Friday lunches at 800 Connecticut Avenue (Priceline Building) and at The Beer Garden in Shippan in Stamford on weekend evenings.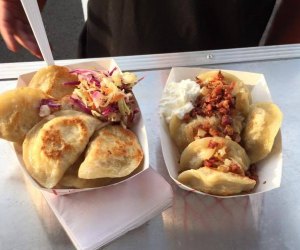 photo courtesy of Pierogies on Wheels
Pierogies on Wheels - Milford (and Beyond)
I love potatoes. Kids love potatoes! Pierogies are angel potatoes with sour cream! And every Tuesday and Thursday afternoon if you venture to the Post Road in Milford, you can enjoy these doughy Polish slices of heaven. Pierogies with all the toppings. Magda and her team hand-make them in three flavors: classic potato and cheese; pork-filled and vegetarian mushroom and sauerkraut. Prices start at $10.
Valencia Luncheria - Stamford (and Beyond)
The mobile version of this popular restaurant does not disappoint! They bring a well edited menu, consisting mainly of their empanadas and arepas, to parks and events throughout Fairfield County. Arepas and empanadas are handheld and easy to eat, and with prices starting at $3. It's easy on your wallet to take a chance and have your kids try something new. Valencia's food truck location and times vary, so check Facebook.
The Local Meatball - Locations Vary
This truck serves up delicious meatballs with a generous helping of the kind of jokes you might expect to go with the word "ball." Not to worry, I promise it's all pretty tame. "The Serious" is a classic Italian meatball based on the owner's grandmother's recipe, always on the menu. The other meatballs vary depending on the daily specials. You might find "The Jewels", a bacon cheeseburger meatball, the "Kick In Da", a spicy pork and cherry pepper meatball, or a chicken parm meatball called "The Fowl". It's $6 for 4 meatballs and $7 to have your meatballs on grinder with fresh mozzarella cheese. They are frequently on the rotation at Two Road Brewing Company parking lot in Stratford or check Facebook for locations and times.​
Rice and Beans CT - Danbury (and beyond)
Ah the oh so humble marriage of rice and beans... a perfect little heaven in a bowl! This Danbury-based food truck takes the flavor's of mama's kitchen seriously! Green rice (cilantro and poblano peppers) and black beans heaped with your choice of perfectly marinated chicken, steak or veg. The kiddos might squawk about the green glow of this fresh guac, but don't miss it! The flavors will have you salivating for a week!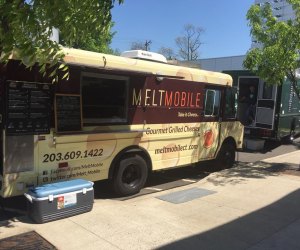 photo courtesy of Melt Mobile
Melt Mobile - Stamford, Norwalk, (and Beyond)
A gourmet grilled cheese truck? Yes, please! The Melt Mobile truck serves up some of the tastiest grilled cheese sandwiches in the county. Choices include the "Original Melt", a house blend of cheddar, gruyere and Monterey jack on country white, the "Svelte Melt" with low fat jarlsberg, turkey, tomatoes, and honey mustard on 7 grain bread, and the "Monte Cristo" with ham, turkey, and cheese on challah, dipped in French Toast batter then grilled and sprinkled with powdered sugar and served with mixed berry preserves. There's also something called the "Insane-wich" which is basically a bacon cheeseburger served between two grilled cheese sandwiches. I love their side of tomato soup since it's the perfect accompaniment to the Original Melt. Or just skip the savory and go straight to a dessert melt, like the Strawberry Supreme Melt! Prices range from $5 to $12. Check their Facebook page for locations and times.
Bounty Food Truck - New Canaan, Rowayton, (and Beyond)
Bounty's motto is "From the Farm to Our Truck to Your Belly." This gourmet burger truck grinds their own 100% grass-fed burger blend patties served with locally grown produce on top of a fresh baked brioche bun from Wave Hill Breads in Norwalk. This is an unforgettably amazing burger and, once you've tried it, you will probably think about it every time you are hungry. Prices start at $8 for "The Simple" to $12 for the "Bordelaise Burger" served with caramelized onions, gruyere cheese, malbec butter, and arugula. You get what you pay for here: a fantastic burger made with care using the highest quality ingredients. Find the truck summer Fridays at Rowayton Farmers' Market and Summer Saturdays for lunch at the New Canaan Farmers' Market. Complete events on their Facebook Page.
The Green Grunion - Danbury (and Beyond)
This Danbury-based food truck serves up "Mexican," sort of. Their claim to fame is San Diego-style burritos: a layered burrito where all the components are super-fresh and rolled up inside a lightly grilled tortilla. Instead of rice, you might get it "SoCal" style: with French fries rolled up inside! If you are lucky, you can catch the Green Grunion serving breakfast burritos: eggs, cheese, chorizo rolled with French fries inside tortilla. Prices range from $7.50-$9.50. The Green Grunion tends to park at Danbury's Kenosia Park during the day, which makes for a beautiful, burrito-eating backdrop. They are also on the Two Roads Brewing Company rotation in Stratford. Check their Twitter feed for the latest.
Skinny Pines - Westport (and Beyond)
Skinny Pines is a mobile, wood-fired, brick oven serving pizzas and "Wood Fired Eats" at farmers' markets and events throughout Fairfield County. They use locally sourced, seasonal ingredients to make some of the best pizzas you'll ever try. Their oven cooks everything between 750-900 degrees which means orders can be prepared and served pretty quickly, since it only takes a few minutes to cook a wood fired pizza. You can choose from a traditional cheese pizza with crushed tomato sauce and fresh mozzarella to the Bianca with olive oil, fresh rosemary, red onion, kalamata olives and mozzarella. I once had their Breakfast Pie topped with a farm fresh egg, Saugatuck Craft bacon and mozzarella and it was amazing. On the non-pizza side of things, they've been known to serve a veggie lasagna made with whole wheat noodles, local vegetables and cheese and a wood fired mac and cheese. The menu varies based on what ingredients are in season and nothing is really more than $10 or $12. In the summer find them Thursdays at the Westport Famers' Market and in the winter months on Saturdays at Gilbertie's Greenhouse. Check their Facebook page for other events.
After all this sampling you probably will have a foodie-to-be on your hands! Why not check out a Food Truck Festival? These events gather all kinds of trucks serving everything you can imagine in one location. Check out the complete summer and fall list of area food truck festivals in Connecticut.
Originally published 9/26/14. Updated June 2017