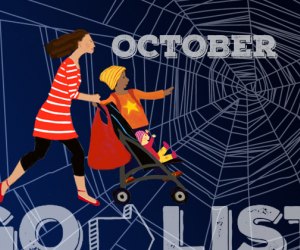 October GoList: Best Things To Do With Connecticut Kids This Month
Ah, October—one of the most beautiful months in Connecticut is also packed with fun events for families. Pumpkin patches, corn mazes, and apple picking orchards are all in full swing. Check out a Faerie Village, touch a truck (or sit in a cockpit), show off your costumes in a Halloween parade, or check out one of the many fall festivals happening across the state. Mommy Poppins' Fall Fun Guide offers up more ideas for harvest and farm activities, while our Halloween Guide is filled with both spooky and not-spooky-at-all events. Still craving more? Our event calendar includes even more great happenings all month long, and we're constantly adding things to do. Happy fall—and Halloween!
Wee Faerie Village at Florence Griswold Museum—Old Lyme
Now through Sunday, October 27
Visitors can explore over thirty hand-crafted, faerie-sized homes and marvel at the detail and craftsmanship as they visit prehistoric caves, pyramids, ancient temples, medieval cottages, and Victorian mansions throughout the Museum's 13-acre campus.
Lake Compounce Haunted Graveyard—Bristol
Now through November 2
The entire park will be transformed to frighten and delight guests, and the spine-chilling Haunted Graveyard will not disappoint! Some rides will be open too.
Nightmare on Wolcott Street—Waterbury
Now through October 27 This indoor haunted attraction that features chainsaws, creepy sounds, animatronics, live characters and much more in over 55 separate rooms! The blood and gore will leave you terrified!
The Haunted Graveyard is not for the faint of heart! Photo courtesy of Lake Compounce
Pumpkintown USA—East Hampton
Now through Monday, October 31
A non-scary fall event that the entire family will love! Visit Pumpkintown USA village and stroll through the different buildings in town. Grab some hot apple cider and enjoy.
CT Renaissance Faire—Lebanon
Now through Monday, October 14
Join in on the zombie dance and have your fortune told by skilled psychics. Visit the haunted photo booth and fight off zombies in the Zombie archery range. There will be fire and comedy shows and a medieval bazaar to shop in by moonlight.
Southington Apple Harvest Festival—Southington
Friday, October 4 - Sunday, October 13
The festival offers a wide variety of live music & entertainment, food, contests, crafts, children's activities, carnival rides and more. Also highlighted each year is our parade, an arts & crafts show and a spectacular evening fireworks display.
Nature's Art Village Pumpkin Place—Montville
Friday, October 4 - Sunday, October 27
Visit the Nature's Art Village for dino-mite food, fun, and family activities for all ages. Magical entertainment, themed trail hikes, food, and more.
Hatchlings—Norwalk
Saturday, October 5
Parents and young children are invited to a unique bonding experience, with activities, music, and live animal visits.
Outdoor Arts Festival at Bruce Museum—Greenwich
Saturday, October 5 - Sunday, October 6
More than 85 artists from all over the country gather on the Museum grounds to show and discuss their work. Art forms on display include paintings on canvas, board and paper, drawings, prints, mixed media, sculpture. There will also be demonstrations, family art activities, live music, and delicious food.
Earthplace Festival—Westport
Sunday, October 6
The family-friendly Earthplace Festival offers outdoor adventures for all ages. Activities include jumping into a corn pool, pine climb, natural obstacle course, apple slingshot, and much, more!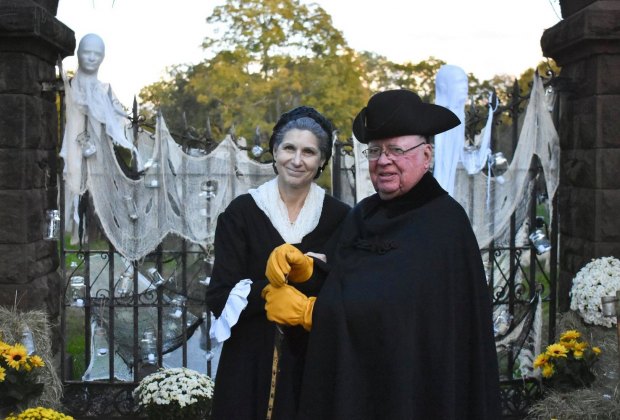 Spooky history awaits at the Spirits Alive Historic Hillside Cemetery Lantern Tour. Photo courtesy of Cheshire Historical Society
Spirits Alive Historic Lantern Tour—Cheshire
Friday, October 11 - Saturday, October 12
Guests will be guided by lantern along paths lit by more than 1,000 candles, stopping among the tombstones to hear eight firsthand accounts of Cheshire's dearly departed.
Touch a Truck and Open Cockpit Day—Windsor Locks
Saturday, October 12
A chance to sit in the cockpit of classic fighter planes, helicopters and other aircraft, try out a flight simulator and build and fly your own aircraft.
Garlic Festival—Bethlehem
Saturday, October 12 - Sunday, October 13
How to Grow Garlic Demonstrations, Live Carnival Rides, Ways to cook garlic, and tons of local garlicky food products during the 14th annual fair.
Warren Fall Festival—Warren
Saturday, October 12 - Sunday, October 13
Ride the 500ft Zip Line across Fiddler's Pond, enjoy the timber team & lumberjack demo, ride on the antique tractor pull, the Pumpkin Cannon, magic show, fire truck rides, and even a petting zoo.
Fall Festival & Scarecrow Competition—Cos Cob
Saturday, October 12
This year's Fall Festival at the Greenwich Historical Society will have a Caribbean flavor as they focus on a Carnival-ride through the Americas with Wild Coyote, along with a special family-friendly, tour of Bush-Holley House. Don't miss the popular Scarecrow Competition.
Fiesta Latina at Yale Peabody Museum—New Haven
Saturday, October 12
Enjoy performances of traditional and contemporary Latin American music and dance, along with games, a fossil dig, live animals, crafts, face painting, and other activities for the whole family.
Earth Science Week—Hartford
Tuesday, October 15 - Saturday, October 19
It's an Earth-themed week at the Connecticut Science Center, with activities focused around climate change, agriculture, technology, natural disasters, and more.
Spooky Nature Trail—Mystic
Saturday, October 18 - Sunday, October 19
Investigate the Nature Center trails on a self-guided tour past wild animals, Jack-o-lanterns and other frightful and delightful creatures. There will also be games and crafts.
Apple Harvest Festival—Glastonbury
Friday, October 18 - Sunday, October 20
The Glastonbury 'Applefest' is noted as the best and last of Connecticut's festival season! The well known festival features live music, 125+ craft booths, fabulous food, a pie eating contest, a pie bake-off, amusement rides, pony rides, and family entertainment.
New Pond Farm Harvest Festival—West Redding
Saturday, October 19
The day will include livestock encounters; horse-drawn wagon rides through the pasture, visits with the farm's own dairy cows and calves, and watching the sheep get their fall shearing. Plus more!
Run/Walk for the Penguins
—
Mystic
Saturday, October 19
Celebrate the 13th anniversary of Mystic Aquarium's annual Run/Walk for the Penguins. Participants enjoy light refreshments following the race and free general admission to Mystic Aquarium day of the event.
Putnam Great Pumpkin Festival—Putnam
Saturday, October 19
A town-wide celebration including food, music, contests, live music, crafts, art, children's activities and so much more. Enter in the scarecrow contest and show your creativity.
Tower Toot Festival at Heublein Tower—Simsbury
Saturday, October 19 - Sunday, October 20
Free tours of the Heublein Tower, built in 1914, will be offered. Bratwurst, hotdogs, and hamburgers will be for sale. There will be German music, too.
.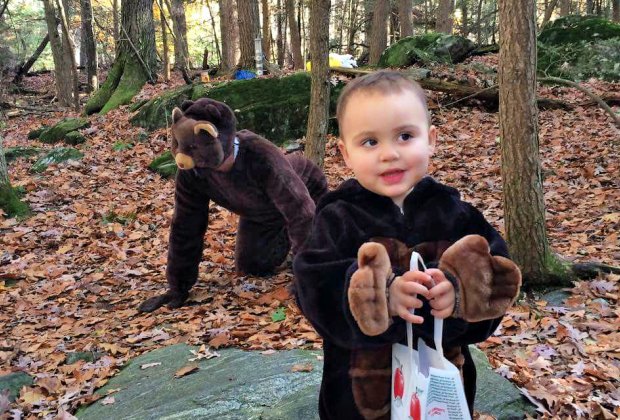 Meet some furry friends on the Trick-or-Treat walk at the Hobgoblin Fair at Roaring Brook Nature Center. Photo by Sylvie Goodworth
Hobgoblin Fair—Canton
Saturday, October 26
The Fair features the "Track-and-Treat" walk, children's crafts, cupcake decorating, face painting, a country kitchen of yummy homemade items, and a delicious lunch of homemade soup, bread and apple cider.
Kidzfest—Norwalk
Saturday, October 26
In addition to the gazillions of trucks, construction equipment and emergency vehicles, don't miss the helicopter as well as the face painting, mascots Batman and Spiderman, rides on the Roaming Railroad, dancing, music, and food and games.
Haunted Trails at Winding Trails—Farmington
Saturday, October 26
Enjoy a 15 minute haunted hay ride in the trails. There will also be Halloween crafts, games, pumpkins to carve, a movie and some light refreshments in Garmany Hall.
Imagine Nation Fall Harvest Festival—Bristol
Saturday, October 26
Imagine Nation's Fall Festival features an afternoon of family fun, with an interactive skeleton puzzle, pumpkin dissection, and more..
Collinsville Halloween Parade
—
Canton
Saturday, October 26
As dusk takes over the village of Collinsville, all ghosts, ghouls, and goblins and anyone else who venture in meet at the foot of the balcony at the Canton Historical Museum. Boosolini greets the crowd, the candy flows and the Halloween magic takes over.
Audubon Kids' Day—Sharon
Sunday, October 27
This fun-filled autumn family event features various nature crafts and games for young children. Besides games and crafts, there will be a small petting zoo and a hay bale maze constructed from of over 100 bales.
Boo at the Zoo—Bridgeport
Saturday, October 27
All children under 12 and in costume (accompanied by a paying adult) will get into the Zoo for free in this annual spooktacular afternoon that includes harvest hayrides and other seasonal fun.
Hoot and Howl at the Darien Nature Center—Darien
Sunday, October 27
This non-scary event includes a magic show, hayrides, refreshments, a fall hike, story telling, live animals, s'mores, and face painting.