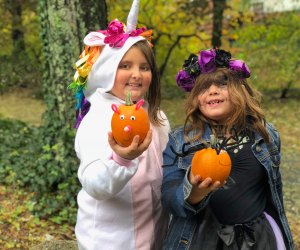 Best Halloween Events and Activities for Connecticut Kids
It's come to my attention that Connecticut sort of owns Halloween. Kids and families are never far from a spooky house or hayride, a costume parade, a pumpkin carving event, or a Halloween party. No need to wait all October for one night of pillowcase trick or treating and glow sticks! Read on for your ultimate guide to the good, the even better, and the totally terrifying across the entire state this Halloween season. Thankfully, many of these festive and spooky events are completely free, saving everyone more money for costumes and candy.
Be sure to browse our Connecticut Halloween Guide for more ideas for fun this holiday season, and check back with Mommy Poppins in early October for local posts about trunk or treat parties, parades, and more. Happy Halloween!