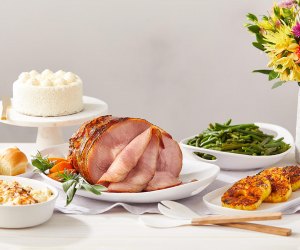 Easter Brunch and Dinner Takeout and Delivery Options in Connecticut
Your Easter or Passover table might not have as many family or friends as usual this year, but that doesn't mean your meal can't be festive. Plenty of restaurants are offering brunch and dinner takeout or delivery options, taking cooking off your plate for the holiday.
Most restaurants that are still open offer curbside takeout, and some offer delivery via Doordash, Dine-in, and UberEats. And a few are also able to provide their own delivery service, if you get your order in early; and some provide extra treats, like chocolate bunnies and peeps! Decorate the table with Easter crafts and dyed eggs, connect with loved ones via Zoom or FaceTime, and savor your holiday.
Easter Meal Takeout or Delivery around Fairfield
Stew Leonards—Norwalk & Danbury
In-store pickup
Easter dinner for four from Stew's starts at a reasonable $59.95 for tenderloin (cooked or oven-ready) with two sides and dessert. Or, you can choose from a multitude of other mouth-watering options, from turkey to lamb to pasta. Stew's staff can also put together flowers, stuffed bunnies, and other Easter goodies if you ask when you order.
Pearl at Longshore—Westport
Curbside pickup
Westport's Pearl is dishing up both Passover and Easter meals to go for a fee of $39 per person. Passover entrees include brisket, chicken and salmon; Easter entree options include ham, chicken, salmon, beef tenderloin, and eggplant parmesan. Desserts range from carrot cake to chocolate cream pie, cheesecake to tiramisu. Order by April 8 for Easter.
Gruel Britannia—Fairfield
Curbside pickup
Gruel Britannia offers lots of Easter dinner options, including roast beef, leg of lamb, and ham, as well as signature desserts like sticky toffee pudding. A dozen popovers costs $26. Order a la carte by Thursday, April 9 at 5pm for Easter.
Balducci's—Greenwich and Westport
Curbside pickup or delivery range from Greenwich to Milford along the coast, including Trumbull, New Canaan, Shelton and Redding
Balducci's offers holiday meal takeout and delivery for both Easter and Passover, with menus for every palette and a gorgeous selection of desserts, sides, and starters. The store is closed on Easter Sunday, so deliveries would be made on Saturday, April 11 for Easter. Bonus: Add some Easter chocolate to your order.
Match—Norwalk
Curbside pickup
In addition to its usual broad culinary options (apps, pizzas, salads, pasta, meats, and kid meals and desserts, like bake-at-home chocolate lava cakes) Match is working on some Easter specials as we go to press. Contact Match for details.
Riverview Bistro—Stratford
Curbside pickup
Stratford's Riverview is cooking up Easter Dinners that serve up to eight people (so... leftovers!) that include pasta, two entrees, carbs, veg, salad, and dessert. The price is $190, or you can up the ante with filet mignon for am additional fee. Place order by April 9 for curbside takeout on Saturday or Sunday, April 11-12.
Artisan—Southport
Curbside pickup or delivery by UberEats or Door Dash
Artisan's regular menu could easily be viewed as holiday worthy, and it has a very kid-friendly section with sliders, mac 'n cheese, and chicken tenders. Pick up a herb roasted salmon and/or a rotisserie chicken, a container of seasoned potatoes, and french beans, and Easter practically sorts itself.
Bernard's—Ridgefield
Curbside pickup
Bernard's elegant holiday menu includes all the classics: leg of lamb, grilled asparagus, lemon meringue tarts and more. Place your order by Friday, April 10, for pickup on Saturday or Sunday.
Hub & Spoke—Bridgeport
Curbside pickup
Hub & Spoke is whipping up its famous Easter Brunch. Yums include salad, deviled eggs, maple breakfast sausage, french toast bake, chocolate covered strawberries, quiche, turkey or ham, penne or tortellini, and bread pudding or apple cobbler. The deal serves 4-6 and costs $116. For an extra $24, you can order a mimosa or bloody mary kit to complete the brunchy glory. Place order by 8pm on April 9 for curbside takeout on April 11 from 4pm to 8pm.

Easter and Passover favorites are on the menu at Balducci's. Photo courtesy of Balducci's
Easter Meal Takeout or Delivery around New Haven
Tre Scalini—New Haven
Curbside pickup or Delivery via Door Dash
Tre Scalini creates to-go family-style meals every day but Mondays, in addition to their a la carte to-go menu, and for Easter, the restaurant is preparing a special to-go meal for families. The restaurant asks patrons order as early as possible (before April 10) by email, and include contact information and preferred pick-up time.
Roia—New Haven
Curbside pickup
Roia is closed on Easter Sunday, but it offers curbside takeout from 4pm to 7pm on April 11, with 24 hour advance orders. A family meal of roast chicken, including mashed potatoes and broccolini (feeds 2-4), is just $38. Pro tip: Order a pint of cacio e peppe sauce to use on pasta later.
Bridge House Restaurant—Milford
Curbside pickup
Bridge House is open from 11am to 6pm on Easter Sunday for curbside and pickup orders, with value pricing: purchase 4 dinners and save 5%; purchase 6 dinners and save 10%. Options include ham, lamb, meatloaf or chicken, and all include sides and apple pie.
La Luna—Branford
Curbside pickup or delivery through Door Dash or Uber Eats
La Luna's Easter platters ($35) serve 4 to 5 people and include potatoes, carrots, and a choice of meat (ham, leg of lamb, stuffed shrimp, baked salmon, chicket cutlet, or roast beef). Place your order before 2pm on Saturday, April 11, for pick up by 3pm Easter Sunday. Bottles of wine and beer are also available for purchase.
Anthony's of Guilford—Guilford
Curbside pickup
Anthony's has you covered with an $89.95 menu (feeds 4-6) that includes pasta, vegetables, salad, potatoes, meat (ham, pork roast or chicken), and a mini cannoli or fruit pie for dessert. Also included are Italian bread and a stuffed bread!
Easter Meal Takeout or Delivery around Hartford
Firebox Restaurant—Hartford
Curbside pickup
Firebox is packaging up Easter dinners for four for $120, packaged cold for reheating. The menu includes bourbon and brown sugar glazed ham, scalloped potatoes, Parker house rolls, and mini lemon tarts. Plus, you can add extras for future dining, like Firebox wings, the kitchen's signature meatballs, quiche, ready to bake cinnamon rolls, and even wine. Pick up is available between 10am and 1pm on Easter day.
Fleming's—West Hartford
Curbside pickup
Fleming's Easter options range from a $120 Family-of-Four menu to a $180 Family-of-Six menu, with select bottles of wine a la carte. You can also order from the full carry-out menu and the children's prix-fixe menu (mac 'n cheese or chicken tenders along with salad and dessert for $16 per child; filet mignon option is $20 per child).
Restaurant Bricco—West Hartford
Curbside pickup
In addition to its expansive and reasonably-priced regular curbside menu, Restaurant Bricco offers half-price bottles of wine (up to $100). Dig in to salmon or oven-roasted free-range chicken.
Treva—West Hartford
Curbside pickup or delivery via Dine-In
Not only can you order a spectacular Easter meal from Treva; the restaurant also makes it easy for you to donate a meal or more to local healthcare workers. The expansive pick up menu includes lamb chops, seafood, salads, and more.
River—Wethersfield
Pickup or delivery to Wethersfield, Rocky Hill, and sections of Glastonbury, Newington and Cromwell
While not specifically designated as "Easter" or Passover," festive food can be had quickly and at a moderate price from the River Restaurant, including prime rib, lobster ravioli, and bottles of wine.
Easter Meal Takeout or Delivery in East Connecticut
Water's Edge—Westbrook
Curbside pickup
Water's Edge has put together an Easter meal for up to six (leftovers are delicious, too), including an 8-pound ham and a 5-pound leg of lamb, lots of veggies, and carrot cake for dessert. It's pricey, at $229 plus tax, but yummy. Orders must be placed by Monday, April 6th. Pick up is Saturday, April 11 from 12pm to 4pm at the entrance to the Westbrook Ballroom.
Easter Meal Takeout or Delivery Across Connecticut
The Fresh Market—Avon, Guilford & Westport
In-store pickup or delivery via Instacart
While Easter might look a little different this year, Fresh Market boasts a variety of impressive entrées, including a standing rib roast, rack of lamb and spiral-sliced honey ham. The Market also offers a range of traditional and unique ready-made sides, plus basket-stuffers and lots of dessert options. Its Easter meal for four (ham, green beans, scalloped potatoes, pineapple rings, rolls, and brownies are all included) is just $34.95. Date-specific delivery has been tricky, in our experience, but might be worth a try.