Connecticut Beaches with Playgrounds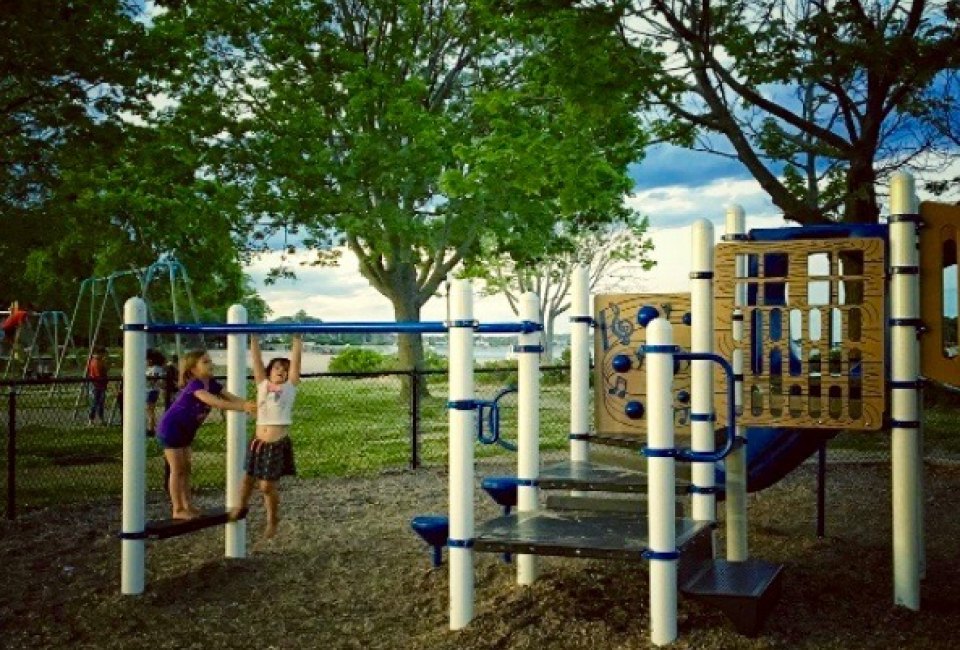 8/19/17
- By
Brandee Gilmore
When you have young children, the beach can seem like more trouble than it's worth—the swim diapers, the water wings, the picnic lunch, the blankets, the towels, the sand everywhere. But throw in a beachside playground, and suddenly you're more willing to make a go of it. There are several spots in Connecticut, be it Fairfield County, New Haven County or out East, where kids can enjoy the best of land and sea together, with a playground plunked down near the water's edge. For more info on CT Beaches check out our CT Beach and Water Fun Guide.
West Beach - Stamford
Jesse Lewis' playground honors the sweet, Sandy Hook first grader who left the words, "Nurturing, Healing, Love" as his legacy. Its presence has elevated West Beach's status for young families.
Cove Island Park - Stamford
This park reminds me of that Seurat painting with everyone just enjoying the day, doing what they love. Yes, there are playgrounds, and it also features a one-mile loop around an open grassy space, perfect for flying kites. Permits are required May 1 through September 30.
Calf Pasture Beach - Norwalk
Calf Pasture sprawls and sprawls, with something for everyone, including your littles. Passes are available at the beach.
Compo Beach - Westport
Compo is idyllic, and so, so easy—the expansive playground is just steps from the shore. The beach is open year-round. Permits are required May 1 through September 30, 2015.
Jennings Beach - Fairfield
Sandcastle playground sits across the massive parking lot from the beach, but is connected by a roped-off walkway. You can really make a day of things here, with the excellent concession stand halfway between the two. Beach stickers required Memorial Day Saturday to Labor Day.
Seaside Park - Bridgeport
Josephine Gay's playground was inspired by one of the seven-year-old girls lost on 12-14-12. The playscape is her favorite color -- royal purple -- and was built with sorrow and sweat by local first responders and community volunteers. Her parents say it is the perfect tribute, full of joy and fun, just like she was.
Short Beach - Stratford
Ahoy matey! Stratford's pirate-ship themed playscape sits right on the sand, with volleyball courts, bathrooms, outdoor shower and a concession stand. While you visit, you can play tennis or take the kids for a round of par 3 golf on the Short Beach Golf Course. Beach Stickers allow access to Stratford's more wild coastal barrier Long Beach as well.
Sea Bluff Beach - West Haven
This playground celebrates the life of animal lover and Sandy Hook student Charlotte Bacon. This vision in pinks and purples is situated just south of the long stretch of shore that is Bradley Point Beach. Nonresident parking is at Bradley Point.
Lighthouse Point Park - New Haven
OK, technically there's no playground. But there's a carousel, which earns mad nostalgia points, plus a splash pad and concessions. Score!
Jacob's Beach - Guilford
In addition to the beach and playground, there's a boat rack and picnic areas.
Clinton Town Beach - Clinton
Away from the bustle of Hammonassett, this little town beach feels secluded and quiet. With a play structure right on the sand and a splash pad, you can make a day of it. Bring a picnic and enjoy a day out far from the crowds.
Harvey's Beach - Old Saybrook
This one is small and out of the way, but great if you're on a day trip with young children. The swings are close to the shore, but the parking lot is relatively small, so get here early. Even more critical: check the tide table in advance. This beach is perfection at low tide, but a postage stamp at high tide.
Ocean Beach Park - New London
This is one of the most popular beaches in all of New England. It's a bit like the best of the Jersey Shore, with its 1/2-mile beach boardwalk, Olympic-size pool, splash pad park, mini-golf, arcade, and playgrounds, of course. You'd be hard-pressed to find a better deal. Mini-golf is an additional $7 per day per person. Splash pads are free.
Eastern Point Beach - Groton
You may come for the playground, but you will stay for the chill vibe of this Groton town beach, with affordable concessions, shallow water and beautiful views. Be sure to mention if you are military personnel for a comped entry.
Photo courtesy of Ally Noel.
Originally published 8/19/15.