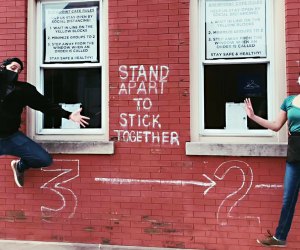 Local Businesses in the Chicago-Area to Support During the Pandemic
Chicago-area families are starting to miss their favorite stores and restaurants right now, and with at least two and a half more weeks left in the stay-at-home order, many local businesses are missing their customers, too. We've already listed lots of small, local toy stores and bookstores delivering to locals, and by now, you may have enjoyed Mother's Day brunch for pick up or delivery from one of our local picks too. Many of these local restaurants are catering to families every day.
Lots of other local businesses in Chicago still need a boost. We've rounded up 19 small businesses working hard to keep their doors open, while also helping to support our community, and we're hoping you can lend your support in return. Remember: It's best to order directly from the small businesses rather than a third-party delivery service whenever possible. Purchasing gift cards to use later is another great way to shop small and help these local businesses thrive now and in the future.
And while you're showing your support for the businesses you love, we hope you'll count Mommy Poppins and our small business partners among them. You can support Mommy Poppins by sharing articles you find useful with friends or on your social media channels, checking out our directory of virtual classes, camps, and birthday parties and telling businesses you found them through Mommy Poppins. Also, as part of our effort to keep our local parent writers and this website afloat and support some of our favorite family businesses, we've created Poppins@Home, a platform for small businesses to share free and low-cost online classes and birthday parties with kids all over the country. Please consider trying a few of these fun, affordable, and creative classes—and spreading the word among your friends—as yet another way to support, uplift, and get through these challenging times together!

Fifi's Bridal and Custom Tailoring has shifted from making wedding gowns to face masks. Photo courtesy of the author
Chicago-Area Clothing Retailers Selling Masks & More
Threadless – North Side
Cute and punny T-shirts have been a staple at this clothing company, which caters to kids and adults, but now Threadless is also making masks. The company is putting some of its favorite artist-inspired designs on the faces of social-distancing Chicagoans.
Fifi's Bridal and Custom Tailoring – West Suburbs
This bridal tailor has donated hundreds of masks to health care workers and is also making them for sale for kids and grown-ups alike. The tailor hopes these efforts keep it afloat through the end of the pandemic, and when the wedding season emerges, it can return to making flower girl and wedding dresses.
Jermikko/Swap-Out Hoodie – South Side
The designers of the fun, ever-changing, zip-apart hoodie received a contract from the city to make some of the million masks being distributed to the most disproportionately impacted parts of the city. Parents can support these efforts by placing an order for the line's regular apparel on the brand's website.
Naperville Running Company – West Suburbs
Even if Mayor Lori Lightfoot has shut down the Lakefront Trail, runners are still making loops around their neighborhoods. After all those miles, new shoes may be in order, and Naperville Running Company offers curbside pickup or delivery within 13.1 miles of its downtown Naperville, south Naperville, and Wheaton stores.
RELATED: Best Virtual Events to Enjoy Online This Week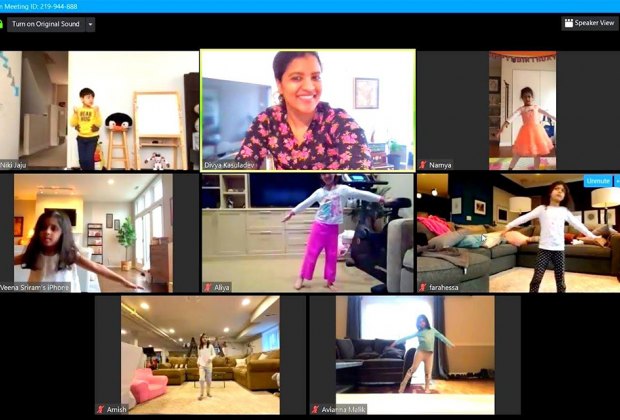 Bollywood Groove is hosting tons of online programming to get you through the pandemic. Photo courtesy of Bollywood Groove
Local Businesses Offering Music, Dance, & Fitness Classes
Tiny Toes Music – Multiple Locations
Tiny Toes Music usually offers mixed-age music classes in more than 20 Chicago-area locations, but these fun singalongs have now moved online at a discounted price. Tiny Toes also offers birthday parties, private concerts, and group ukulele or guitar lessons for older children.
Aspirations Dance Company – West Suburbs
This Lombard dance studio now offers its classes via Zoom. Prices are 50% off, and special classes, like Mommy and Me Ballet and Tea, are available.
Bollywood Groove – North and West Sides
Whether for fun or fitness, Bollywood dancing appeals to all ages. In lieu of its usual classes throughout Chicago's neighborhoods, Bollywood Groove now hosts kids' dance and story classes, Bollywood workouts, kids' birthday parties, and Hatha yoga sessions online.
FITT 60126 – West Suburbs
Grown-ups and teens can keep up their fitness and sports training with Zoom classes and Facebook workouts from this small west suburban gym. Whether you have a set of weights and home or can just lift a preschooler, the gym has multiple ways to keep clients fit.
RELATED: Stay-at-Home Guide: 100s of Activities for Families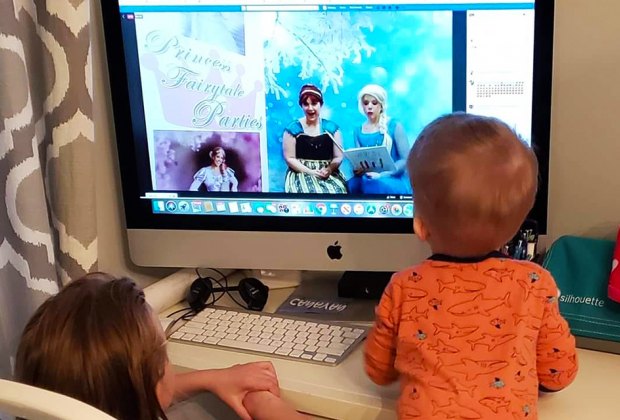 Princess Fairytale Parties hosts a variety of virtual events, from painting to storytime. Photo courtesy of Princess Fairytale Parties
Local Businesses Selling Fun and Games in the Chicago-Area
Adorn512 – West Suburbs
This downtown Downers Grove jeweler is selling necklace, bracelet, and bookmark-making kits for at-home fun so kids can make jewelry for themselves or as gifts for friends and family. Its usual collection of jewelry is also available online. The kits come with a money-saving in-store coupon to use once Adorn512 reopens.
Fair Game – West Suburbs
Even though kids can't meet for in-store gameplay with friends right now, they can still purchase games and play online with the help of Fair Game in Downers Grove and LaGrange.
Princess Fairytale Parties – West Suburbs
Naperville-based Princess Fairytale Parties brings the princess fun with virtual events like ballet with Anna and Elsa or painting with Rapunzel.
Local Businesses Offering Good Eats and Good Deeds in Chicago
The Kids' Table – North Side
Kids still have to eat, and they can help with the cooking after mastering some serious kitchen skills during the pay-what-you-can virtual classes from The Kids' Table.
Virtue Restaurant – South Side
Virtue is focusing all of its efforts on providing meals for first responders right now. The Hyde Park restaurant accepts donations toward these efforts and hopes its patrons will remember it when they can eat out again.
RELATED: Outdoor Fun With Kids: 30 Ways to Get Messy in the Backyard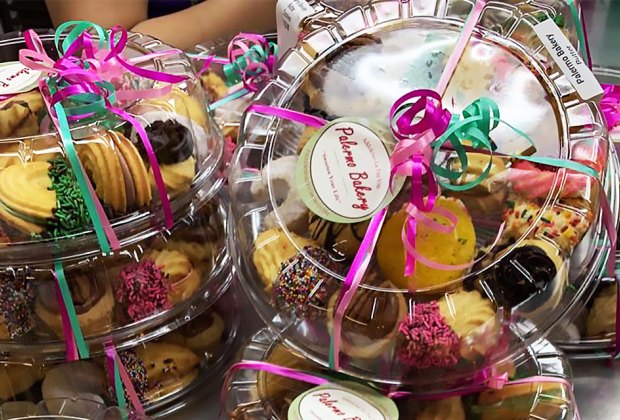 Palermo Bakery is offering local delivery and curbside pickup of its cookies, breads, and more. Photo courtesy of the bakery
Chicago-Area Local Businesses Offering Sweets and Treats
Brewpoint Coffee – West Suburbs
This west suburban coffee shop is roasting The Guardian blend for its "Fuel our Frontlines" initiative. Shoppers can buy a 12-ounce or 5-pound bag of beans, and the shop donates an identical bag to frontline workers fighting the coronavirus. Brewpoint is also offering its regular menu for curbside pickup in downtown Elmhurst.
Palermo Bakery – Northwest Side
No bread at the grocery store? Northwest side and north suburban residents should consider stopping by Palermo Bakery for some fresh-baked goods. The bakery also has sugar cookie and cupcake-decorating kits, cookie dough, pizza dough, and take-and-bake pizza kits so families can enjoy making their own.
Margie's Fine Candies – North Side
Margie's Fine Candies survived the Great Depression and World War II. Al Capone, The Beatles, and The Rolling Stones have all dined at the ice cream parlor. Now it's open for takeout so Chicagoans can enjoy their favorite ice cream and treats.
Kimmer's Ice Cream – West Suburbs
Ice cream lovers may miss the sparkly pink interiors of these suburban ice cream shops, but you can still wear sparkles (or maybe a sparkly mask) on Wednesdays for a discount on Kimmer's ultra-creamy treats prepped for curbside pickup. Families can enjoy a party pack to-go complete with ice cream pints, cones, cups, spoons, and rainbow sprinkles or send an e-gift card.
Local Businesses Selling Grown-Up Only Goods in Chicago
Chicago Distilling Company – North Side
Chicagoans might have to put their cravings for local favorite Ceres Vodka on hold because Chicago Distilling Company has transitioned to making hand sanitizer. You can buy some for your own family for $35 a gallon, or donate a gallon to hospital workers, first responders, or a homeless shelter for $30 a gallon.
Koval Distillery – North Side
Pick up whiskey, gin, hand sanitizer, or all of the above at this Ravenswood distillery. Koval is donating some of its hand sanitizer to medical professionals, retirement homes, police officers, and firefighters.