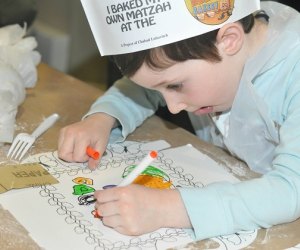 Passover Events for Kids and Families in the Boston Area
As sure a sign of spring as crocuses and daffodils, Passover has sprung up all over the calendar this April with plenty of ways to celebrate the holiday. Even some of the youngest members of the family can participate in Passover celebrations in a meaningful way.
Through stories, meals, and hands-on activities hosted by Boston-area organizations, children learn about the history and traditions of Passover.
SPECIAL PASSOVER EVENTS FOR KIDS AND FAMILIES
Passover Storytime and Craft - Coolidge Corner Public Library, Brookline
Wednesday, 4/6/2016
Free
During the after-school (after-nap) story hour, kids get in the Passover spirit with Passover stories, Passover songs, a Seder plate craft and a Passover raffle.
Tales of Passover and a Haggadah Hunt - Kesher Center for Jewish Learning and Culture, Somerville
Sunday, 4/10/2016
$20/Family in advance, $25/Family at the door
Big Joe the Storyteller brings to life three characters who offer their own points of view on Passover. Children can participate in Seder activity stations and hunt for the missing images of a haggadah to make and take home.
PJ Library Passover Mitzvah Party - Kidsports, Stoughton
Sunday, 4/10/2016
$20/Family in advance, $25/Family at the door
From Mini-Matzahball Bowling to Pharaoh's Bouncy Palace to Passover songs, participants can experience the story of Passover while having a great time. Participants also do a mitzvah (good deed) by decorating and planting flowerpots to deliver to area seniors for their Seder tables.
---
MODEL MATZAH BAKERIES
Model Matzah Bakery - Chai Center, Brookline
Sunday 4/10/2016
$5/child
Children cut, thresh and grind wheat into flour. Then, while racing against the clock, they mix, punch, roll and bake their very own Matzahs to take home. From farmer to baker, they are doing it all in under 18 minutes!
Family Model Matzah Bakery & Passover Experience - Sudbury
Sunday 4/17/2016
$8/In advance, $10/At the door
Join in the annual Model Matzah Bakery and Passover Experience to bake your own Matzah and enjoy a pre-Passover family event. Experience the ancient art of "Shmura Matzah" baking as you bake Your Own Matzah, enjoy Passover arts & crafts, participate in a model Seder, and meet Moses & Pharaoh.
---
CHOCOLATE SEDERS
PJ Library Chocolate Seder - MetroWest Jewish Day School, Framingham
Sunday, 4/10/2016
$20/Family in advance, $25/Family at the door
This chocolate Seder is a special way to get ready for Passover and remind everyone that freedom is sweet. Have fun practicing the Seder, substituting sweets for the traditional Passover foods.
Model Chocolate Seder - Chabad of Peabody, Peabody
Wednesday, 4/13/2016
$5/Child
Kids can experience the fifteen steps of the Seder while enjoying it all chocolate-style. They sing songs and gain familiarity with the order of the Seder and leave armed with inspiration from the Haggadah.
---
PASSOVER SEDERS
Annual Community Passover Seder - Hellenic Cultural Center, Watertown
Saturday, 4/9/2016
$50/Person, $110/Family
A truly multi-generational gathering, the Boston Workmen's Circle Seder is fun and meaningful for adults and children of all ages. Featuring a full meal, lots of singing, craft activities for younger children, and an original, ever-evolving Haggadah.
Public Passover Seder - Chabad of Peabody, Peabody
Friday, 4/22/2016
$45/In advance, $55/At the door, $25/Child
Families are welcome to join Chabad of Peabody for its Public Passover Seder. This is a traditional, yet contemporary, Seder with wise and witty running commentary in English.
Passover Seder - Center for Jewish Life Arlington-Belmont, Arlington
Friday, 4/22/2016
$18/Adult, $12/Child
At this Community Passover Seder, everyone can relive the exodus, discover the eternal meaning of the Haggadah, and enjoy a community Seder complete with hand-baked Matzah, wine, and a wonderful dinner spiced with unique traditional customs.
Communal Passover Seder - Chabad Center of Natick, Natick
Friday, 4/22/2016 and Saturday, 4/23/2016
$50/Adult, $25/Child
Families are welcome at two Seder dinners to celebrate Passover. Friday's dinner begins at 8pm and Saturday's at 8:30pm. The menu for both evenings includes four cups of wine/grape juice, matzah, Seder plate Items, and a full four-course dinner.
Community Passover Seder - The Chai Center, Brookline
Saturday, 4/23/2016
$45/In advance, $55/At the door
A Seder that has the family in mind! Celebrate our freedom from Egypt in a warm, family oriented environment. Drink the 4 cups of wine - or grape juice, ask the 4 questions - or answer them, eat some hand made Shmura Matzah all the way from Israel, and a bit of horseradish to spice things up. Reserve via the website.
---
Photo courtesy of the Chai Center
Originally published 3/2013; updated 3/2014, 3/2015 & 4/2016