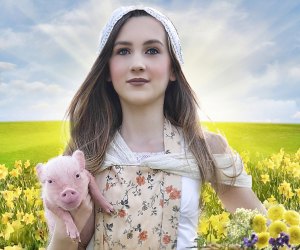 New Charlotte's Web Experience at Old Sturbridge Village
There are few stories as ingrained into our collective memory as Charlotte's Web, E.B. White's classic novel of an unlikely friendship between a barn spider, a pig, and a young girl. Lucky for us, Old Sturbridge Village (already one of our favorite summer day trips) is breathing new life into White's story with The Charlotte's Web Experience: a unique live production running from July 5th through August 26th. Kids are part of the act in this interactive re-telling of the timeless tale, which is staged on an actual farm and involves music, cute barn animals, and even delicious themed treats.
You can expect this collaboration between Old Sturbridge Village and Brian Clowdus Experiences to put some modern changes on the story. For starters, you will be sitting outdoors in the middle of the set surrounded by live cattle, sheep, pigs, and chickens. Additionally, the audience truly becomes a part of the story. No two shows are exactly alike as the actors improvise based on audience reactions.
Cleverly crafted costumes allow these characters to walk off the pages of the 1952 novel and into 2018. These costumes may draw their inspiration from the 19th century, but they have an element of modern whimsy. Charlotte wears a black hoop dress and lace bonnet, and Wilbur is a (human) actor sporting a costume of pig features. Music accompanies the storytelling.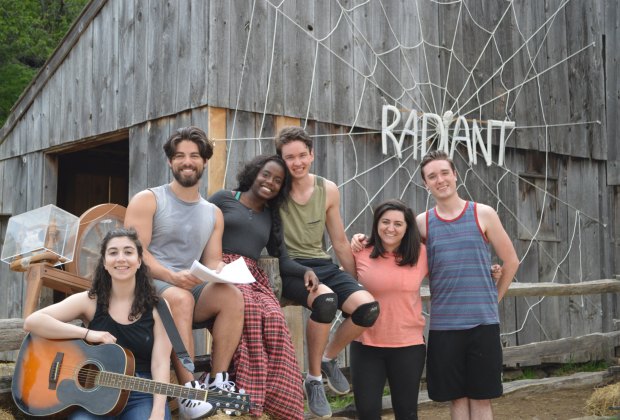 The cast of The Charlotte's Web Experience rehearses their music.
To complete this immersive experience, there is a Charlotte's Web-themed eatery near the farm. Drawing on inspiration from County Fair, guests can dine on hot pretzels, cotton candy, fried dough, and more. Word on the street is that there are incredible cupcakes with frosting in a pig or spider design, complete with a web and words written in the web.
Charlotte's Web Experience tickets range from $12-14/person. The performances run about an hour long. You will need both general Village admission and show tickets to attend the performances. While on the farm, you can also visit cute piglets, and see costumed historians farming, cooking, and demonstrating other trades of 19th-century life.
You may come to Sturbridge to see Charlotte's Web Experience, but don't forget to explore the rest of this outdoor history museum. Their summer calendar is loaded with a Craft Beer Festival, Revolutionary War re-enactments, historical craft classes, costumed historians, nature trails, and more.
Images courtesy of Old Sturbridge Village