Touchdown! Best Places to Watch College Football in Atlanta with Kids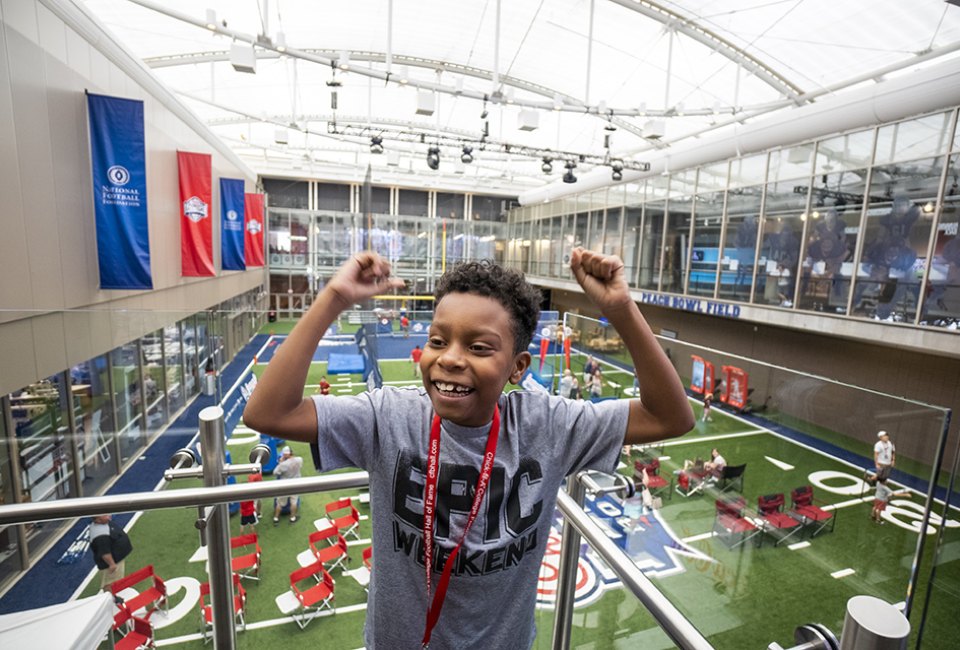 9/23/22
- By
Melanie Preis
Living in Atlanta during the fall means two things: sweater weather and college football. And as fun as sweaters are, it's really all about the rivalries and drama of college football in the South. Sports-loving kids choose their favorite college football teams at a young age, usually based on mom and dad's alma maters, hometowns, Pop Warner youth football names, and more. And the best way to root their beloved teams on is by taking kids to watch college football at the fun Atlanta restaurants and venues. It's also great prep for 2025, when Atlanta hosts the College Football National Championship!
Whether you're a Bulldog, (purple and gold) Tiger, Gator, (orange and blue) Tiger, Yellow Jacket, (orange) Tiger, Rebel, or just like screaming, "Roll Tide," there are some fun places to watch college football in Atlanta with kids. So let your tiny fans slather on the team face paint, wear their favorite jerseys, and holler with their adult counterparts during college football season! And on that note, go Dawgs (sorry, we had to root for the home team)!
Need more ideas to get out your energy this fall? Take a look at our Atlanta Fall Fun Guide for some awesome events and activities this season, including Atlanta corn mazes and hayrides, pumpkin patches, and entertaining local fall festivals.
Kid-Friendly Places to Watch College Football in Atlanta
Located in The Battery Atlanta plaza, Live! at the Battery is an exciting sports mecca during college game days! This family-friendly event happens on certain college football days with watch parties, games and giveaways, tailgate snacks, and more. Everyone over the age of 12 requires a ticket for this fun event.
We love The Standard for its combination of sports-focused screens with kid-centric activities, including a huge outdoor patio featuring a play area for children, as well as board games and live music on most weekends. They even serve King of Pops popsicles! Bonus: Bring Fido because dogs are welcome outside.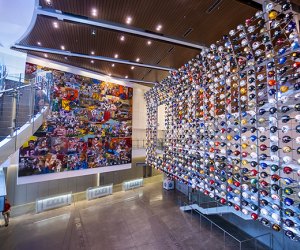 Visit the Chick-fil-A College Football Hall of Fame for a football frenzy. Photo courtesy of museum
We can't have an article about watching college football in Atlanta without mentioning the Chick-fil-A College Football Hall of Fame! Read more about this pigskin paradise in the Best Atlanta Museums for Families to Learn and Play. This is a fabulous spot to learn more about your favorite college teams, athletes, coaches, and the sport itself.
Your family's eyes may wander from game to game with all the screens at STATS, but hey, that's why you came, right?! The popular downtown sports-themed restaurant offers a kids' menu full of traditional fare.
RELATED: 21 Hayrides and Corn Mazes Near Atlanta Perfect for Fall
Located in and around Atlanta, McCray's Tavern is a great spot to watch college football with the whole family. With family-friendly locations, like East Cobb and Lawrenceville, you're sure to run into fellow PTA members as you cheer on your favorite team.
Hudson Grille is easily accessible with locations across Atlanta and offers a robust kids' menu for even the pickiest eater. We can't guarantee your favorite college football team will win but we can guarantee a great time.
This sports bar and restaurant hosts lots of fun theme nights, having to do with college football, baseball, soccer, and every other sport under the sun. Prefer to save money instead of catching a game? Kids eat FREE on Mondays (with the purchase of an entree)!
Self-titled as "Atlanta's hometown sports bar," Irby's truly appreciates patrons cheering for the hometown favorites, like UGA and Georgia Tech. Kids can order from the kids' menu while parents enjoy adult entrees and beverages. If your game goes into overtime, bribe your kiddos with the delicious S'more funnel cake dessert -- yum!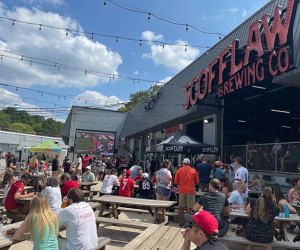 Scofflaw Brewing Company is the perfect place for kids and adults to enjoy college football. Photo courtesy of Scofflaw
This family-owned brewing company offers lots of kid-friendly events throughout the year, some that even include balloon animals and actual animals (in the form of goats and petting zoos). Scofflaw is always a good time for every age looking to watch a game, enjoy a Saturday, and fill up on fun.
Taco Mac - Multiple Locations
Kids love Taco Mac because of the great food and laid-back vibes. This popular local chain has a variety of locations throughout Atlanta and all have tasty offerings, including a kids' menu.
Located in Peachtree Corners, Tavern at Medlock broadcasts college football games every Saturday. And for all of you Northern fans, be free to cheer on your schools in peace as this is Buffalo Bills country and (hopefully) friendly for all neighboring alma maters.

Pair a touchdown with a winning pizza from Mellow Mushroom. Photo courtesy of Mellow Mushroom
The zaniest of pizza joints, Mellow Mushroom is known for its mellow pies and cool vibes. While your family is filling up on Mellow Mushroom's quirky creations, watch college football with a smile on your face.
Yard House - Multiple Locations
Yard House is a great option for big families and groups as the eatery offers large seating options. There's a variety of food and drinks to choose from and there are always at least a few TVs airing college football games.
It's hard not to catch your favorite team playing while dining at Loyal Tavern. There are endless TV screens blasting at least one of your beloved college football teams, and the food goes beyond standard pub fare (like the healthy superfood bowl or maybe a cauliflower "burger").
Click Here to Sign Up!