Best Sports Classes for Kids in Atlanta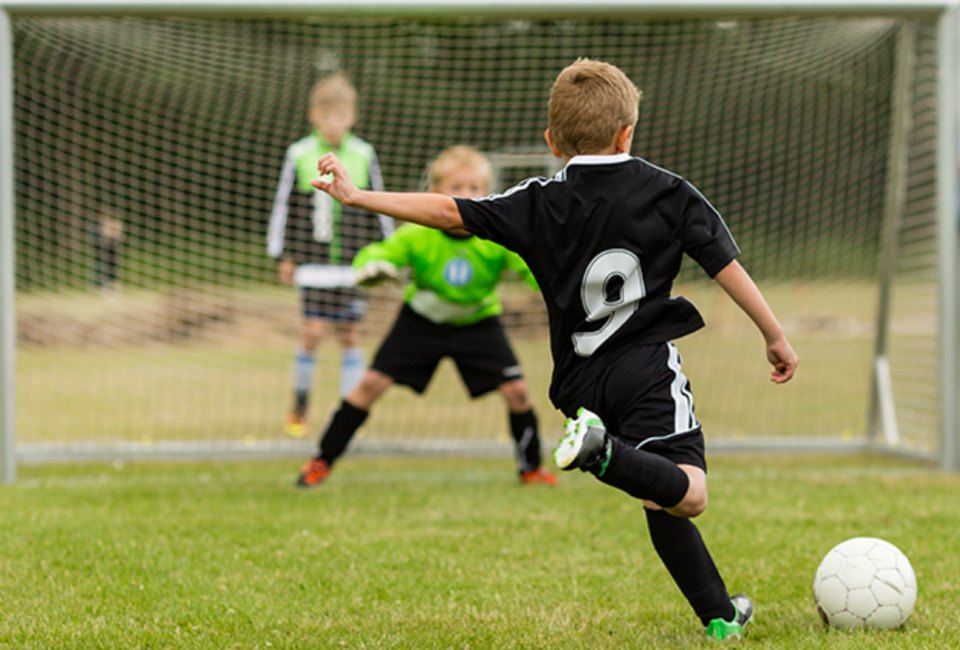 8/15/21
- By
Elsa Simcik
Introducing kids to sports classes at an early age has loads of benefits —young children (toddlers, preschoolers) can develop social skills, problem-solving techniques, and self-esteem, not to mention burn off all that youthful energy. We've gathered great sports classes for kids in Atlanta and surrounding suburbia that will not only build skill but also add joy. These kids sports classes are more introductory—less about the scoreboard and more fun.
To find even more ideas about kids classes and programs, check out our Guide to Best Kids Classes and Activities in Atlanta. It's a great way to teach kids new skills and indulge their passions.
Top Soccer Classes for Kids in Atlanta
Kids can join the "minis" for ages 2-3 or "classic" for ages 3-5. In both soccer classes, children learn the fundamentals of soccer in a fun, high-energy format with songs and games. Parents will have no trouble finding a location close to their neighborhood since Soccer Shots has dozens of classes in parks around Atlanta.
Children ages 2-6 learn soccer skills and play in friendly games in classes called "Little Toes for 2's," "Big Toes for 3's," "Happy Feet for 4's and 5's," and "Happy Feet Advanced for 5's and 6's." Happy Feet offers classes throughout north Atlanta, including Roswell, Woodstock, Milton, Marietta, and Cumming.
In this introductory program, kids ages 4 and 5 learn the basics of soccer through fun exercises and movements; they play mini games in a three vs. three format without a goalkeeper. MOBA's Pre-Academy is open to kids ages 6-8, who are at level 2, and focusing on gross and fine motor movement as well as fast footwork.
Several YMCA's across Atlanta (Buckhead, Decatur, Covington, South Dekalb, and more) offer soccer classes for children as young as 2.5. They use smaller balls and learn the basics of playing soccer without an emphasis on games. Families need to sign up for a Y program membership, which actually costs a lot less than a full Y membership.
Fun Basketball Classes for Atlanta Kids
Kids as young as 5 can attend clinics through Rising Stars Hoops, which has programs at various church gyms in Atlanta. Children develop skills such as ball handling, footwork, and scoring. The goal is to prep older kids for winter basketball tryouts and teams, but parents can use the basketball class as an introductory program to the sport.
i9 Sports — Multiple Locations
Families count on i9 for a lot of different youth sports like soccer, football, lacrosse, cheerleading and baseball. Young basketball enthusiasts can start clinics at age 4 at various locations around Atlanta. Winter leagues are open across Brookhaven, Smyrna, Decatur, Marietta, Kennesaw, Acworth, and more cities across the metropolitan area.
In this creative basketball program, preschoolers learn about dribbling and ball handling. The class lasts nine months, but kids can join at any time. Students even have an opportunity to perform for family and friends during halftime at a local basketball game. TOT offers classes in preschools around Atlanta in Roswell, Alpharetta, Acworth, and Suwanee.
Atlanta Baseball Classes for Kids
In this introduction to baseball class, children learn about hand-eye coordination, participate in drills, and play scrimmages. Little Rookies offers three levels for young children based on age—Minis (a parent-and-me class) for the two-year-olds, Littles for ages 3-4, and Big Hitters for the 5- and 6-year-olds.
Buckhead Baseball has been an Atlanta baseball resource for years, and even the youngest athletes can get in on the fun. The Tee Ball 4 League introduces kids to baseball basics and learn how to hit, catch, and have fun.
Learning baseball in a stress-free, fun environment helps 3- and 4-year-olds at Peachtree Gym learn to love the sport. Meeting once a week, Peachtree Gym offers young kids the chance to learn how to throw, run bases, catch, and have a great time. Costs include uniforms so children can really get into the baseball spirit.

Atlanta sports classes are a great way for kids, and their parents, to make new friends.
Multi-Sports Classes for Kids in Atlanta
Kids enjoy Fury for all kinds of sports training, not to mention epic birthday parties. Fury offers an afterschool, all-sports camp (convenient for families in Woodstock) where kids ages 5-12 play every sport imaginable, from football to kickball to wiffleball.
With four centers around Atlanta (Roswell, Buford, Peachtree Corners, and Forsyth), RedLine Athletics offers families lots of options for their chidren's sports training. RedLine has an Intro to Sports class for kids ages 3-7 that caters to any skill level. In a fun environment kids learn the fundamentals of throwing and catching (plus they get to run and play).
The Marcus JCC of Atlanta (MJCCA) has its main Dunwoody campus as well as three other locations around Atlanta, offering tons of programs for young children. For parents who want to introduce all sports, check out their Early Childhood Multi-Sports class. In the hour-long session, children play sports like soccer and tee-ball while learning about good sportsmanship and teamwork. Membership to the JCC is required to register.
Newton Tots at Newtown Park focuses on soccer and tee-ball for kids ages 3 and 4. Like a lot of the introductory classes, this one gives kids a sampling of sports so they are more prepared to join teams when they are older.
Atlanta Sports Classes for Kids in Parks and Rec Programs
Sometimes the best kids' activities are right in your own backyard—or rather, your own city's backyard! parks and recreation department. Check your city or county government website and search kids programs under its parks and recreation department (almost every decently-sized municipality has one). This list is only a sampling of the types of available sports classes in and around Atlanta designed for the younger set.
Tip-off Basketball, Lead-off Baseball, Kiddie Kickers, Tiny Tykes, Sportykes
Tots and Sidekicks, Little Starz Soccer, Tiny Tykes, Sportykes
All sports and intro classes are through local leagues, all listed on by sport.
Soccer Shots, Sportykes, Tiny Tykes
Elevate Sports Academy, Outshine Sports, Atlanta Colts Youth Association