7 State Parks Near Atlanta for Families to Explore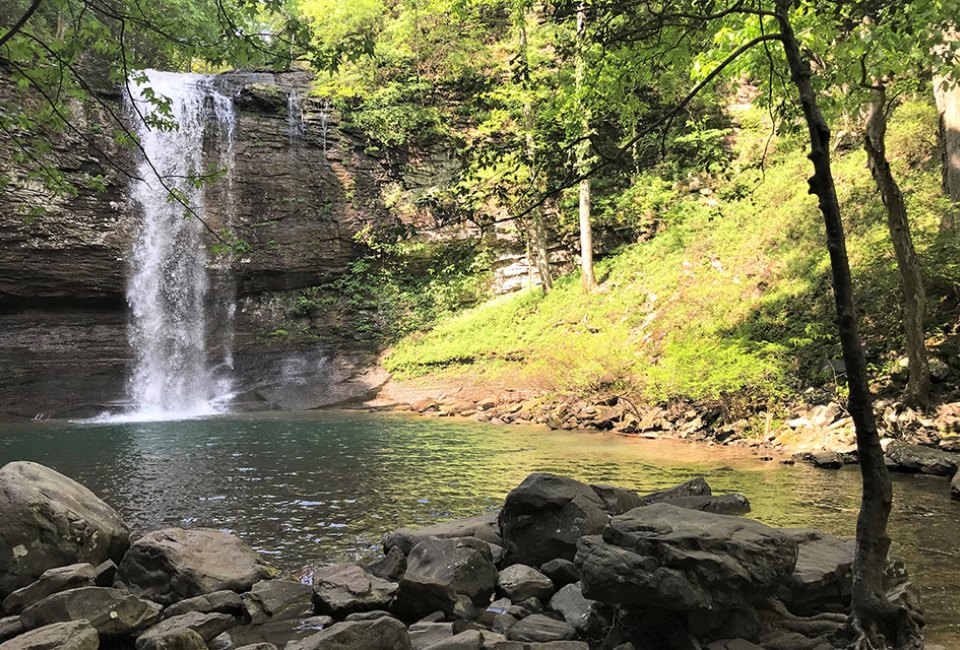 8/8/21
- By
Rebecca Ruffin Leffler
Who says you need to travel far to have fun with your family? Before you plan a large-scale trip, check out these Georgia state parks close to Atlanta. You'll discover activities and wonders that are almost in your own backyard!
Your kids will love participating in the Junior Ranger Program. Pick up a park-specific book at the visitor center and complete the activities for a badge. Earn additional rewards for multiple camping, hiking, and other events in any of the 48 state parks.

These are the ruins of the New Manchester Textile Mill at Sweetwater Creek State Park. Photo courtesy of Bill Lefler
1. Sweetwater Creek State Park — Lithia Springs
Beautiful Sweetwater Creek State Park houses the New Manchester Manufacturing Company, a textile mill that operated from 1849-1864 and was mostly destroyed during the Civil War—hike the popular Red Trail just a half mile to see the millrace and brick ruins. While you can't walk inside the structure due to safety hazards, the trail offers great views and signs explaining items of historical interest. From here, the Red Trail becomes rocky and steep, so it's best to retrace your steps. At the visitor center, exhibits showcase artifacts and stories about the mill's history and surrounding area.
Another large draw to Sweetwater Creek is the 215-acre George Sparks Reservoir where you can rent kayaks, canoes, and stand-up paddleboards, as well as fish. Besides 15 miles of hiking trails, the park offers picnic grounds, two playgrounds, and six yurts that sleep up to six people.

Take a break exploring Iron Hill Trail at Red Top Mountain State Park.
2. Red Top Mountain State Park — Acworth
Looking for a lake getaway? Head over to Red Top Mountain State Park, where 12,000-acre Lake Allatoona surrounds the peninsula-shaped park. The visitor center features several trailheads, a playground, and an 1860s-built log cabin. Bring your rafts, camp chairs, and a tree hammock to set up along the quiet coves found on the paved Lakeside Trail (great for wheeled coolers and strollers).
Red Top Mountain's elevations only climb about 250 feet from the base of the lake's surface, created by damming the Etowah River, so none of the 15 miles of trails are steep. A great trail for both biking and hiking is the flat 3.9-mile Iron Hill Trail offering jaw-dropping scenic views of the lake.
At the north end of the property lies Park Marina, where you can rent boats, jet skis and other watercraft. Although the eastern side of the park includes a beach area, it is temporarily closed to the public for renovations.

Who said Atlanta doesn't have great beaches? Check out Fort Yargo State Park's fun beach.
3. Fort Yargo State Park — Winder
If you're looking for a great beach spot about an hour northeast of Atlanta, Fort Yargo State Park fits the bill. A large pavilion provides a bathhouse, concessions, and non-motorized boat rentals for a day of fun on the 260-acre Marbury Creek Watershed. After swimming and a picnic, try miniature golf or the disc golf course for a nominal extra fee.
Older kids and adults will enjoy the 7-mile Lake Loop, known for its biking trails, and might even try a couple of sections of the strenuous 12-mile Mountain Bike Loop. Parents with strollers and younger children will prefer the paved 0.5-mile Bird Berry Trail. Overnight accommodations include yurts, cottages, and campsites. Don't forget to visit the actual fort built in the 1790s!

Trahlyta Trail offers a flat hike, great for most skill levels. Photo courtesy of Bill Leffler
4. Vogel State Park – Blairsville
Built by the Civilian Conservation Corps (CCC) in the 1930s, Vogel State Park offers a tranquil lake setting at the base of the Appalachian Mountains. The level Trahlyta Trail circles the 22-acre lake; and at the northern end, discover the 60-foot Trahlyta Falls. Those wanting mountain views can hike up Blood Mountain on the 4.1-mile Bear Hair Gap Trail. Although a smaller park, Vogel packs in a lot of activities with fishing, paddling, and a small beach area in addition to a playground and miniature golf course. A must-visit attraction is the CCC museum, open seasonally, that details the hardships during the Great Depression. Overnight accommodations include cottages and campsites.

Tallulah Gorge State Park features picturesque scenes. Photo courtesy of Bill Leffler
5. Tallulah Gorge State Park – Tallulah Falls
Tallulah Gorge offers a handful of waterfalls, great for adventurous, older kids. Sheer granite cliff walls carved by the Tallulah River stretch for almost 2 miles and reach depths of over 900 feet. Start at the 2-story Jane Hurt Yarn Interpretive Center to learn more about the former resort town and the creation of the dam. The one-way, 0.75-mile North Rim Trail overlooks deep into the canyon with views of Oceana Falls, Bridal Veil Falls, L'Eau D'Or Falls, and Hawthorne Pool. You can cross over Highway 441 to take the South Rim Trail to see Tempesta Falls, Hurricane Falls, and Caledonia Cascade to complete a 3-mile, moderate hike. If your family doesn't mind stairs (over 1,000 of them) and you want to go below the rim, take the 2-mile Hurricane Falls trail crossing the gorge at just 80 feet above the floor on a suspension bridge.
Rock climbing, as well as the trails for mountain biking and the gorge floor, require a permit. Other activities at Tallulah Gorge include archery and fishing, as well as a beach, playground, and picnic tables at the 63-acre Tallulah Lake.

Cloudland Canyon State Park offers waterfalls, horesback riding, fishing and much more.
6. Cloudland Canyon State Park — Rising Fawn
Located in the northwest Georgia mountains, panoramic vistas abound at Cloudland Canyon. Start with a picnic overlooking the rim at the main parking area, then take the 1-mile Overlook Trail offering families an easy path with plenty of opportunities for pictures. If you want to see a waterfall, take the first part of the Waterfalls Trail just a half-mile to the base of Cherokee Falls. Sit on the huge boulders, put your feet in the water, and relax. Those with more endurance can continue to Hemlock Falls deeper in the canyon but will have to climb at least 600 stairs back up.
Horseback riders can travel the 16 miles of trails while mountain bikers will find the 30 miles of trails in the Five Points Section exhilarating. Though the park no longer offers caving opportunities, families can play a game of disc golf for a small fee and try out fishing in the stocked catch-and-release pond. There are cottages, campsites, and yurts to rent for a longer stay.

Red clay paths and rocks are what distingush Providence Canyon State Park. Photo courtesy of Bill Leffler
7. Providence Canyon State Park — Lumpkin
Providence Canyon is a Georgia state park south of Fort Benning, where families enjoy steep pinnacles and multi-colored sandstone cliffs. Surprisingly, "Georgia's Little Grand Canyon" wasn't created by a river, but by the failure of farmers to rotate crops. The result? Recesses in the earth as deep as 150 feet that led to the Soil Conservation Act of 1935.
Take the Canyon Loop Trail behind the visitor center to explore. After descending on the red clay path for 0.25-mile, visitors come to the creek bed which is often wet. Wear old shoes and let the kids enjoy splashing in the puddles as you follow the signs to Canyons 1-5. For the best scenery, go straight to Canyon 5. Although the canyon walls look like solid rock, you'll feel crumbly sand when you touch them. Retrace your steps to the visitor center to complete a 1-mile hike or continue the 2.5-mile loop, which takes you to all nine canyons before following the rim.
A playground stands adjacent to the main road and offers photo-worthy rim views. Although the park offers campsites along the 7-mile Backcountry Trail, you'll find restaurants and hotels in nearby Columbus.
Admission at any of the 48 state parks is a bargain at $5 per vehicle. Another option is to purchase a $50 annual pass, either online or at one of the park's visitor centers. You can save even more money by borrowing a free ParkPass through the Georgia's library loan program.
Photos by the author unless otherwise noted