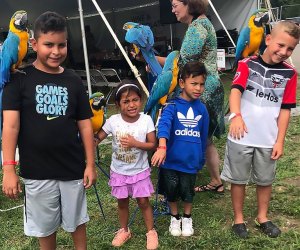 Weekend Fun: RibFest, Renaissance Faire, Pow-Wow
There's something fun and rewarding to do for every taste and every age this weekend in Westchester and the Hudson Valley.
It's a great time to visit the New York Renaissance Faire, which has plenty of perks for kids—including FREE admission and a costume parade and contest.
Celebrate Jewish heritage at the Jewish Music & Arts Heritage Festival, where entertainment, food, amusements for the kiddies, and shopping await. Sports fans can get their fill of memorabilia and more at the Baseball Card Show. All ages can celebrate the rich and vibrant culture of Native Americans at the annual Nimham Pow Wow and feast at the Hudson Valley RibFest, which offers more than just the opportunity to chow down.
Read on for more details and many more options ahead. Additionally, our August GoList highlights our top picks for the month, and don't forget: our Event Calendar includes suggestions for every day of the week and is frequently updated, so check back often!