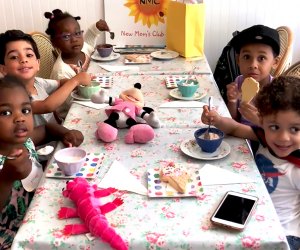 Westchester Play Cafes with Fun for Kids and Perks for Parents
While it's fun to take the kids to a dedicated play space—and trust us, there are lots of those to choose from in Westchester—there are times when you want to go somewhere that has something for both you (read: coffee, brownies, both) and the kids. You're in luck: There are a few spots in our area where you can meet a friend for tea or linger over lunch with your spouse while your kids have fun—whether it's reading a good book, drawing on a chalkboard wall, going down slides, or building with blocks and construction sets.
Looking for even more places to take the whole family? Check out our kid-friendly restaurant guide.
BeanRunner Café – Peekskill
Whether you're looking to have breakfast, brunch, lunch, or just a cup of coffee, you can do it at this Peekskill café, which has a room specifically geared toward families. There are tables where you can enjoy a full menu that includes everything from Nutella crepes and waffles to sandwiches, salads, and soups, as well as smoothies and desserts. (Fun fact: The owner is a coach for Westchester Striders, a kids' track & field club, and most of the dishes have track & field–themed names, like the 200 Meter sandwich and the Fiesta Finish Line salad.) Along with the tables, there's a comfy couch and chair, and the room has lots of fun toys for kids, including rocking horses, air walker, digital screens for making funny faces, and more. The space is best for young kids, but tweens can try their hand at the chess tables set up as well.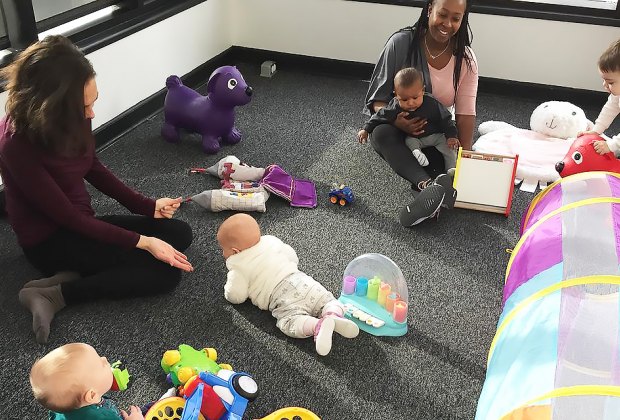 Meet up with friends for a little play time then have snack at the cafe at Lil Chameleon in Tuckahoe.
Lil Chameleon – Tuckahoe
NOTE: Sadly, Lil' Chameleon is closing its doors on Saturday, December 21, 2019. If you're looking for a fun, inviting place to catch up with a mom friend while the kids play close by, Lil Chameleon in Tuckahoe is a great choice. This kids' resale boutique is also home to a self-serve café that's stocked with coffee, tea, and snacks. The café is in its own room, separate from the shopping area, and has a clean, contemporary feel. Parents can hang out at the table or on the couches while the kids can draw on the chalkboard wall, and play with trains, Legos, blocks, puzzles, and even a mobile floor piano, among other toys. The play area is ideal for the toddler and preschool set, though there are events and classes that take place throughout the week for different ages. Getting together with a bunch of friends? If you'll be more than four people, give the shop a call ahead of time.
RELATED: 12 Stores That Offer Free and Low-Cost Classes for Westchester Kids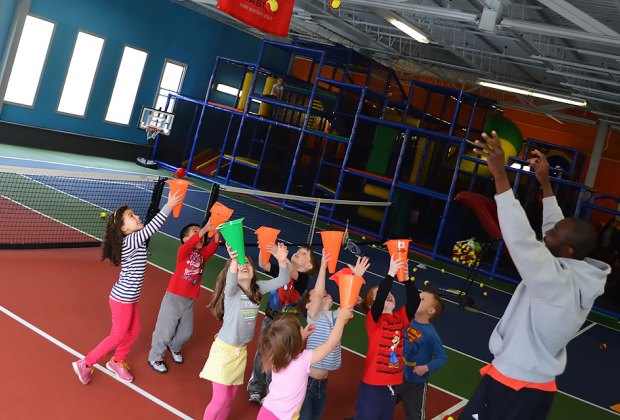 The Play Place has a cafe right in the center of the facility where you can relax while the kids play!
The Play Place – Elmsford
Ok, this one actually is a dedicated kids' play space—but with a staffed café right in the center and plenty of tables, it's a great spot to meet up with friends while kids have a blast climbing on, crawling through, and sliding down the indoor playground equipment. The café offers coffee, tea, and snacks like muffins, hummus, and yogurt. You can also bring your own food, as long as it's nut-free. Along with the playground equipment, the Play Place also offers tennis, soccer, and other programs for a variety of ages.
The Voracious Reader – Larchmont
If you're hoping to instill a love of reading in your kids, this is the place to do it. This children's bookshop with an attached tea shop—A Proper Cup—offers books for kids of all ages (and even some adult titles, too). At the tea shop, you'll find tea, coffee, apple cider, and hot chocolate, as well as baked goods like cupcakes and scones, and Jane's ice cream, which is small-batch and comes in flavors like chocolate cherry chunk and apricot orange blossom. While you have to buy your books before bringing them into the café, once you do that, it's the ideal spot for reading together or separately.
Meeting up for a play date before doing some shopping? Play at the Westchester is another option that offers something for parents and kids: You can grab a juice from Juice Generation or coffee from Bluestone Lane Coffee and bring it in to Play. Hang out on the chairs while your kids play with Magna-Tiles, create pictures using the touch screens, and more.
Photos courtesy of the venues
Originally published in 2018 and updated since