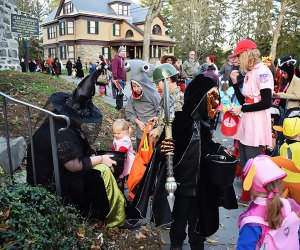 Best Places To Trick-or-Treat in and Near Westchester
All kids deserve a safe and treat-filled Halloween, so we've rounded up some family-friendly areas and events where little goblins and ghouls can trick-or-treat to their hearts' content.
Whether you're looking for an alternative to your neighborhood or you want to add another stop to your trick-or-treating route, check out our picks, including Cross County's Halloween Spooktacular and the best neighborhood for trick-or-treating in the whole state (right here in Westchester)!
Find more Halloween happenings in our Halloween Fun Guide and Event Calendar. And don't forget to follow us on Facebook!
Where To Trick-or-Treat in Southern Westchester
Rye
Zip Realty once crowned Rye as one of the best places for trick-or-treaters, which it based on walkability and the presence of single-family homes. It also took home prices into consideration, rationalizing that the biggest houses give out the best candy. We're not sure if that last one holds water, but we do know Rye is also the source of other entertaining Halloween happenings. 24/7 Wall Street, meanwhile, named Rye the best town for trick-or-treating in New York, noting its strong kid-to-adult population ratio.
Scarsdale
Scarsdale is listed in the top five places on Niche.com's Best Places to Raise a Family in Westchester County. Those looking for a safe place for their kids to roam may take solace in the "zero-tolerance" policy employed by the police department.
Yonkers
Ridge Hill will have trick-or-treating for an hour during its HarvestFest on the Hill on Saturday, October 19, 2019. There will also be pumpkin painting, music, and more.
The Cross County Shopping Center is hosting free Halloween events as part of its Halloween Spooktacular on Saturday, October 19, 2019. Two times are offered, and RSVP's are recommended. In addition to trick-or-treating, there will be arts and crafts, games, inflatables, and more.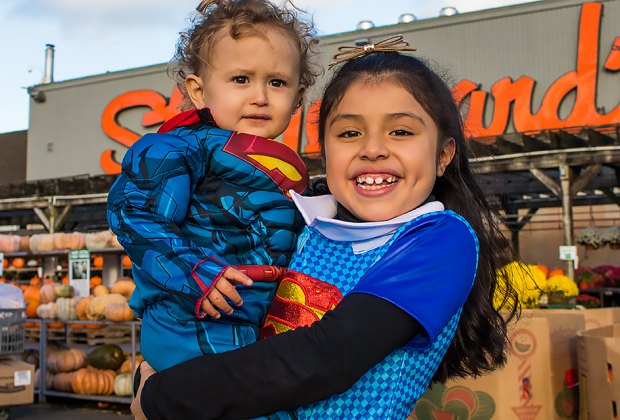 Go trick-or-treating throughout Stew Leonard's on Halloween. Photo courtesy of Stew Leonard's
Stew Leonard's will have trick-or-treating throughout its store on Wednesday, October 23, 2019. Grab a map at Customer Service to help locate the candy.
White Plains
On October 31, before you head to a nearby neighborhood—or after you've wrapped up on your street—visit The Westchester, where you can snag some candy at various stores from 3 to 8pm. Then, end the night on the fourth floor, with some Halloween movies.
The Galleria is hosting its "Mall-o-Ween Event" on October 31, where kids not only get to trick-or-treat, but also enjoy face painting, a bounce house, and a "monster dance party."
RELATED: Free, Family-Friendly Halloween Parades and Events for Westchester Kids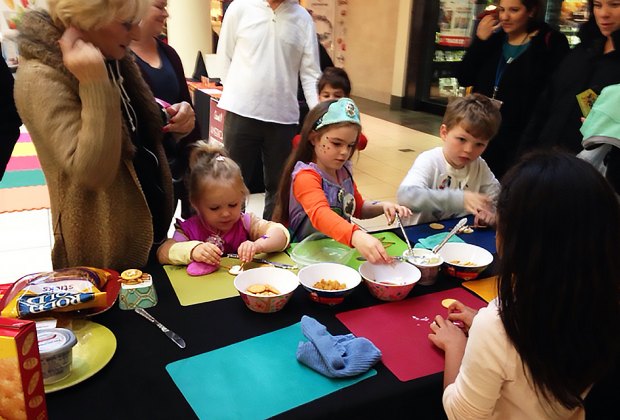 Jefferson Valley Mall will offer trick-or-treating and Halloween activities for kids. Photo courtesy of the mall
Where To Trick-or-Treat in Nothern Westchester
Yorktown Heights
Get in on the Halloween fun before the big day at the "Boo N' Brew" at the at the Jefferson Valley Mall on Friday, October 25. Along with trunk-or-treating, there will be a hay maze, bounce houses, and a chance for kids to make slime—plus a beer garden by Peekskill Brewery for the adults. The event is from 5 to 9pm.
Chappaqua
The Chappaqua Public Library will have trick-or-treating for kids ages 4-6 on Wednesday, October 30, 2019.
South Salem
Those in preschool and elementary school can trick-or-treat in the Lewisboro Library on Wednesday, October 30, 2019.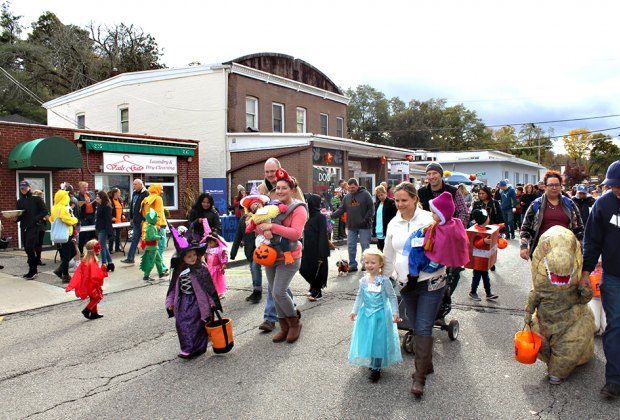 Join the parade at Cornwall's Halloween Spooktacular. Photo courtesy of the Greater Cornwall Chamber of Commerce
Where To Trick-or-Treat in Orange County
Cornwall
Cornwall is a previous winner of the Daily Meal's list of top trick-or-treating towns in the U.S. The site bases its findings on a Bloomberg list of the most family-friendly towns in the country, and then further drills down using such criteria as safety, scheduled Halloween events, and walkability.
Where To Trick-or-Treat in Putnam County
Cold Spring
The radio station 101.5 WPDH dubbed Parrott Street in Cold Spring "the best trick-or-treat spot in the Hudson Valley" a few years back. The neighborhood is known for its awesome decorating and throngs of costumed families.
RELATED: Hayrides and Fall Farm Fun for Kids in Westchester and the Hudson Valley

Historic Huguenot Street in New Paltz is a popular destination for trick-or-treating! Photo courtesy of Historic Huguenot Street
Where To Trick-or-Treat in Ulster County
New Paltz
Kids can trick-or-treat at the historic houses on Huguenot Street on Halloween. They'll meet "residents" of the area, including colonial-era women, Revolutionary War soldiers, socialites, and flappers. Part of the street is closed off to traffic during trick-or-treating.
This originally posted in 2015 and is updated annually.