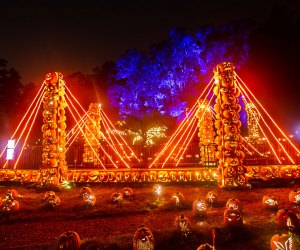 The Best Halloween Events for Families in Westchester in 2020
The Halloween season is one of our favorite times of the year—not only for the sake of our children but because it's so fun rounding up the myriad Halloween events going on for our readers! While the festivities in 2020 are more low-key, we've still identified a bunch of fun holiday outings that we're excited to share with you, including a great mix that caters to all ages, ranging from tot-friendly fun to teen-worthy horror.
Read on for your guide to Halloween attractions in Westchester and the Hudson Valley, along with a few highlights beyond these borders. The holiday is still weeks away, which means we're waiting on some details, like those of the annual Hastings Spooktacular Weekend, which is being redesigned. We're keeping any eye out for the new format and any other worthy additions to add to this list, so bookmark it for later.
We've also rounded up corn mazes, pumpkin patches, and other seasonal fun in our Halloween Fun Guide. Looking for more to do with your family, whether in-person or virtual? Check out our Event Calendar and sign up for our newsletters to stay informed!