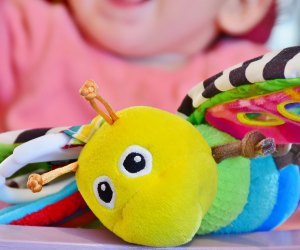 Where to Donate Toys, Baby Gear and Kids' Clothing in Westchester
As your children grow, they will definitely outgrow (and lose interest in) clothes, shoes, strollers, car seats and toys alike. And let's be honest—all that stuff takes up space. Before you haul your unwanted items to the curb on recycling day and hope that someone else takes them, see if any of the following organizations might make good use of them (and possibly give you a tax write-off to boot).
We've gathered several charities where you can donate kids' toys, gear and clothing in Westchester. Looking for more ways to stay in the know as you watch your kids grow? Sign up for our newsletters and follow us on Facebook.
Big Brothers Big Sisters of Westchester
1-877-399-2570
This Family Services of Westchester program saves you the hassle of having to drive to them by giving you the option of picking up the gently used books, toys, changing tables (without mattresses), small yard toys, bikes and other items that you no longer need or use from your home. You can schedule a time and day by calling them or going on their website. If you don't mind the drive, you can also bring your things to one of the many Westchester drop-off spots.

Salvation Army of Greater New York
1-800-728-7825 or 914-664-1800
You know all of those educational toys for infants and adorable baby outfits that you never used and are now sitting in your attic? Well, the Salvation Army is happy to take them off of your hands. They will also collect your furniture (still in good condition), sports equipment and other household items that you are looking to donate. You can schedule a pick-up or you can bring your times to their stores (New Rochelle, Yonkers, Mount Vernon to name a few) and drop-boxes, which are located throughout Westchester.

Goodwill of NY/NJ
The Goodwill will happily accept donations of things like gently worn children's clothing, clean stuffed animals, sporting goods, bicycles, books, DVDs and CDs. They are NOT able to accept items such as toys, puzzles, baby furniture and strollers. You can find a complete list of what you can and cannot donate here. There are several Goodwill stores, DonationXpress centers (attended donation center) and clothing bins in Westchester.

Pick Up Please/Vietnam Veterans of America
While some of the other charity organizations require one or two weeks advance notice, Pick Up Please is able to gather your donation from your house within 24 hours of you contacting them in many areas. They accept most clothing, shoes, accessories, household items, small electronics, toys and books. The only items they are not equipped to take are large appliances and large furniture.

Girl Again – White Plains
4 Martine Avenue
(914) 358-1460
If you spent a small fortune on American Girl dolls and accessories, only for your daughter to lose interest in them after a year or two, then listen up! Girl Again is a resale boutique in White Plains for gently used American Girl dolls, outfits, furniture, accessories and books. It is operated by Yes She Can Inc., a nonprofit organization that that aims to develop job skills and job opportunities for young women with autism. What better way to put these old dolls to good use than by donating them to this cause?

The Sharing Shelf – Port Chester
47 Purdy Avenue
(914) 305-5950
The Sharing Shelf collects seasonal children's clothing (new socks and underwear year-round), umbrella strollers (single and double), infant car seats less than 5 years old (please wash covers before donating), pack-n-plays, and new baby bottles or pacifiers (in packages). The Port Chester location takes donations of the above while the other donation centers take clothing only.
This originally posted in 2016 and has been updated for 2018.
Girl Again
4 Martine Avenue, Store 2B
White Plains, NY 10606
The Sharing Shelf
47 Purdy Avenue
Port Chester, NY 10573