6 FREE Chess Clubs for Westchester Kids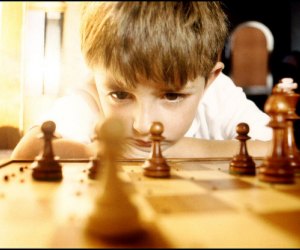 "Life is a kind of chess," wrote Benjamin Franklin in his 1786 essay on "The Morals of Chess." Chess teaches foresight, circumspection and caution, as well as not to be "discouraged by present bad appearances in the state of our affairs," he wrote.
Fast forward a couple hundred years, and it's believed there's a positive effect on cognitive development in children who play chess. In addition to offering intellectual stimulation, chess crosses cultural and socioeconomic boundaries, bridging gaps in a disparate population.
Fortunately, numerous opportunities for Westchester children to play chess exist. In addition to schools often offering extracurricular play, we previously rounded up chess camp options and have now compiled FREE chess clubs and classes available at Westchester libraries. Whether your child is a novice or a Bobby Fischer, there's something for everyone—in fact, there's at least one option for each weekday.
Keep tabs on our Event Calendar, as programs are often added or repeated. Read on and go for checkmate!
Mondays
Chess at Crestwood – Yonkers
Through May 22, 2017
A local "volunteen" helps coach players of all ages and skill levels. FREE
Tuesdays
Chess for Children - Scarsdale
April 18 - May 23, 2017
Tickets to this popular program are given out starting half an hour before the beginning of the program on a first-come, first-served basis. Instruction provided.
Wednesdays
Kids' Chess Club - Yonkers
Through June 7, 2017
This program is targeted to those who already understand the game. Ages 6 and up. FREE
Chess Club - Elmsford
April 5-19, 2017
All skill levels are welcome at this event. Dates beyond April have not yet been announced. FREE
Thursdays
Warner Chess Club - Tarrytown
The second, third and fourth Thursday of each month through December 21, 2017
Instructor Jack Rosenberger leads this program for all ages and skill levels. The program meets more frequently in the summer. FREE
Fridays
Chess with an Instructor – Pound Ridge
April 7 - December 22, 2017
Wind down at the end of the school week with an hour of chess, led by a high school champion. FREE
Photo credit: shoobydooby, via Flickr