Ahoy! 5 Sailing Camps for Kids in Westchester and Rockland County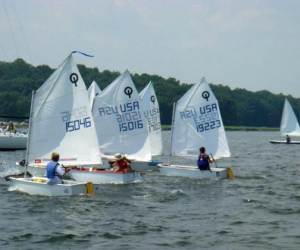 Before you commit your kids to a traditional camp for the entire summer, you may want to explore some specialized programs. Learning to sail is a great way for children to become self-reliant, learn a life-long sport, and make lasting friendships and memories. Being able to pilot his or own craft will certainly earn your kids bragging rights, so set them on the right course with one of these full- or half-day programs.
For even more activities and classes this season, check out our Summer Camp Guide, and be sure to sign up for our newsletters.

EAST Sailing Academy – Croton
Ages 9-16
(914) 271-6868
EAST Sailing Academy divides students into three different groups—with a maximum of six students per instructor—that are formed by age and sailing experience. The program introduces children and teens to small boat sailing and racing, and crew and skipper duties like anchoring and mooring but it also includes fun things like day trips, water fights, pizza day, awards and sailing games. Each session runs Monday through Friday from 9am - 3pm. One- and two-week sessions are offered throughout the entire summer.
Huguenot Yacht Club Junior Sailing Camp – New Rochelle
Ages 8-16
(914) 636-6138
The Junior Sailing Camp at the Huguenot Yacht Club offers a one-week sailing introduction clinic the first week of the summer, followed by two three-week sessions. This is open to sailors of all levels, from beginner through advanced. Kids learn to sail and rig boats (size of boat depends on ability), and will receive instruction about racing and safety. They will also enjoy organized games, picnic lunches and supervised swimming in the club's pool. There is also a four-day racing clinic.
Nyack Boat Club Junior Sailing Program – Nyack
Ages 8-16
(845) 353-0395
The Nyack Boat Club is conducting two four-week-long sessions of its Junior Sailing program during the 2017 summer season. Kids are divided into beginner, intermediate and advanced levels. Young sailors should expect to be on and in the water for at least four hours every day; the rest of the time will be spent learning about such things as boat maintenance, weather and navigation. No sailing experience is required, and you don't have to be a club member to participate.
Port Sailing Camp – New Rochelle
Ages 8-16
(914) 355-5400
The Port Sailing Camp offers a full-day camp for kids ages of 10 through 16, while a half-day Little Skippers camp (9am - 12pm, or 1-4pm) is for ages 8 through 10. Each two-week session— there are a total of four this summer—groups campers by age and/or experience. No prior experience is required. In addition to learning to sail, kids will learn the rules of racing, plotting courses, reading charts and anchoring.
Shattemuc Yacht Club Junior Sailing Academy – Ossining
Ages 9-16
(914) 941-8777
The full-day Junior Sailing Academy at the Shattemuc Yacht club runs two four-week sessions throughout the summer. The sessions teach skills to sailors of all levels, from beginners to competitive racers. Most of the day is spent on the water, but there are short breaks for classroom instruction and a mid-day break for lunch and swimming. While a family membership to the Yacht Club is not required for the camp, your participating kids do need to sign up for a junior membership in order to enroll in the academy.
This originally posted in 2016 and has been updated for 2017.
Image credit: Huguenot Yacht Club