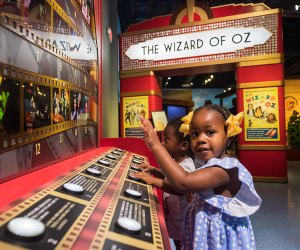 Indigenous Peoples Day Weekend Best Things to Do in Philly with Kids
Looking for the best things to do in Philadelphia during this holiday weekend? Mommy Poppins Philadelphia has rounded up all the can't-miss fun in the Delaware Valley.
For the first time, Philadelphia is observing Indigenous Peoples Day in place of Columbus Day. City public schools are off, and kids can join the IPD Philly celebration at Penn Treaty Park to honor Native American cultures. Stay in the spirit of autumnal fun at Dilworth Park's Harvest Weekend, Awbury Arboretum's Harvest Fest, or Oktoberfest Main Line. Spookier events are creeping onto the calendar, and if your older kids like a good fright, take them to Colonial Gardens' Haunted Woods Night Hayride or Haunted House of Horrors, or the Bates Motel and Haunted Hayride in Glen Mills. Lastly, follow the yellow brick road to the new Wizard of Oz exhibit at the Please Touch Museum.
Check out our top Editors' Picks of the month, Free Halloween Events for Philly Kids, 50 Fun Fall Activities, and the Best Things to Do in Philadelphia in October with Kids.
More Things To Do in Philly this Week with Kids:
Things to Do this Weekend in Philly with Kids
More Fun Things to Do