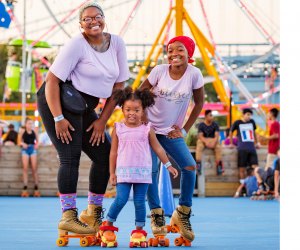 Labor Day Weekend Fun for Philly Kids: Festivals, History, Summerfest
As the last few days of August fade into September, Philly parents begin to understand the reality that summer unofficially ends this weekend.And, what a great summer it was! Throughout the Delaware Valley, Philly families have played at the playground, taken swimming lessons, eaten ice cream, watched outdoor movies, and visited nearby small towns. How can Summer 2019 be over already?
Thankfully, Philly kids have one more weekend to enjoy summertime fun found in our events calendar. If your family wants to hit a festival, you can step back in time with a visit to the Pennsylvania Renaissance Festival, learn about sustainable living at the Blue Corn Green and Organic Festival, see the area's finest horses at Ludwig's Corner Horse Show and Country Fair, or explore the rich tradition of the Polish culture at the Polish-American Festival. Those interested in history can head to Historic Philadelphia to listen to a reading of the Declaration of Independence or a story at the Once Upon a Nation Storytelling Benches or see a military demonstration, Wander over to the Museum of the American Revolution for some Back to School fun plus free admission for kids 12 and under. Finish up the weekend with a visit to the waterfront for its last weekend of BlueCross RiverRink Summerfest.
Keep reading for more ways to enjoy Labor Day weekend before summer disappears!