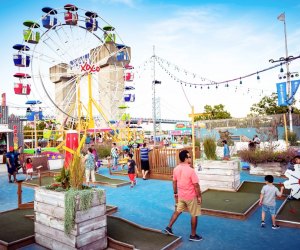 Labor Day Weekend 2021: Best Things to Do in Philly with Kids: Festivals, Fireworks, Museums
Looking for the best things to do in Philadelphia this Labor Day weekend? Here are some great family-friendly events and activities for the holiday weekend.
Even though many schools are back in session, Philly kids have another weekend to enjoy summertime fun through our events calendar. If your family wants to hit a festival, you can step back in time with a visit to the Pennsylvania Renaissance Festival; or see the area's finest horses at Ludwig's Corner Horse Show and Country Fair; or discover the rich tradition of Polish culture at the Polish-American Festival. Other options includes exploring the Museum of the American Revolution for its special Labor Day weekend programming and back-to-school fun plus free admission for kids 12 and younger. Or stop by Morris Arboretum to see the trains on its Garden Railway.
Say goodbye to summer with additional fun found in our Summer Activity Guide for Philadelphia Kids, and remember to bring along a mask as new requirements for some indoor settings are in place.
More Things To Do in Philly this Week with Kids:
As of August 12, the City of Philadelphia has instituted new mask requirements for indoor entertainment. As the Philadelphia area deals with the delta variant, some events might again require social distancing and masking.
Top Things to Do on Labor Day Weekend in Philly, 2021
More Fun Things to Do in Philly Right Now