Citizens Bank Park on the Cheap: Tips for Enjoying a Phillies Game Without Going Broke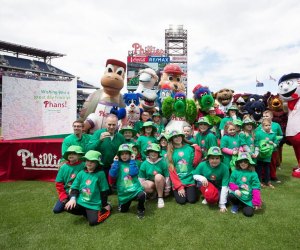 Whether you're Philly born and bred or a transplant, you know how much our city loves its sports teams, and memories made at the ballpark are priceless...well, almost. Catching a game was easy and affordable before the kids came along. Nowadays, though, trying to fit a game or two into the budget with the entire family can be a challenge. But don't write off Citizens Bank Park just yet. Check out our tips to help you visit the ballpark this summer, make some great memories (who doesn't smile when they think of the Phanatic, the Phillies' wacky green mascot from the Galapagos Islands?), and enjoy a fun day out that won't break the bank.
Thankfully for those of us who are frugal Phillies fans, there are options for tickets, family passes, and lively pre-game activities.
Looking for Phillies Passes?
If you're a family of four, you can't beat the Phamily Pack option. Select from one of 10 afternoon or evening games running on the weekends from June through September. Watch the Phillies go up against other MLB teams, such as the Atlanta Braves, Milwaukee Brewers, Chicago Cubs, Miami Marlins, Washington Nationals, or San Diego Padres. Plus get four free hot dogs and 20 oz. Cokes. The total cost for this package is $100, or about $3 a day for a month. Not bad!
For your Major League Baseball fans who are 14 years old and younger, be sure to take advantage of the Kids Club options. Each is available annually for a small one-time fee and includes two tickets as well as Phillies merchandise your kids can enjoy throughout the baseball season and long after. Need more than two tickets and want to be sure everyone is able to sit together? No problem! Call the Phillies' office (215-463-1000) at least one week before the game that you're planning on attending to purchase additional tickets and coordinate seating.
Junior Phillies Club, $20
For the 2018 season, Junior Phillies Club members get two tickets to see the Phillies play the Miami Marlins on Friday, September 14, at 7:05 p.m. Tickets can be used for the admission of one adult and one child or two children. In addition, club members receive Phillies swag, including a duffel bag, baseball helmet toothbrush holder, and a poster. A coupon for a free large pizza from Papa John's is included in the package too.
The perks don't stop there! Once you're in the ball park, your kids get to be among the first in line for Run the Bases. They also have a chance to win kids club prizes. Club members also receive discounts on select games and at the Phillies Majestic Clubhouse store.
Phanatic MVP Club members are invited to attend a Phillies vs. Marlins game on Sunday, September 16, 2018 at 1:35 p.m. In addition to two tickets to the game, members receive a Phillies Phanatic baseball cap, a Phanatic pillow case, and a poster. On their birthday, they'll get a card from the Phanatic. They'll also be signed up to receive MVP Club newsletters. Discounts for select games and at the Clubhouse Store are also available with this package.
Sign your kids up for one or both memberships. Purchase both and get a $5 discount!

Enjoying the game at Citizen Bank Park. Photo courtesy of the author
I'm Just Interested in Single-Game Tickets
If you've already signed up for a package and are still looking to purchase tickets and save a buck, single-game tickets are typically available for around $20 a piece. The Rooftop Bleachers section is a good option for the extremely budget-conscious. Tickets for this section can be as low as $17 each. The Pavilion Deck and Terrace Deck sections offer the next most affordable options, with the lowest-cost tickets ranging from $20-$24 each. Discounted tickets are available for high school and college students as well as active and veteran military personnel and first responders.
Interested in the Pre-Game Activities?
If you aren't sure how an afternoon at a baseball game could get any better, add onto that a free 13,000-square-foot area play area for kids. Before the start of a game, visit one of the newest additions to Citizens Bank Park, the Yard. Kids can practice pitching in a bullpen equipped with a radar gun that measures the speed of each pitch. After a few throws, they can grab a game of Wiffle ball on a replica baseball field 70 feet deep. Then they can move on to traverse a 30-foot rock wall or launch foam hot dogs at targets. The area remains open during the game too, so head back over during the seventh inning stretch for some last-minute fun.
Now that you have all the makings of a memorable and relatively inexpensive day at the Phillies' ball park, let us know how it goes! Post your experience on our Facebook page.