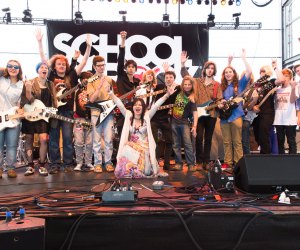 Rock and Roll Summer Camps for Little Rockstars
School is (almost) out for summer! But the school of rock is in session. This summer, if your child wants to forego the usual camp experience in favor of a chance to see what it is like to feel the limelight, then consider signing them up for a week (or an entire summer) packed with opportunities to perform some old fashioned rock and roll. Rock and roll camps give kids an opportunity to learn music, try their hand at different instruments, and even perform on stage for friends and family! Who needs swim lessons and hiking when you can learn how to shred?!
And be sure to browse our Camp Directory, for even more ideas- like art camp for the artists in your family!
Bach to Rock—Wayne
Offering camps seasonally, this camp experience not only is guaranteed to help your little one rock out, but to do so in the style they love. With camp themes like Rock Band, Glee Club, and Studio Demo, kids can tap into the rock and roll experience they dream of living out on stage. Camps are available for kids ages 4 and up, and can be week-long or just day camps depending on the schedule that works best for you.
Let There Be Rock—Folsom
With two camp options: band camp and song writing camp, your kid can tap into their creative genius and then showcase it at the end of camp. Enrollment is underway, so register now while spots are available. If you miss the camp offerings, you can also enroll in the Let There Be Rock School music program where students are provided lessons and the opportunity to play together in their own bands in any genre. Camp sessions run from 9 AM-2 PM
Rock and Roll After School—Collegeville
It's Summer Band Camp like you've never seen. From drum circles to rhythm races to an all out jam session, each day is packed with fun activities and a chance to learn how to be a real rocker. Each week kids can showcase their talents during open mic time, getting practice for their days as future stars! Seven weekly sessions running from June 19 - August 25, 2017. Each week is daily 9 AM-3 PM with after-hours available as an add-on until 6 PM.
Rock to the Future—Philadelphia
This summer, what could be cooler than signing your kid up for Rock*A*Delphia Summer Camp? Camp runs July 24-28, 2017 and is designed for ages 13-17. Students spend a week learning how to play music, write songs, and collaborate with other musicians. Students have a fun filled day of learning their choice of guitar, bass, keyboards, or drums. Kids age 7-12 can enjoy GuitarStars camp July 10-14 where they can learn acoustic, electric, or bass guitar. At the end of camp, get a chance to be in the spotlight and perform live for family, friends, and peers. Camp runs 9 AM–4 PM and all instruments are provided; no musical experience is necessary.
School of Rock—Various
This camp is for the serious rockers (or at least those who want to be). Instruction begins with classic rock as the foundation, and students will learn epic songs whether they choose guitar, voice, drum, bass, or keyboard. Private lessons and programs are available for all levels or take the summer camp option. School of Rock Summer Camps are ideal for kids between the ages of 7-17 and are tailored to the individual skill level of each camper. Camps are weekly, condensed versions of the programs they offer year round. Weeks are themed, and campers will perform as a full band on at the end of each session, showcasing the lessons of the week-long camp for family, friends, and community to enjoy! With several locations, you select the one that works best for your family.
Photo courtesy of School of Rock