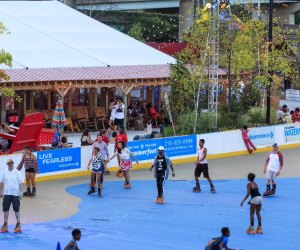 Ready to Roll: Best Places for Roller Skating Near Philly
If you're looking for a way to burn some of your kids' energy, roller skating is a great activity that can be fun for the whole family. Roller skating keeps kids active and having fun, and it makes for a great birthday party, too. There are indoor roller rinks all over the area that are perfect for a rainy day, or head to Blue Cross Riverrink Summerfest for some outdoor fun this summer!
Rolling Thunder- Philadelphia
Rolling Thunder is a great place to take kids on a rainy day. On weekdays, public skate admission can cost as little as $0.99 for kids. Skate rental is extra, but you're also welcome to bring your own skates if you have them. Check out the special events for themed nights like 80s night or beach party. This roller rink also has a few small rides and an arcade. Check out its awesome birthday party packages including mini birthdays, private parties, character upgrades, and glow-in-the-dark parties.
Marple Sports Arena- Broomall
Located in Delaware County, Marple Sports Arena is the place to go for roller hockey. Be sure to check the calendar for open play and open hockey times before you go. The facility also features an arcade, Marple Mountain play gym, moon bounces during open skate times, and a rock wall. Tons of birthday party packages are available on Saturdays and Sundays as well. Parties can even be booked online- it can't get any easier than that!
Blue Cross Riverrink Summerfest- Philadelphia
Open daily May through Labor Day, Summerfest is the perfect way to spend a beautiful sunny day in Philly. Summerfest features a roller rink, summer playground, mini golf, and delicious summer treats from Franklin Fountain and more. And yes, you can host your summer birthday party here, too!
Palace Roller Skating- Philadelphia
This roller rink offers tons of fun events for kids including family fun night and character skates with minions, Skully, Olaf, and more. Palace Roller Skating offers public skates, skating lessons, and, of course, birthday parties.
Inline 309- Hatfield
There are a lot of fun sports to check out at Inline 309 from hockey, to speed skating, and roller derby. Kids can learn to skate here or more advanced skaters can enjoy one of the speed and power clinics. Inline 309 also offers public skate sessions and open hockey all throughout the week. Check the website or call for schedule information. You can also book a private birthday party or a party during public skate times.
Chester County Sports Arena- Downingtown
Chester County Sports Arena offers skating, hockey, and mini golf for a full day of fun. Learn how to skate here or participate in one of the open skate times. There's even special skate times during the school year just for kids 12 & under when parents can skate for free! This sports arena also offers open hockey and birthday party packages.
Photo of Blue Cross Riverrink Summerfest courtesy of Matt Stanley for Delaware River Waterfront Corporation.