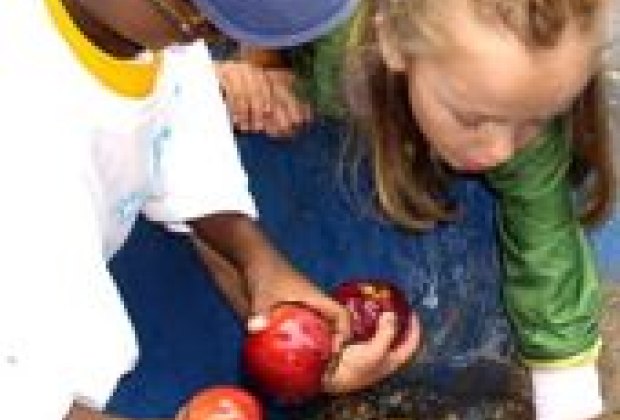 Things to do this Weekend for Families in New York City-September 11 & 12, 2010: Festivals, Book Events, Bike Riding and Music
Yes, the kids are back in school, but don't think of it as the end of the summer, think instead that it is the start of the amazing fall season in New York City, bringing tons of opportunity for exciting experiences, fun festivals and cool culture.

Like this weekend, there is so much going on; it is hard to decide where to start. The not-to-miss events are definitely Howl! Festival and The Brooklyn Book Festival. While neither of them is specifically for kids, both events have special programming and areas just for kids and families. There are some smaller events that are equally as impressive around town, too. You can enjoy the Harvest days at the Historic Lefferts House, The County Fair in Riverside Park (lots of fun and even has square dancing) or pack a picnic for the free world culture dance and music performances in Queens. Let's not forget the book release events, creative writing, drawing, mosaic and architecture workshops, too.

If you are in back to school planning mode, you may want to refer to our recent posts on unique after school classes, places to cook with your kids, some great new programs at the Central Park Zoo and our recently updated Classes Guide. We also posted our favorite time saving school lunch ideas.

Welcome Back. Read on and have a great weekend!
All Weekend:

Harvest Days – Prospect Park
Old fashioned fun awaits visitors at the Lefferts Historic House in the Children's Corner of Prospect Park. There will be potatoes to harvest, apples to press and butter to churn along with potato sack races and a lot more fun. FREE.

Brooklyn Book Festival – Brooklyn Heights
This huge five year old festival brings the best of contemporary literature to one place – Brooklyn. So much going on it is hard to wrap up in a few words -- 200 authors, a ton of vendors and lots of events celebrating books, reading and writing. The youth programming is what most families will be interested in and there is plenty: illustration, writing, bookmaking and crafts workshops, author readings and signings, theater performances – you name it – it is going on. FREE

Howl! Festival – East Village
Don't miss this prodigious arts festival in the East Village inspired by Alan Ginsberg's famous poem of the same name. Families will want to visit the LES Girls Club's East Village Earth Circus for cool family friendly goings on during the 3 day event: mural making and art projects for kids, live dance, music and aerialist performances on the mini-main stage. And a midway with lots of cool attractions like pony rides, the bio bus, double dutch jump ropers and even a solar powered merry go round. FREE

The Woman Who Fell From The Sky – Upper West Side
A play based on the Iroquois legend of Sky Woman who falls from the spirit world to the natural world to create the earth. Performed al fresco by the Mettawee River Theater Company renowned for their use of puppetry. Tickets: $10 for Adults, $5 for children


Saturday, September 11, 2010

37th Annual Park Fair – Richmond Hill
A day of fun for the whole gang, nature walks, a flea market, rides, games and crafts for the kiddies. FREE

Word for Word Writers Kids – Midtown East
If the kids' writing has gotten a little rusty over the summer they may want to head over to Bryant Park for a creative writing workshop for kids ages 9 to 12. Produced by Writopia Lab. FREE

Saturday Sculpture Workshop: Mosaic Self Portrait – Long Island City
Families work with artist Linda Ganjian to make a paper mosaic self portraits. FREE

NERDS Book 2: M is for Mama's Boy Book Release Party – Brooklyn
Book signing and reading by Brooklyn's own Michael Buckley to celebrate the release of his second installment in his popular nerds as super hero book series. FREE

Bike NY Bike Day – Governors Island
The fine folks at Bike NY will be teaching kids and adults their 'balance first' cycling method throughout the day. There will also be seminars on Bike 101 and buying your first bike. Free but registration required.

Back to School Design – Greenwich Village
Working with their parents kids will have the opportunity to plan their own learning environment, first by looking at school designs and then creating their own classroom or school. $20 for a family of four


Sunday, September 12, 2010


2nd Annual Festival of World Music and Dance – Flushing
Celebrate the vibrant cultural scene in Queens with an outdoor festival of live world music and dance all hailing from the borough. Food available for purchase. FREE

8th Annual West Side County Fair – Upper West Side
The closest thing to a country fair we have in Manhattan. Enjoy square dancing, carnival games and rides along with sideshow performers, a petting zoo and a lot more. Don't miss the Green Acre environmental corner with hands on activities teaching about green living. FREE

Broadway on Broadway – Times Square
Head to Times Square for a huge concert of favorite and soon-to-be-favorite Broadway numbers that officially opens the 2010 Broadway season. FREE

Noting Nature: Sketching with the Whitney Museum on the High Line – Chelsea
The Whitney is taking their wonderful education programs outside to The Highline to explore the works of Charles Burchfield (currently on exhibit at the Whitney). This drawing workshop uses the unique views from the Highline to inspire drawings of New York City. FREE
Battery Park City Block Party--Battery Park City
In Esplanade Plaza from 11:30am -4:00pm enjoy music, dancing, green activities, a flea market, games, inflatables, therapy animals, a cupcake contest, dog parade, sports, food from BPC restaurants and more.


Outside of NYC:

Up in Westchester County this weekend, the 3rd Annual Hastings-on-the-Hudson "Take Me To The River" Grassroots Festival will be taking place. The family friendly festival features two stages of live music, art installations along with very cool art and music activities for the kids. You don't even have to drive, you can take Metro North straight there. $20 per person at the door and under 17 years free.

Over in the Garden State families may want to check out the Asbury Park Oyster Festival. Great eats and plenty of fun for the whole gang, carnival rides, live musical performances, bouncy castles and more. And of course, oyster slurping – yum. FREE.
If the beach is calling you, head out to Long Island to the Beach Park Family Fest on Sunday. They'll have sandcastle building, kayaking, circle drumming, music, wildlife presentations, and of course, great food. $5 per car.


There is a lot more to do in our Events
Calendar

.
If you are planning an event, don't forget to let us know.
Enter
it into our calendar.
Did someone forward you this email?
Subscribe
now.