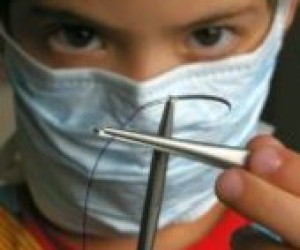 4 Cool Enrichment Classes for Kids in New York City: Comedy, Rugby, Weaving and Veterinarian
[UPDATED: July 12,2012]
Kids today get to do way better stuff than I ever did when I was a child. When I was a kid, after school programs consisted of sports or scouts with maybe a piano lesson thrown in for good measure, a far cry from the opportunities available to my son. Unique and enriching classes are abound in New York City: rugby, veterinary school and stand up comedy are just a few of the classes available nowadays.
Some of the coolest enrichment classes for kids in NYC:
Little Vets:
Kids who love animals can take it to the next level with this class. Dr. Dave, a real vet leads the classes in a real animal hospital and students get to give physicals to cats and dogs (the staff brings in their pets for class!) Plus they will learn tons of cool science through hands on activities like looking at real hearts, checking out blood under a microscope and a lot more. For 2nd and 3rd graders. The fall semester begins October 3rd. Make sure to call for information as their website hasn't been updated.

Li'l Ruggers:
No-contact rugby classes for the preschool or elementary school aged set. Little kids will learn the basics of the sport along with other important lessons- like listening to instruction and working as a team. All classes include drills and even a short-scrimmage. Classes run in Manhattan and Brooklyn and include an authentic (albeit tiny) rugby jersey to wear to class. Registration is open and classes are starting now, some are full, some are on waitlist, and some still have open spots.

Kids N' Comedy:
Funny tweens and teens can spend Saturdays honing the craft of comedy from pros and then wow their friends and family on stage at the Gotham Comedy Club as a finale. Kids work in groups to develop their own personal routine and help their classmates find their own funny. I can't think of a better way to get kids comfortable with public speaking! Classes start on September 22th, and there are only a few places left for this group of classes, but they are offered 3 times a year, plus during the summer.

Saori Weaving:
Fashionistas as young as six can join in on this ongoing weaving class to design their own fabric and sew it into a skirt, bag, jacket or anything they can dream up. Students register for eight sessions to work on their own independent projects under the weaving and sewing guidance of the instructors in a semi-private environment. Older kids can even learning spinning.

Check out our classes guide for the latest in everything from Mommy & Me to after school classes.