New Extreme Sleepovers at Ripley's Believe it or Not! Odditorium Museum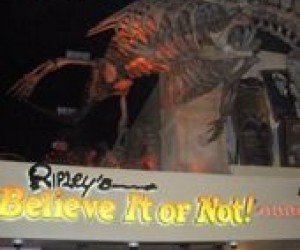 Have you ever wondered what is actually in the Ripleys Believe It or Not! Odditorium? We've walked by it so many times and written it off as a tourist attraction (with the price tag to match), but we recently heard they are starting "Extreme Sleepovers" and thought we'd check it out. I didn't expect to care much for it, but found the experience surprisingly interesting. Find out more about this zany museum and it's special events:
Ripley's Believe It or Not Odditorium is a collection of over 20 rooms, each with a different theme from historical oddities to extreme beauty practices, extreme individuals and pieces from Mr. Ripley's personal collection. A bonus to admission is the daily free live performers which include a fire eater and a sword swallower.
Looking for a unique birthday party or overnight adventure for your equally unique kid? The new "Extreme Sleepovers" at Ripleys Believe It or Not! Odditorium include sleepover scavenger hunts for children ages 6-17 to explore its over 500 artifacts from around the world. Sleepovers begin at 7pm when the guests gather and have a pizza party. From there, the group has a flashlight scavenger hunt through the museum which ends in a Mission Impossible-style competition in their Laser Race room. Children then receive a snack and meet in the museum's large theater room with sleeping bags to watch a family friendly movie and doze off. In the morning, they have a quick wash-up in the museum restrooms, a light breakfast and are each given a special certificate and goodie bag before leaving the Odditorium!
Sleepovers include a ratio of 1 adult to every 4 children, with a maximum of 50 participants. Extreme Sleepovers are $115 per child and $95 per child for Boy Scouts/Girls Scouts groups.
Ripley's offers scavenger hunt birthday parties that start at $299.50 for 10 children.

I would not recommend this museum for very little children since some of the exhibits and imagery may be disturbing for the preschool set. I think it's best suited for 7 and up and ideal for tweens and teens. That age group would also enjoy the optional Laser Race at the end of the tour.
Tip: Tickets can be purchased at 15% off from the website and discounted fliers are usually passed out in front of the museum and around Times Square.
Ripleys Believe It or Not! Odditorium
42nd St between 7th and 8th
Almost always open all day/365
Admission: Adults: $26.95, Children 4-12 $19.95
www.ripleysnewyork.com