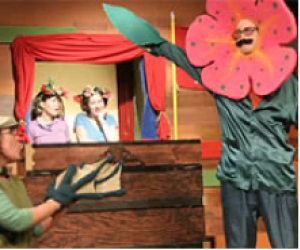 Kid Shows: Story Pirates Act Out Stories Kids Write Themselves
It's no secret that pirates are fond of dapper duds—frilly shirts, satin sashes, gold hoop earrings. And when it comes to playing dress up, the Striking Viking Story Pirates have the best stash in town. Rastafarian headdress, smoking jackets, leopard loin cloths and more are tucked away backstage, making each show feel like a great big game of pretend all hopped up on apple juice and pixie sticks.
In a city flush with improv theater options for adults, the Story Pirates offers an enriching version of that genre for children. Each show features several musical sketches based on stories authored by kids themselves and hew charmingly to the original text. One such sketch featured the refrain, "I like to go a lot to school," as penned by a kindergartener. The renditions are high energy, incredibly imaginative and surprisingly catchy. For a week our family sang, "Why would you do what a dog does?," a song about a boy simultaneously repulsed by and compelled to imitate Fido's gross out behavior.
The "Mainstage" shows—every Saturday at the Drama Book Shop in Midtown (250 West 40th Street btw 7th and 8th Ave, $15)— usually feature at least one story submitted for a birthday party. Sold out shows are celebrated with free ice cream and cookies for the entire audience. The "Create-A-Show" format, performed monthly at the Downtown Community Center in Tribeca, is based entirely on suggestions from kids in the audience with an optional pre-show workshop (next performance is June 6th, show tickets $18, with workshop, $30).
OUR LATEST VIDEOS
The Story Pirates have appeared on MSNBC and earned accolades from Jon Stewart, and are worth a look-see. In addition to their shows, the troupe leads creative writing workshops in schools and day camps, as well as private group classes tailored to your kids' interests. They also host birthday parties in your home or at at the theater.
Tickets to their regular 2 p.m. shows cost $15. Lucky for you, you can catch them at the Children's Museum of Manhattan at 2 p.m. and 3 p.m. this Saturday, included in the price of admission.
Read more about the Story Pirates on their website, storypirates.org.