Head Lice Removal Services and Salons in New York City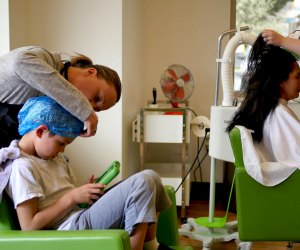 If your family finds itself in a lousy situation, you'll likely want to pull your hair out, as well as your child's. While there are plenty of kid-friendly salons scattered around the boroughs, lice removal requires a different kind of expert help. There are several lice removal services in New York City that remove lice and nits from your child's hair or your own.
Beware: These services don't come cheap. For specific pricing info, contact each company directly. All provide chemical-free treatments, with unrelenting combing and expert nit-picking, and some guarantee one-time treatment results. Here is a rundown of lice removal services in NYC and beyond, along with some (unfortunate!) personal testimonials.
NY Lice Out – Sheepshead Bay, Brooklyn
2011 East 13th Street
I recently found myself in a delousing chair at NY Lice Out, with an itchy head of thick long hair. Located in the basement of founder Rozie Tawil's house, the business is in a sparse but well-lit area where she uses a German-imported metal comb, a reassuring attitude, and a TV to help you zone out the experience. Her technique is conditioner and baking powder on dry hair to immobilize bugs and stiffen strands. I emerged two hours later, thankful I didn't do my first all-natural delousing myself but armed to tackle the rest of my short-haired family. With a baby at home, a shallow sink, and not a lot of faith in my ability, I'm glad someone else had the patience. The all-natural head lice removal service is charged on a flat-fee basis, determined by the length of hair and severity of infestation. Tawil also teaches parents how to comb out lice and nits on their own and makes house calls in the tri-state area.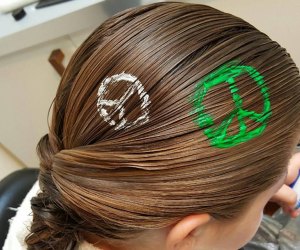 Hair Fairies is a nationwide, full-service clinical salon dedicated to removing head lice safely and effectively, while also styling hair in lice-averse ways.
1026 Avenue of the Americas, Suite 502
Hair Fairies has 11 salons around the country, including one in Midtown Manhattan. The salon is open weekdays and Saturday by appointment. Technicians can also make house calls. Professionals do their best to make it fun for kids, offering video games and toys to distract kids from the business at hand: the careful removal, nit by nit, louse by louse, of every bug and egg. Hair Fairies sells a lice-repellant spray, containing a mixture of tea tree oil, and other natural ingredients designed to kill live lice on furniture, toys, and bedding to prevent lice from returning. You'll also find its products at some brick-and-mortar stores and online.
Licenders – Multiple Locations
Visit the website for a full list of locations.
Our Licenders technician showed up wearing a white lab coat and carrying a gigantic magnifying light that would look more at home in an operating room. With surgical precision, she used a special shampoo and combed nits from every family member. She left a bottle of the natural shampoo, advising us to check for nits and lice every two to three days. She also gave us instructions about cleaning the house, vacuuming every surface, washing and drying all bedding and encasing pillows, backpacks, and stuffed animals in plastic for weeks. Combing the curly hair of three girls took hours, but our one treatment successfully eradicated every last louse. You can also visit one of its salons, which offers walk-in hours Monday-Friday.
306 Avenue N
We called Lice Busters in desperation once when our daughter came home from sleep-away camp infested with lice. At the time, Lice Busters operated out of Dalya Harel's kitchen. The mother of nine(!) became such an expert at nit-picking her own kids' heads, she started doing it for others. She has now converted her kitchen-based "mom-and-pop" operation into a full-fledged lice-treatment company with locations in four states. Lice Busters uses all-natural organic treatment and guarantees elimination in one visit. The company also makes house calls in the tri-state area. If you have a home visit, you'll get instructions on all the things you need to clean, including bedding, rugs, couches, playmats, and dolls.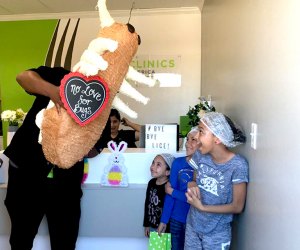 Lice Clinics of America makes the lice-removal process fun!
566 Merrick Road, Rockville Centre, New York
Though farther-flung, Lice Clinics of America has introduced a new heated-air technology clinically proven to kill lice, super lice, and lice eggs through dehydration. There's no manual combing here. While you'll have to drive further for this one, the clinic promises to leave you lice-free without chemicals in one, 1-hour treatment.
In-home, serving the tri-state area
The in-home treatment professionals at Lice Free Noggins do house-calls across the tri-state area. Using non-toxic, pesticide-free products, this biz promises to eliminate lice in one visit.
If the price of these services turns you off, check out The Lousy Mom's Guide to Natural Head Lice Treatment.
This post, originally published in September 2013, has since been updated.
Photos courtesy of the businesses