Make Your Own Toys in NYC: Where Kids Can Build Muppets, Cars, Stuffed Animals & Dolls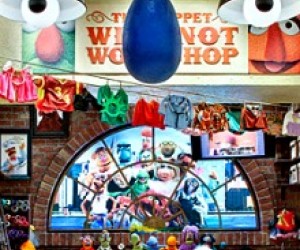 Unfortunately FAO Schwarz closed in July 2015; we're looking into whether the make-your-own-toy experiences located there will move elsewhere. Shopping for toys is fun, but creating your own customized plaything is a much cooler and memorable experience. While NYC is filled with craft spots where kids can walk away with cute, homemade creations, there are only two places in town where children can drop in and make their own high-quality toys that look like they were just plucked from the retail shelf: FAO Schwarz and the Build-A-Bear Workshop. At these two megastores, kids can design their own dolls, cars, stuffed animals and more, usually not for much more than these items would cost anyway.

These make-your-own-toy experiences can also be turned into over-the-top birthday parties. Not only do the kids have a blast designing their own playthings, they go home with a party favor they'll truly treasure instead of those awful plastic-filled goody bags that always end up in the landfill.
FAO Schwarz – Midtown
Unfortunately FAO Schwarz closed in July 2015. The venerable NYC toy store offers three different drop-in toy design experiences for kids (and adults!):
Make a Muppet at the Muppet Whatnot Workshop: No, you can't recreate Kermit or Miss Piggy here. Instead, you can customize your own unique "Whatnot," those nameless Muppet extras seen in the background of all their movies and TV shows. Using a Colorforms-style design kit, kids can make the Muppet of their dreams by choosing one of four bodies, and trying out a wide variety of hairstyles, noses, eyes and outfits. Once you're happy with the design, simply fill out the order sheet and the Muppet makers build the Whatnot right in front of your eyes. Can't get there in person? You can design a Whatnot and order it online, too, but it costs more.
Make a sweet vehicle with Ridemakerz: Choose a hot rod, sports car or truck and then pick out the tires, rims and other accessories like real working headlights and sound effects. The kids actually get to assemble the foot-long cars by hand with a special building tool. Remote control can be incorporated for an additional fee. Again, if you can't get there in person you can design a Ridemakerz online, too.
Make a high-fashion Madame Alexander Doll: At the Madame Alexander Doll Factory, kids can customize their own collectible. There are two sizes, and many skin-and-eye-color combos to choose from, plus hairstyles. The staff creates your doll on the spot and dresses her in a tie-dye knit dress with matching jelly sandals, or you can pay to upgrade her outfit to something more glamorous. Again, you can also design your own Madame Alexander Doll online.
Want to turn one of these make-your-own-toy experiences into an over-the-top birthday bash? FAO Schwarz kids parties already include face time with the Toy Soldiers, a parade through the store, a private session on the BIG Piano, and lots of other bells and whistles. You can also add on the toy-making fun listed above at retail cost.
Build-A-Bear Workshop – Midtown East
565 Fifth Avenue at 46th Street
Kids can make their own plush BFF at the biggest Build-A-Bear Workshop in the world. Pick from a seemingly infinite number of creatures (pets, farm animals, wild animals, aquatic creatures, etc.) The staff adds a heart (after warming it up in their hands, wishing upon it and kissing it goodbye). Then kids get to help stuff, sew and groom their new buddy. Browsing the massive store for additional accessories is optional but oh so much fun. Ninety-minute party packages include a host to walk the guests through the building process, as well as add-ons like a private room and cake.

For more gift and birthday ideas, check out our Local Shopping Guide and our Party Guide.
A different version of this post was originally published in December 2010.