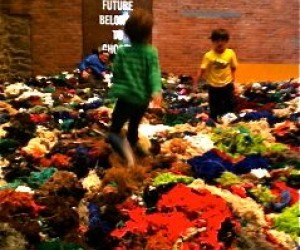 Dig for Gold and Perfect Your Forward Flip at PS1 This Weekend
Take a beautiful, and very deep, brick room and fill it, wall-to-wall, with a thick layer of soft, colorful yarn and thread waste and what do you get? A most unusual, and thoroughly fun, bouncy space where running, jumping, flipping through the air, turning summersaults, and of course, digging for treasure, are simply irresistible--and not just for kids. My five-year-old son wanted to stay all day. So did my husband.
You may be surprised to find that this fun is not in a play space or a children's museum, but at MoMA PS1, the contemporary art museum in Long Island City. Read on to find out more about this and some other exhibits at MoMA PS1 that will make checking it out in the exhibit's last weekend worth the trip.
Created by Thai artist Surasi Kusolwong for MoMA's PS1, in Long Island City, Queens, Golden Ghostis an interactive installation meant to encourage "social interaction over economic exchange". It's also just plain fun. Guests are encouraged to explore and play with the multi-colored yarns and thread while searching for gold necklaces hidden somewhere deep within the field of soft cottons. This means that digging, rolling, burying hands and feet, and general lollygagging are very important. Should a necklace be discovered, the lucky finder is apparently allowed to keep it (although we overheard a museum staffer mention that no one had found a necklace yet--which of course just made us look harder).
You may also enjoy a stroll through the rest of PS1's gorgeous exhibition space. Of special interest to my son, and on view through May 14, Darren Bader: Images, which includes a live iguana and several cute cats. And in the thoroughly stunning category, Janet Cardiff: The Forty Part Motet, a gorgeous sound assault involving a sixteenth-century sacred motet and many, many speakers spread out in a large and bright, lofty room.
Golden Ghost (The Future Belongs To Ghosts) is on view at MoMA PS1 through April 2, 2012. Suggested admission for adults is $10 and free for NYC public school students.