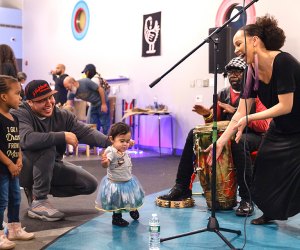 10 Ways to Commemorate Black History Month in NYC
To mark Black History Month, many of NYC's museums, historic sites, and cultural institutions offer programs to honor the history of African Americans. The month is filled with creative, meaningful ways to celebrate African American culture and life in New York City. From thought-provoking museum programs to live performances and poetry-filled outdoor experiences, here are 10 ways your family can commemorate Black History Month in NYC.
Be sure to click through the links for full details, including dates, times, and recommended ages.
1. Hear the Choir Sing
Harlem's Abyssinian Baptist Church is home to a world-renowned gospel choir. If you'd like to hear their joyful voices, or visit the storied church, know that there are some set rules to respect. Visitors can only attend the 10am service on Sundays and should plan to wear formal attire. You'll be asked to wait in a long line at the outdoor "Tourist Entry Point," and there is no guarantee you'll be admitted; it's first-come, first-seated, so arrive by 9:30am at the latest. Families should be mindful that this isn't a concert; it's a religious service. That said, a visit can be a profound experience. Visitors are asked to stay for the entirety of the church service. Smaller neighborhood churches like the Mount Neboh Baptist Church and the Greater Refuge Temple also welcome respectful guests. Visiting any of these locations is FREE, although donations are accepted. If you prefer to take a guided gospel singing tour, you can try Harlem Spirituals, but reviews suggest you may feel rushed, and you'll probably be the only New Yorkers in attendance. Prices start at $65 for adults, $49 for children ages 5-11. Tours are FREE for ages 4 and younger.
Observe the beautiful views in Pelham Bay Park while listening to the nature-inspired poetry of some of the greatest African American lyricists, such as Maya Angelou and Langston Hughes. Children are invited to participate in an arts and crafts project that brings African folktales to life. FREE
RELATED: 50 Best Things To Do in Harlem With Kids

The Brooklyn Children's Museum's Black Future Festival celebrates the African diaspora past, present, and future. Photo courtesy of BCM
This week-long celebration corresponds nicely with NYC's Midwinter Recess. Head to the Brooklyn Children's Museum for its Black Future Festival, which celebrates black visionaries—children and grown-ups alike—shaping a brighter future for all. The space-themed programming takes you to an imaginary planet where the sky is the limit. Explore far-out galaxies, meet live creatures, and enjoy plenty of live entertainment.
The beloved New York Botanical Garden honors Black History Month with its February-long Rooted in Plants program. Children learn about the plants of Africa, explore traditional Nigerian dying techniques, and learn about George Washington Carver, an inventor, agriculturalist, and early 20th-century botanist.
RELATED: February GoList: The Best Things To Do With NYC Kids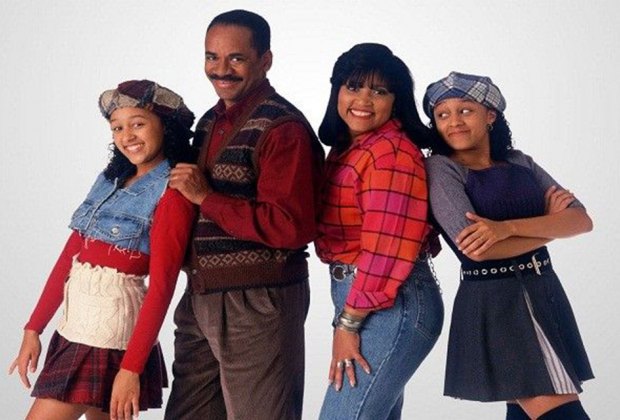 The Paley Center marks the month with family-friendly screenings of shows like Sister, Sister! on Saturday afternoons. Photo courtesy of the Paley Center and Walt Disney Television
5. See a Screening
Plenty of spots around town are screening movies and TV shows in honor of Black History Month. The Family Screenings at the Paley Center feature kid-friendly shows every Saturday throughout the month including The Proud Family, That's So Raven, and The Harlem Globetrotters. The New York City Mayor's Office of Media and Entertainment is also presenting family screenings of the biopic Harriet, in Brooklyn's Brownsville and Red Hook neighborhoods. FREE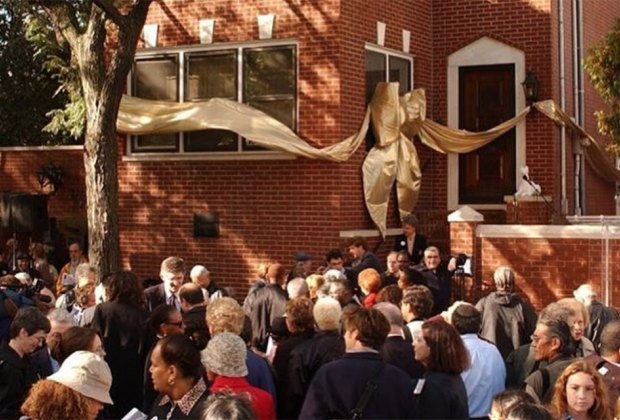 Visit the Louis Armstrong House on an unassuming block in Queens. Photo courtesy of the Louis Armstrong House.
6. Hit a Historic Spot
The Weeksville Historic Center in Crown Heights, Brooklyn, is open every Saturday in February to celebrate Black History Month. Weeksville was an independent free black community, named for James Weeks, who purchased the property in 1838, along with other African American investors, to create an intentional landowning community.

In Queens, the Louis Armstrong House looks much like it did when the celebrated jazz trumpeter lived there. Stroll through the colorful interiors and beautiful Japanese garden and hear recordings of Satchmo's music. Tours are held Wednesdays-Fridays on the hour from 10am-4pm, and Saturdays and Sundays from 12pm–4pm. Admission is $12 for adults, $8 for children ages 5-12, and FREE for ages 4 and younger.
Plan a somber visit to the African Burial Ground National Monument in Lower Manhattan to honor the memory of those enshrined on the site, which dates to the 1630s. Youngsters can earn a Junior Ranger badge.
RELATED: Midwinter Break: 35 Fun Things To Do With NYC Kids

Learn about organizations like the National Association of Colored Women and leaders like Ida B. Wells at the New-York Historical Society. Photo courtesy of the NYHS
The Central Branch of the Brooklyn Public Library hosts a family-friendly celebration of the 50th anniversary of Maya Angelou's seminal biography, "I Know Why the Caged Bird Sings," at a book launch for Rise!: From Caged Bird to Poet of the People, Maya Angelou. Author Bethany Hegedus and illustrator Tonya Engel read from their biographical book detailing the famed scribe's inspiring life story. FREE
The New-York Historical Society presents Living History: Black Women and the Suffragist Movement, which teaches visitors about leaders like Ida B. Wells, an early civil rights activist who helped advance the freedoms of black women.
Brooklyn held a prominent place in the history of the Underground Railroad. A ranger-led Brooklyn and the Underground Railroad Walking Tour through Brooklyn Bridge Park is just the place to learn about it. You'll hear about the borough's connection to the network of sanctuaries for enslaved individuals escaping the south. Participants are selected by lottery, and pre-registration is required. Registration runs from Wednesday, February 12-Sunday, February 15. FREE
Another cool event at the Brooklyn Public Library: On Saturday, February 29, it presents the Kotchegna Dance Company as the ensemble performs its program, Traditions From Ivory Coast. Dancer and percussionist Vado Diomande leads the troupe as it brings ancient stories and legends of Africa's Ivory Coast life through music and dance. FREE and families get priority seating.
RELATED: The Best Family-Friendly Shows to See This Winter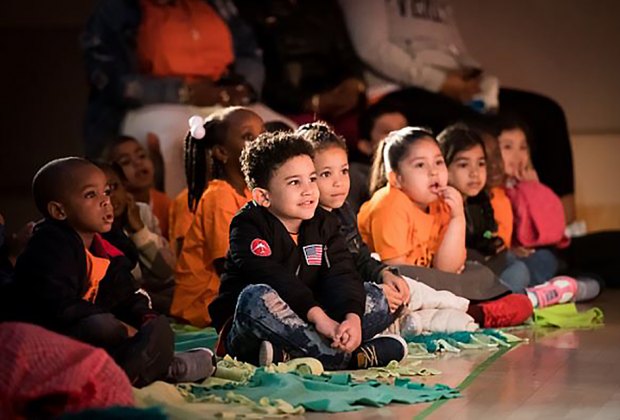 The Uncle Devin Show at the Sugar Hill Museum is a dynamic cross between DC's Trouble Funk and Schoolhouse Rock that captivates the tiny audience members. Photo courtesy of the venue
10. Visit a Cultural Institution Dedicated to the African American Experience
The Sugar Hill Children's Museum of Art & Storytelling, which dedicates much of its programming to the history of the neighborhood it calls home, offers regular weekly story times, including The Uncle Devin Show, an interactive, musical experience for children by renowned drummer and percussionist Devin Walker.
The Schomburg Center for Research in Black Culture, located in the heart of Harlem, hosts its fourth-annual Black Lives Matter Teen Conference on Saturday, February 8. This event welcomes young people ages 11-18 and aims to engage them as key leaders and influencers within their communities. FREE, but online registration is required.
The Studio Museum's main building may be closed for renovations, but the institution is offering events at various partner locations in Harlem. The Lil' Studio Power Portrait program invites kids to use colorful materials to make mosaics just like the contemporary African American artist Mickalene Thomas. The event takes place at the NYPL Harlem Library on February 6 and 8. Pre-registration is requested.
The Museum of Contemporary African Diasporan Arts in Downtown Brooklyn explores visual and performing arts across a variety of disciplines. Catch the current exhibition Marc Baptiste: RARA!, which shows the Haitian community celebrating RARA, an annual musical celebration marrying the African and Taino cultures.
This post, originally published in 2012, has since been updated.