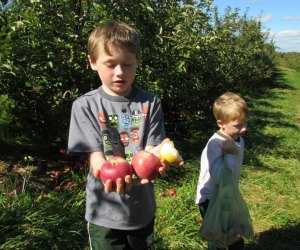 Apple Picking Orchards in Hartford County, CT
The nights are beginning to have a cool crisp breeze in the air, the leaves will soon be changing their colors, and the days are getting shorter….all signs of the start of my favorite season here in Hartford County. Fall marks the end of summer and with it comes many great things like fairs, breathtaking foliage, cozy sweaters, and especially apples! What better way to mark the start of fall harvest than to go apple picking with the kids. Many farms in the central Connecticut area offer pick-your-own fruit. While you're there don't forget to try a warm apple cider donut! For even more areas to go apple picking check out our CT Apple Picking Guide.
Karabin Farms - Southington
A local family owned farm in Southington, has pick your own apples in September until late October. All PYO includes a free wagon ride to the orchard Friday through Monday from 9:30 am-4pm. If you go on the weekends you'll be able to check out the donut and snack shack. They also have a variety of animals to visit such as cows, horses, and pigs. Pick Your Own is sold by the bag. A one peck bag for $15.00 or a large 1/2 bushel bag for $25.00.
Rogers Orchards - Southington
You can pick your own apples in September through mid October. They have two locations in Southington both open Friday-Sunday from 10 am-5 pm. Bags are provided and you can mix and match with all your favorite varieties.
Dondero Orchards - South Glastonbury
Donero's has apple picking daily from 8 am-6 pm. This is their 104th year! On the weekend, check their bakery for homemade apple fritters! After picking your apples, be sure to ask them for their list of suggested usage ideas.
Rose's Berry Farm - South Glastonbury
Rose's Berry Farm is a huge Pick Your Own destination. They are very well organized and offered a variety of pickings including seven different apple varieties.They also sell applesauce and applce cider. Please check their Facebook page for their Fall hours and directions to their two locations.
Belltown Orchards - South Glastonbury
Yet another spot in agricultural South Glastonbury, Belltown Hill Orchards, has 24 varieties of PYO apples from mid-August to early November on the weekends from 8 am-5 pm. Go visit the Hungry Harvester Concession Stand from 10 am-4 pm to try their famous apple fritters and irresistible freshly baked apple cider donuts.
Lyman Orchards - Middlefield
Centrally located in the middle of the state, is a large and popular orchard with amazing views. PYO is open daily from 8 am-5 pm. Apples are $1.50/lb. You can sign up on their website for "pick your own alerts" so that you never miss a fruit season. Also check out the Apple Barrel market, open daily from 9 am-6 pm, featuring fresh local fruit, baked goods, and specialty items.
Easy Pickins' Orchard - Enfield
North of Hartford in Enfield is Easy Pickins' Orchard. All of the apple trees are fully-dwarfed and offer apples for picking from just above the ground to the six foot level so that everyone can pick comfortably. There are 20 varieties to choose from. They are open Monday, Wednesday, Thursday from 9 a.m. to 12 p.m. and Friday through Sunday 9 a.m. to 5 p.m.
Lost Acres Orchard - North Granby
Another spot north of Hartford to check out is Lost Acres Orchard, which has >PYO apples with free wagon rides on the weekends in September and October. While there, check out the farm store, which sells apples, cider, pies, breads, soups, jams, mums, and handmade quilts.
Have fun picking!
Originally published 9/14/12.