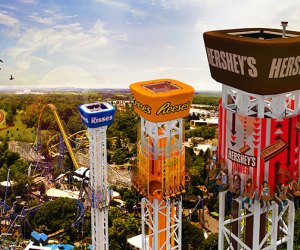 Cool New Rides Coming to East Coast Amusement Parks in 2017
If you have a houseful of theme-park thrill-seekers—or if you are one yourself—we've got good news: With summer on the horizon, amusement parks along the East Coast have big plans in the works.
We've rounded up 10 new attractions scheduled to debut in 2017. Read on for details, including locations, opening dates, and height requirements, and start plotting your summer travels today.
New Jersey
Hydrus Roller Coaster & Ferris Wheel – Casino Pier, New Jersey
Opening date: This spring (still awaiting state inspection)
Those in the tristate area will remember the scene at this Seaside Heights amusement park in the aftermath of Hurricane Sandy: the old Jet Star roller coaster mangled and deposited in the waves, its pier completely demolished. Casino Pier has been adding rides and rebuilding consistently since, and 2017 brings with it a new pier, parallel to the boardwalk, rather than extending into the Atlantic. It will house not only Hydrus, a 1,050-foot roller coaster featuring an opening drop of 97 degrees, plus a vertical loop and a top speed of 45 miles per hour, but also a brand-new Ferris Wheel, rising 131 feet into the air and offering spectacular views of the Jersey Shore. An opening date for the latter ride has yet to be determined, though developers are hoping for Memorial Day Weekend.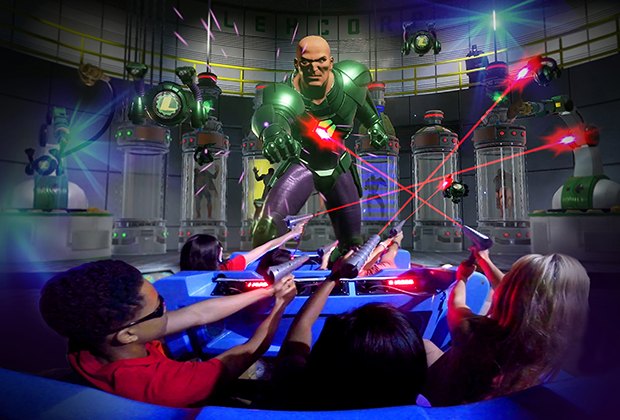 Gamers can join superhero favorites for a new 4D experience at Six Flags.
Justice League: Battle for the Metropolis – Six Flags Great Adventure, New Jersey
Opening date: Target date of Memorial Day weekend
Height requirement: 42 inches
Join your favorite superheros—Batman, Superman, Wonder Woman, the Green Lantern, The Flash, Supergirl, and Cyborg—for an interactive battle to save Metropolis from the evils of Lex Luther and The Joker. You'll hop aboard a six-passenger motion platform car and be immersed in a 4D experience that includes wind, fire, and fog, plus a video game-like, action-packed adventure as you aim to take down more than 600 targets. Don't miss new water park features that debuted last year, or the coaster!
RELATED: Jersey Shore Guide for Families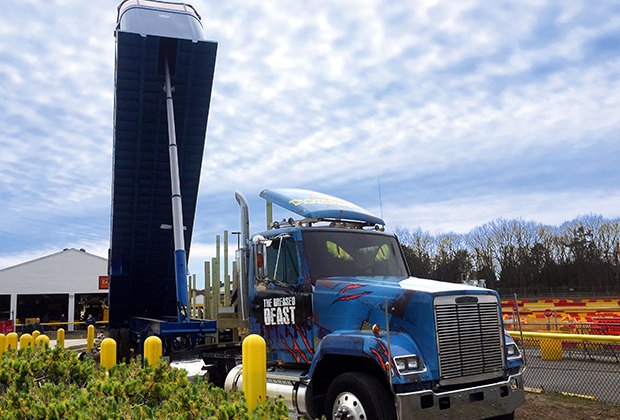 Diggerland adds a giant dump truck ride to its construction-themed lineup.
The Greased Beast – Diggerland, New Jersey
Opening date: Tentatively, March 25
Height requirements: 42 inches
Construction-obsessed kids flip over this hard-hat themed amusement park, and a new ride will flip you out of your seats. The Greased Beast gives riders the feeling of being payload in a giant dump truck as they are lifted more than 30 feet in the air for a simulated dump.
RELATED: Best Family Resorts in the Pocono Mountains
Pennsylvania

Your thrill-seeking kids might dig the new Tower series at Hersheypark.
Hershey Triple Tower – Hersheypark, Pennsylvania
Opening date: April 8
Height requirement: 48 inches
This trio of towers provides a gravity-defying experience for riders of all thrill levels. If you don't have the stomach to endure the 45-mph lifts and drops atop the 189-foot Hersey Tower, one of the smaller, milder Reese's or Kisses Tower rides may be right. Kisses Tower lifts thrill seekers 80 feet above ground while Reese's Tower shoots guests 131 feet up. Want to learn more about Hersheypark? We've visited several times, including the amusement park and Chocolate World and even during the holidays.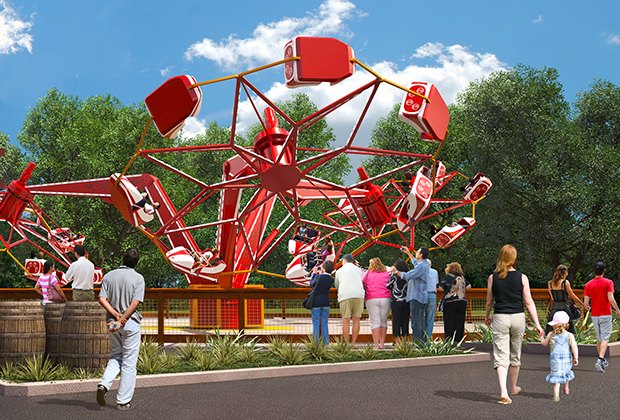 Two new rides debut at Dorney Park in 2017, including Kaleidoscope pictured here.
Kaleidoscope & Dodgem – Dorney Park, Pennsylvania
Opening date: April 29
Height requirements: Dodgem, 42 inches to ride, 48 to drive; Kaleidoscope, 42 inches
Dorney Park gets bonus points for offering two new attractions. Listening to the requests of guests, the family-friendly Dodgem brings the old-school fun of bumper cars back to the park. Kaleidoscope provides a feeling of weightlessness as its trio of arms hoists guests into the air and spins during a thrilling, fast ride.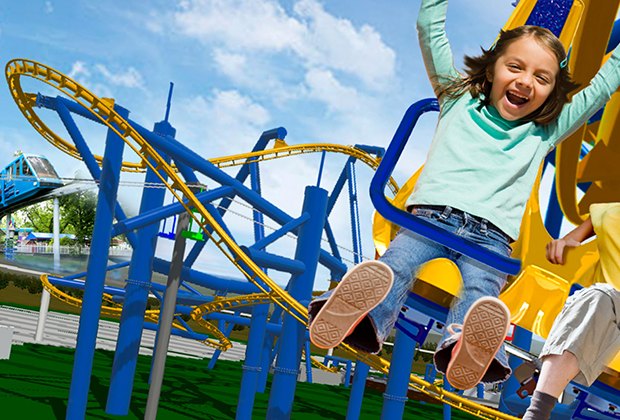 Dutch Wonderland debuts its first "suspended" roller coaster.
Merlin's Mayhem – Dutch Wonderland, Pennsylvania
Opening date: Summer
Height requirement: 39 inches
Dutch Wonderland debuts the park's first suspended coaster. The ride simulates a journey with Merlin as he takes flight in an attempt to find his beloved dragon. The twisting, turning, flying magic machine is accompanied by in-seat audio clues as well as visual cues prompting guests to help Merlin find his friend.
RELATED: Florida Family Travel Guide: Reviews by Parents
Florida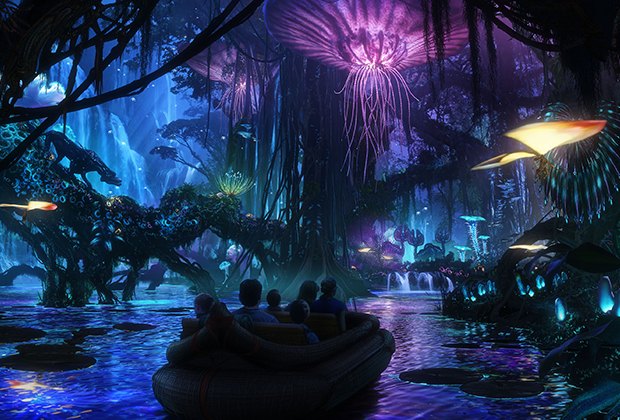 A magical trip down the pretty Avatar-themed river ride at Disney's Animal Kingdom is sure to please all ages.
Pandora—The World of Avatar – Disney's Animal Kingdom, Florida
Opening date: May 27
Height requirements: 44 inches for Flight of Passage; all ages allowed on Na'vi River Journey
Inspired by James Cameron's epic Avatar movie, Disney debuts an entirely new world in its Animal Kingdom theme park. Dotted with floating mountains and bioluminescent rain forests, Pandora brings with it a pair of new rides. Avatar Flight of Passage allows visitors to climb aboard a banshee and soar above this incredible landscape. On the Na'vi River Journey, families sail together on woven rafts through the rain forest.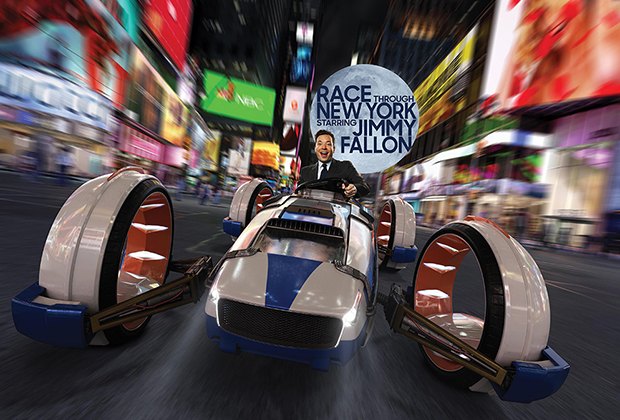 Tween and teen fans of late night comedy might want to check out the new Jimmy Fallon ride.
Race through New York Starring Jimmy Fallon – Universal Studios, Florida
Opening: April 6
Height requirement: 40 inches
Take a ride on the wild side as you race Tonight Show host Jimmy Fallon through the streets of New York in the flying theater that takes you through the halls of 30 Rock and inside bustling subways. The wait for this sure-to-be-a-hit ride is half the fun as you peruse memorabilia from the show's history and play interactive games based on Fallon's on-air shticks.
Honorable Mentions
Maybe a Disney vacation isn't in the budget, or a (near-) staycation is more your style. One of our favorite summertime destinations for preschoolers, Quassy Amusement Park and Water Park, debuts a pair of kiddie rides, Skippers Clippers and Up, Up, and Away.
If you're in NYC or in Long Island, head to Queens' Fantasy Forest Amusement Park, which has been dropping hints a new teacup ride soon will open.
Find more thrilling fun in our Family Amusement and Theme Parks Guide.
All photos courtesy of the parks.