SPONSORED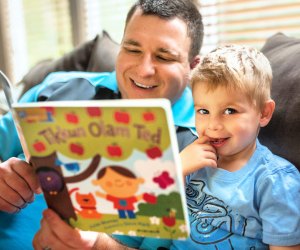 PJ Library Delivers Free Children's Books Every Month
Reading to kids and making sure they have access to plenty of good books is one of the best gifts you can give. Luckily, PJ Library helps parents deliver by providing free high-quality literature celebrating Jewish culture, values, and heritage to children ages 6 months to 11 years old.
Free books? So, what's the catch? There isn't one! Made possible through the Harold Grinspoon Foundation in partnership with philanthropists and local Jewish organizations, PJ Library mails more than 600,000 professionally curated books to families around the world every single month. No matter your family's level of Jewish observance or knowledge, PJ Library has a diverse selection of books that will enrich your home with wonderful stories and more quality reading time.
Some of the books introduce Jewish holidays like Passover, the Hebrew alphabet, and Bible stories, while others focus on traditional folk tales and themes like immigration and environmentalism. You'll find picture books like I Dissent, Ruth Bader Ginsburg Makes Her Mark, and chapter books like Zlateh the Goat, a collection of tales by Isaac Bashevis Singer and illustrated by Maurice Sendak. The selection even includes Caldecott-honored books such as Joseph Had a Little Overcoat and It Could Always Be Worse. Family favorites!
How does the subscription work? When you sign up for free books with PJ Library, you'll register each child's age to guarantee that they receive age-appropriate books. Kids as young as 6 months old and up to 8 years are eligible, while the 9- to 11-year-old crowd can join the next chapter of PJ Library and choose their own middle readers through PJ Our Way. With the option to sign up grandchildren, nieces, and nephews, in addition to your own children, PJ Library also makes a great gift.
Beyond the books, PJ Library offers online music and resources, and supports hundreds of local programs that make it easy to learn, explore, and connect with other Jewish families. Parents in New York City, Long Island, and Westchester, can visit the online events calendar, which features everything from Shabbat Sing-Alongs and Bagels & Blox playtime to parenting classes and volunteer opportunities.
Wonderful books and the opportunity to share beautiful stories and values, all for free? What's not to love? Sign up for PJ Library to start receiving your free monthly books, and to find music, activities, and more!