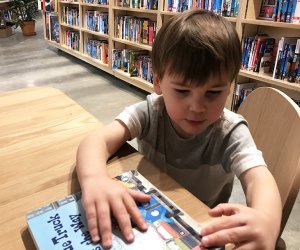 8 New NYC Bookstores and Libraries To Check Out With Kids
New York is filled great bookstores and neighborhood libraries. As parents, we know these lit havens can mean lifeline to sanity on cold and rainy days and hot and humid ones, along with giving a safe and kid-friendly place to play through all those stages they seem to whip through so quickly, from cruising toddler to inquisitive adolescent.
Sure there are the standard spots to rely upon week after week, year after year. But just in case you're tiring of the same four walls, we've rounded up the top openings and renovations of NYC libraries and bookstores around the city. Get ready for some fresh kid lit!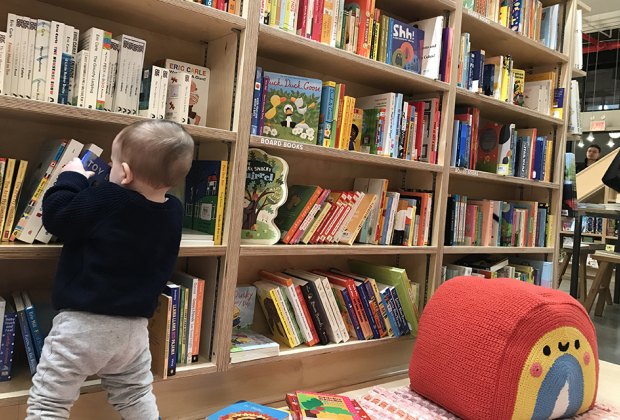 The youngest of customers can enjoy the plush children's section at the McNally Jackson bookstore. Photo by the author
McNally Jackson — Williamsburg, Brooklyn
Finally, Brooklynites have a McNally Jackson location to call their own! This beloved independent bookstore opened its Williamsburg space in late January. The new location is nearly 4,000-square-feet and has two stories of books to explore. The booksellers are keenly aware of Brooklyn's stroller-centric clientele and have a wonderfully curated children's section for kids to browse. With cozy floor space, colorful pillows, and benches outfitting its children's nook, it would be easy to stay all day. It has a rotating roster of children's events to keep families coming back. It is now listing storytimes and other events on its main online calendar, but you can also learn about its current offerings through its Twitter feed.
RELATED: Best Brooklyn Storytimes for Kids and Babies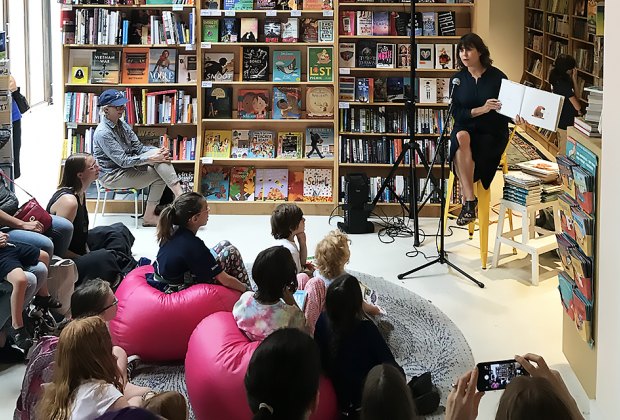 Emily Jenkins reads from her book Brave Red Smart Frog at Books Are Magic. Photo courtesy of the bookstore
Books are Magic — Cobble Hill, Brooklyn
Since May 2017, this Cobble Hill bookseller has been inspiring the tiniest lovers of literature. Books are Magic offers bi-weekly story events, a kid's book club, and an expansive, 200-square-foot dedicated children's section. The passionately curated book selection can be enjoyed from bean bags, a couch, little chairs, or a "hide-y hole" for kids to curl up and read. The store is owned by Cobble Hill locals, and their investment in the community is visible through the inviting family-centric vibe and robust events calendar.
Greenlight — Prospect Lefferts Gardens, Brooklyn
Like its Fort Greene counterpart, Greenlight Bookstore aims to become a true community space. Its 2,100-square-foot Lefferts Gardens location opened up last year, too. Every Saturday, the store hosts an author storytime, geared toward children 3 to 8 years old. Older kids (9 to 12) can get involved in the book club that meets once a month over pizza. Sign up for the "Kids at Greenlight" email list for a rundown of new releases, as well as a peek at upcoming events.
Books of Wonder — Upper West Side
Books of Wonder opened up on the Upper West Side in January 2018! Though it's smaller than the Chelsea location, there's no shortage of activities for children. Storytime is aimed at children ages 3 through 7, and is held every Saturday at 11am and and Sunday at 11:30am. The 2,500-square-foot space is a literary haven for kids. Check out the website for events and activities for kids.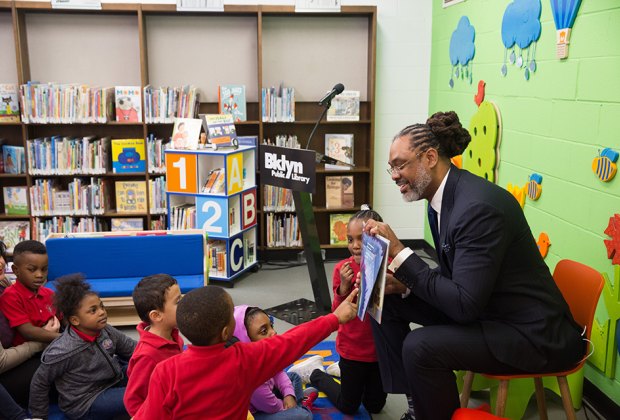 Council member Robert E. Cornegy Jr. reads to children at The Marcy Library reopening. Photo courtesy of the Marcy Library
Marcy Library — Bedstuy, Brooklyn
After renovations, Marcy Library has appeal that goes beyond its collection of books. The library reopened in February of 2018 and now boasts brand-new computers, seating areas, and an interactive activity wall in the children's section—aims to encourage creative play, an important pre-reading skill for babies and toddlers. It also offers songs and activities geared specifically toward preschoolers, as well as crafting events for older kids. It even has a session that appeals to the littlest New Yorkers, called "Babies and Books," which encourages early literacy, social skills, and motor skills through play. Check the calendar of events for more details!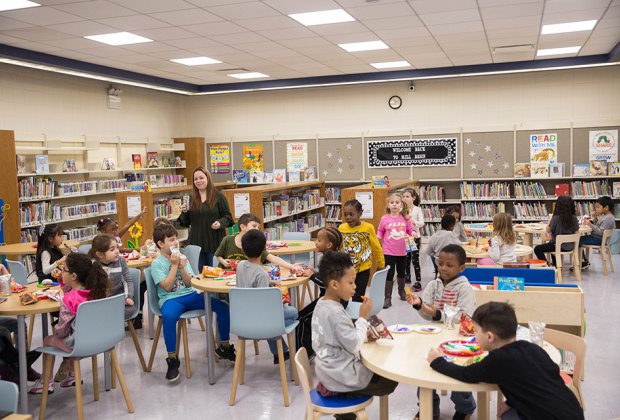 Kids can enjoy a range of activities happening every week at the Mill Basin Library. Photo courtesy of the Mill Basin Library
Mill Basin Library — Mill Basin, Brooklyn
Mill Basin Library closed its doors in 2016 due to a failure of the air conditioning system. Thankfully, this branch of the BPL reopened in January 2018 with a lengthy list of improvements. The new kids section is bright and inviting, complete with playful decor: pint-sized benches, tables, and stools for kids to take a seat. There are computers and large tablets set up for little hands. "Toddler Time" is every Tuesday morning, and there is even special programming on Fridays for children under 18 months. Older children can enjoy "Kids Tech Time," a weekly activity with a different tech-related theme each week.
RELATED: Storytimes for Kids and Tots in Manhattan

Park Slope Library's Reading Garden includes walking paths and storytelling garden. Photo courtesy of the library
Park Slope Library Reading Garden — Park Slope, Brooklyn
Right alongside the Park Slope Library is a quiet garden enclave with a storytelling amphitheater, which opened in May 2017 and offers families a lit-centric oasis for kids of all ages. The tranquil outdoor space is designed for stories, sing-alongs, and activities for kids to enjoy in the sunshine. Check the calendar of events for details as the weather warms.
Woodstock Library — The Bronx
After a stunning $11-million renovation, the Woodstock Branch of the NYPL is back in action! It reopened its doors in May 2017 with new and improved facilities for New Yorkers to enjoy. Among the impressive expansions and improvements of the 103-year-old space is an area for children's storytime and a young-adult space with lounge seating. With 18 children's computer stations and 28 for young adults, this library location is a great place to bring the kids.
Top photo of the McNally Jackson bookstore by the author