SPONSORED
27 Reasons Yorkville May Be The Most Family-Friendly Neighborhood in NYC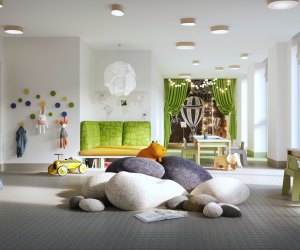 With the long-awaited arrival of the Second Avenue subway, Yorkville has become the best of both worlds -- a slightly off-the-beaten-path enclave with zippy Manhattan train access. The cozy Upper East Side neighborhood between East Harlem and East 79th Street has also seen an influx of kid-friendly amenities, like new restaurants and play spots, adding to the established old-time favorites, wonderful parks, and great schools.
To meet the demand, beautiful new luxury buildings, like Citizen360, offer zen-inspired design, envy-inducing views, spacious apartments and a long list of top-notch features — think relaxing residents' lounges and private entertaining suites, yoga studios, infrared saunas, and stress-free on-site parking. Surprisingly, with so much going for the neighborhood, apartments still go for less than Manhattan averages, making Yorkville a smart choice for families looking to have it all.
Read on to find out what exactly makes Yorkville one of the most family-friendly 'hoods in New York City right now.
Best Things to Do in Yorkville
Part of what makes Yorkville so serene is the beautiful parks. Carl Schurz Park is a 14.9-acre urban oasis with graceful landscaping and the well-loved Catbird playground. It's also home to Gracie Mansion, the Mayor's official residence, and hosts great free events. The smaller Ruppert Park creates a uniquely tranquil vibe in the middle of the neighborhood, because the entire street along the north side is blocked to traffic. The Asphalt Green sports complex has also been a community staple for decades, offering playing fields, a pool, and tons of classes.
Yorkville has a host of unique places for kids to play when it's not-so-nice outside, too. From NYC's only indoor petting zoo to the one place dedicated to the fast-paced camp favorite, gaga. There's a place dedicated to dressing up like a princess, one where kids can learn to weave their own clothes, and another just for building robots. Enrichment centers like Gymtime Rhythm and Glues and My Gym offer classes from baby and me on up. And more spots are still popping up, like the brand new Fun Zone.
Best Family-Friendly Restaurants and Eats in Yorkville
The neighborhood's German and Hungarian roots remain in spots like Schaller's Stube, a sidewalk sausage bar run by the nearby 80-year-old butcher shop Schaller & Weber, and Heidelberg, which is one of the oldest family-run German restaurants in the United States. Newer additions to the area include hotspots like The Penrose, The Meatball Shop, and Pizza Beach. Alice's Tea Cup Chapter III is a favorite for fancy teas and brunches, with or without fairy wings. If you love Rice Krispie treats, you'll love Treat House, while Two Little Red Hens is heaven for cupcake fanatics.
All Your Family Necessities
Families need easy access to the stores that keep life moving. With Whole Foods, Fairway and tons of other gourmet markets, dinner is a cinch. The neighborhood has all your shopping staples covered and Lester's has been outfitting kids for decades. Great public schools include PS 290, PS 158 and the Lower Lab, as well as private options. What more can you ask for?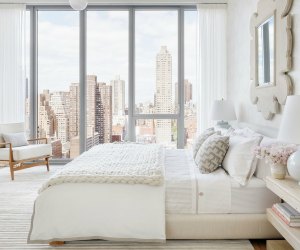 Imagine waking up in this master bedroom each morning!
Live Your Best Life
If this tough-to-top neighborhood already has you swooning, imagine retreating from city life into your very own spa-like space at Citizen360, located at 360 East 89th Street. The stunning condominium was designed by SHoP Architects, who also designed the much-loved East River Esplanade and Barclays Center. The building's elegant interiors, and large, sunlit residences were created by holistic designer Clodagh. Between the shared social spaces and conveniences like a fitness center and wellness lounge, a playroom and art studio, an entertainment suite, a screening room, and on-site storage, you'll be living even larger.
If you're ready to leave your Brooklyn walk-up behind to enjoy the Yorkville lifestyle and luxury at Citizen360, contact the sales team, stat. You can also stop by the Sales Gallery at 360 East 89th Street or visit the website for more information.
Photos courtesy of Citizen360