NYC Fun Zone Gives Upper East Side Toddlers a New Play Space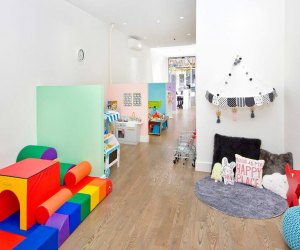 The Upper East Side is already packed with plenty to do for neighborhood families. It's almost made for kids, and we're told that the Yorkville neighborhood east of Third Avenue is booming with kid fun, too. In fact, the Manhattan nabe just got a brand-new play space that's steps from Carl Schurz Park, and it truly is a gem nestled among the shops on York Avenue.
The minute you enter NYC Fun Zone you notice its inviting, clean space for babies up to kindergarten-aged kids. Toddlers will feel right at home. Even my 5-year-old had a blast and didn't want to leave!
Get all the details on the bright and fun new uptown venue below.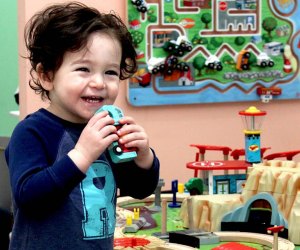 A train table with cars and more is a hit!
Once we moved past the front desk entrance—every person must be personally buzzed in—my 5-year-old was immediately drawn to the various play stations. Each play area is divided by a colorful wall, to make the spaces feel more intimate and not overrun. The train table and dress-up station were a huge hit! You can be a pirate while playing conductor, why not? The adorable kitchen area and grocery carts were quite popular on our visit. And when you need a break from imaginative play, there is a sweet book nook with a plush carpet and where you can nuzzle up with a good book. A perfect way to wind down from non-stop fun.
RELATED: 8 Cool Kid Spots Near the New Second Avenue Subway Line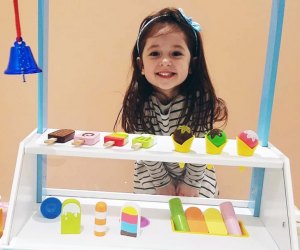 Serve up some frozen treats at the pretend ice cream stand.
In addition to the play space, there is a private room which offers an array of classes, such as chess (great for the ages 5 and up crowd), ballet, and "Messy Art Fun." It also offers classes with the ever-popular Jam with Jamie music, and Hebrew classes. On the day we visited families were arriving for the "Story Time and Yoga" class. The space even has backyard access—so rare in NYC! It is currently under construction, but will be a great way for kids to get some outdoor play in this spring and summer.
NYC Fun Zone also offers three customizable birthday party packages. All parties include 90 minutes of free play in the facility, two staff members, up to 15 children (you can add more for an additional fee), and clean up. This is a great option for a neighborhood birthday party or a school get-together.
NYC Fun Zone is located at 1571 York Avenue between 84th and 83rd Streets, and is open Monday—Friday, 9am–5pm. But check the website before you head over on a weekend, as parties may cause closures. Also check the website for promotions and admission details.
Photos courtesy of NYC Fun Zone