Polkadots: The Cool Kids Musical Is Perfect for Times Like These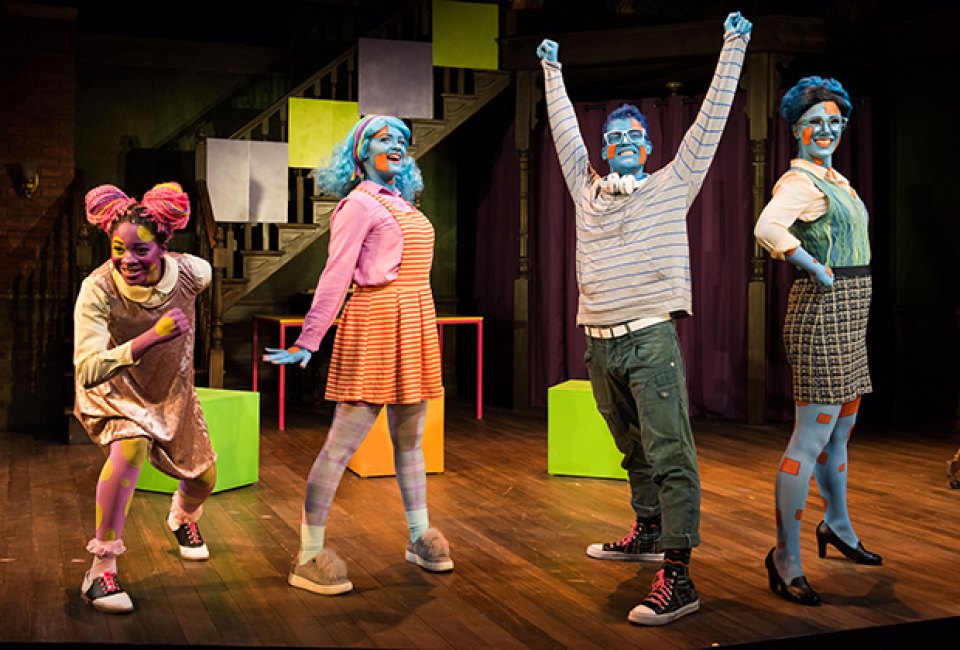 9/21/17
- By
Maureen Wilkey
You know how, as a parent, you can explain a concept dozens of times, but until a kid sees it for themselves, they don't really get it? When the topic of discrimination comes up (if it hasn't already), don't bother trying to define it. Just take your children to Polkadots: The Cool Kids Musical.
The bright set, costumes, and hair/makeup (blue skin! purple skin! rainbow hair!), as well as the characters' electric personalities will draw kids in immediately, while the 55-minute performance takes a complicated topic and puts it through a kid-friendly lens—without dumbing it down or simplifying it too much.
Read on for our full review, or check out our NYC Theater Guide for more family shows playing now.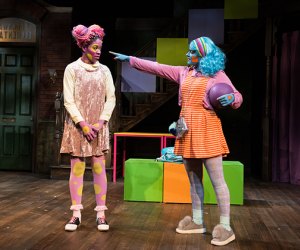 Penelope Square pointing out Lily Polkadots' differences.
The premise is straightforward: Inspired by the events of The Little Rock 9, third-grader Lily Polkadot transfers to an all-squares elementary school and is met with fear-based resistance from some of the class and the school itself, e.g., separate drinking fountains for Squares and Polkadots. Her most vocal protestor is Penelope Square (brilliantly played by Brooke Sweeney), while her biggest advocate is Penelope's younger brother, Sky. (You can see the conflict here.)
RELATED: Best Family Theater in NYC this Fall: Paw Patrol to Shakespeare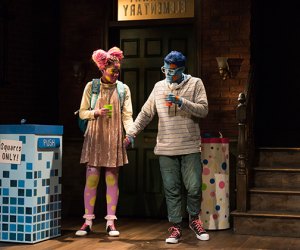 Lily and Sky Square "testing the waters" at the fountain.
As a mom full of protective instincts and emotions for her kids—you never want to see any kids excluded or hurt—I found myself tearing up when Lily was called out, teased, or questioned. Penelope pulls every childish and ignorant move to keep Lily at bay, but the polka-dotted girl eventually finds an opening with Sky, and they bond. And she finds just one friend. (And I cried a little more.) It's the ideal setting for kids to think about how they treat one another and, if they take after Penelope now and then, a little perspective. While my 9-year-old daughter found the water-fountain issue ridiculous ("Why does it matter?" she whispered in the middle of the show), I could see her turning the kids' behavior over in her head.
But it's not a downer: Lily keeps her chin up through most of the performance (strong woman in the making!) and the musical numbers are all-out infectious. (I still have "Sticks and Stones" stuck in my head.)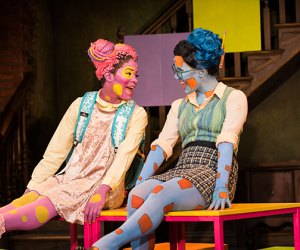 Lily getting a pep talk (in the form of a song) from Ms. Square.
It's a small cast: only four actors, and all of them absolutely shine on the stage. The previously mentioned Sweeney plays self-centered and obtuse to a T, while Chris Renalds as Sky slowly emerges from his shell with exemplary timing. Stephanie Toups plays the double role of teacher (inclusive) and mother (somewhat exclusive) without missing a beat, and Latoya Edwards: what a gift for all theatergoers. She can give off the vibe of a third-grader along with the patience and understanding of boundary-breaking trail-blazers who have come before her.
Musical theater is an invaluable gift to give your kids; the social message is the icing on the cake with this one. Go, watch, admire, and learn.
Polkadots: the Cool Kids Musical is located at the Atlantic Theater Company, 336 West 20th Street and runs until October 8. Best for ages 7 and up. Tickets are $15 for children and $20 for adults and are on sale now.
All photos courtesy of the production
Places featured in this article:

Sign up for our free
newsletters.
Mommy Poppins is a family activity website that helps people find things to do with kids.
©
2023
MommyPoppins. All Rights Reserved.
mp-prod4-v4.32.99
We use cookies and other data collection technologies to provide the best experience for our customers.
Learn More