SPONSORED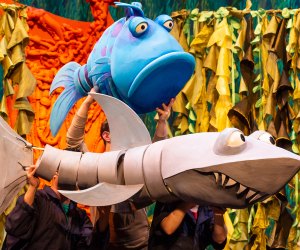 The Best Kids Shows of Off-Broadway's New Victory Theater 2019-2020 Season
For the past 24 years, the award-winning New Victory Theater in the heart of Times Square has been the premier destination to catch entertaining and affordable productions for all ages. But the beloved New Victory is much more than just a place to catch a show in NYC. Through hands-on workshops, interactive pre- and post-show activities, and performances adjusted for children with special needs, the nonprofit organization is raising the bar for what theater for young audiences can be. I know this firsthand: I've been bringing my daughter to the New Victory Theater for well over a decade, and her formative experiences there inspired her love of live entertainment. I'm pleased to share a preview of the New Victory's 2019-2020 season, including the best plays for kids of different ages (even big kids, like mine), and ways to save on tickets.
There are 15 shows playing during the New Victory's new season. As always, they come from all over the globe and represent a wide range of genres, including circus, magic, puppetry, musicals, and more. While all of the offerings are designed specifically for families, different shows target various ages and interests, which is why we've highlighted productions we're particularly excited to see and organized them by stage. So make a night (or a day) of it by catching a fun family performance, grabbing a bite to eat, and even hitting a few offbeat attractions nearby.
Pro Tip: If you book three or more shows, you automatically become a New Victory member, which means you save up to 40% on tickets, 35% on workshops, and enjoy unlimited free date changes up to 48 hours before showtime. You also receive invites to work-in-progress showings by New Victory LabWorks artists. Tickets at the Off-Broadway theater are only $17-$42, so performances do fill up fast. After deciding which productions are right for your family, you should purchase early for the best pricing and seating options.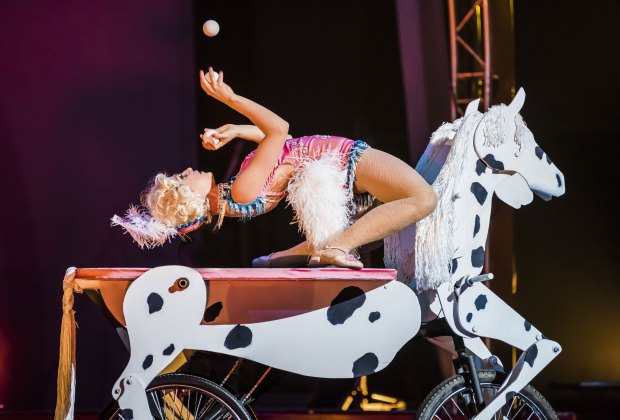 42 FT – A Menagerie of Mechanical Marvels. Photo by Maike Schulz.
Best Shows for Preschoolers
Because I Say So (at the Duke on 42nd Street at 229 West 42nd Street)
Thursday, December 12-Sunday, December 22
Ages 3-5
What if kids ran the world instead of grown-ups? That's the premise of this romp by Sweden's Unga Klara. In this half-hour physical-theater piece, the performers dance, pretend, and play with abandon as they bond with their young spectators.
Não Não (at the Duke on 42nd Street at 229 West 42nd Street)
Friday, June 5-Sunday, June 14, 2020
Ages 1-4
"No!" is every toddler's least favorite word. So your tot is sure to relate to the little clay protagonist of Não Não, who won't take no for an answer. In this playful half-hour escapade by France's Le Vent des Forges, two performers sculpt and animate a mischievous puppet boy, who makes a gleeful mess of things as he pushes boundaries and explores the world around him. An ideal first-time theatergoing experience for very young children.
Best Shows for Younger Elementary Schoolers
The Pout-Pout Fish
Saturday, Oct 12-Sunday, October 20
Ages 4 to 7
Deborah Diesen's and Dan Hanna's whimsical picture book series comes to life at the New Victory Theater courtesy of TheaterWorksUSA. In this peppy puppet musical, the title frowny fish and a prized pearl are unexpectedly swept out to sea. Way out of his comfort zone, Pout-Pout is forced to rely on himself — and a few newfound friends — to make it home.
The Riddle of the Trilobites
Friday, Feb 7-Sunday, February 23, 2020
Ages 6 and older
Set 500 million years ago when all life on Earth existed in the ocean, this playful musical examines evolution through the eyes of a young Paleozoic marine arthropod named Aphra. When she realizes an epic change is a-coming, she needs to rally her species so they can survive... or, more accurately, evolve. The brainchild of CollaborationTown and Flint Repertory Theatre, the show features bouncy songs, eye-popping puppets, and fun scientific facts.
Magic Shadows
Friday, April 3-Sunday, April 19, 2020
Ages 5 and older
Shadow masters and America's Got Talent finalists Catapult craft jaw-dropping visuals in this hour-long spectacle. Using their lithe bodies, well-placed props, and lights behind a scrim, the members of the troupe take audiences on a fantastical journey featuring larger-than-life creatures — no special effects required.
Best Shows for Tweens
Aesop's Fables
Friday, November 1-Sunday, November 3
Ages 7 and older
Ancient Greek morality tales are given a South African makeover in this exuberant opera by Capetown's Isango Ensemble. Performed in English as well as a mix of South African languages with an uplifting marimba score, the production proves the wisdom of these 2,500-plus-year-old fables remains timeless. A great way to introduce kids to opera.
Cartography
Friday, January 10-Sunday, January 19, 2020
Ages 10 and older
The plight of undocumented immigrants is addressed with sensitivity and insight in this timely multimedia work. Real-life stories of young refugees are shared as audiences learn how poverty and war are causing mass migration around the world. This empathetic and poignant piece puts a human face on the immigration crisis for kids.
Best Shows for the Whole Family
RE:PLAY
Friday, November 15-Sunday, December 1
Ages 6 and older
As a child in the '70s, I remember being so mesmerized by the kooky creatures conjured by MUMMENSCHANZ on Sesame Street that my mother took me to see the troupe's show on Broadway. As a parent, I was thrilled to introduce my own daughter to the Swiss mime company's surreal antics. This fall, MUMMENSCHANZ makes its New Victory Theater debut with its latest show, RE:PLAY, a combination of classic routines and fresh material. This is analog creativity as its most inventive, no technology required. Show your kids a couple of videos on YouTube and I suspect they'll be as hooked as I was 40 years ago!
42FT—A Menagerie of Mechanical Marvels
Friday, December 6-Sunday, Jan 5, 2020
Ages 5 and older
Note: Tickets for this show are $22-$59
As usual, the New Vic celebrates the holiday season with a circus spectacle, but Cirque Mechanics is no ordinary big top. The Las Vegas troupe put on one of the most visually stunning and ingenious circus shows I've ever seen, and my daughter and I have been following the company's work ever since. For its latest extravaganza, Cirque Mechanics celebrates the history of the one-ring art form with a production that fuses old-time aesthetics and animatronic wonders (a galloping mechanical horse!) with acrobats who push the limits of contemporary circus skills. Prepare to be astounded.
Drumfolk
Friday, February 28, 2020-Sunday, March 15, 2020
Ages 7 and older
Edutainment at its finest. Step Afrika!'s new show explores the evolution of African-American percussion and dance, as traditions of stepping and drumming paved the way for tap, beat-boxing, and hip-hop. You'll struggle not to jump up and dance.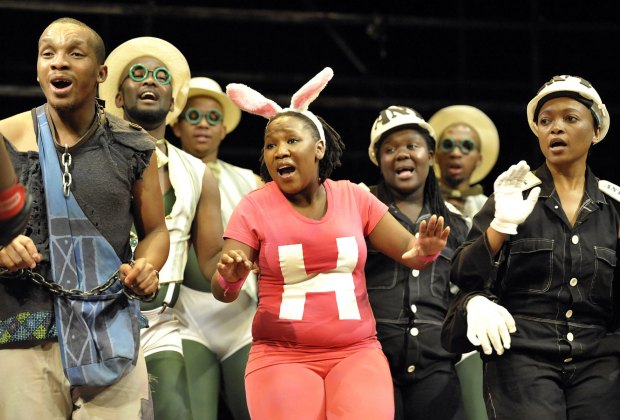 Aesop's Fables. Photo by Keith Pattison.
Special Pre- and Post-Show Activities
In addition to shows, the New Victory has a variety of drop-in family programs that are FREE for ticket holders. Arts-based activities will be offered before and after every single performance in the New Vic's spacious lower lobby. Kids can meet the stars after every single performance, except when they're doing post-show Talk-Backs. You can even get psyched for your upcoming show with Family Activities to try at home. Other New Victory programs of note:
Family Workshops — Throughout the season, the New Vic hosts hands-on workshops related to its shows. Offerings include dance, circus, puppetry, and masks, and tickets must be purchased in advance. Buy early as these sell out fast!
Accessible Performances — As part of the New Vic's commitment to inclusion, the theater offers a variety of accessibility programs, including audio-described performances for those with vision loss; sign-interpreted performances for those with hearing loss; and sensory-friendly performances for those on the autism spectrum. Check the website for a schedule of these performances. Note that all performances at the New Vic are wheelchair accessible, and assisted listening devices are always available.
For additional details about the 2019-20 season, and to view showtimes and buy tickets, visit the New Victory Theater's website.
The New Victory Theater
209 W 42nd Street
New York, NY 10036
The Duke on 42nd Street
209 W 42nd Street
New York, NY 10036