Best Family Theater in NYC This Fall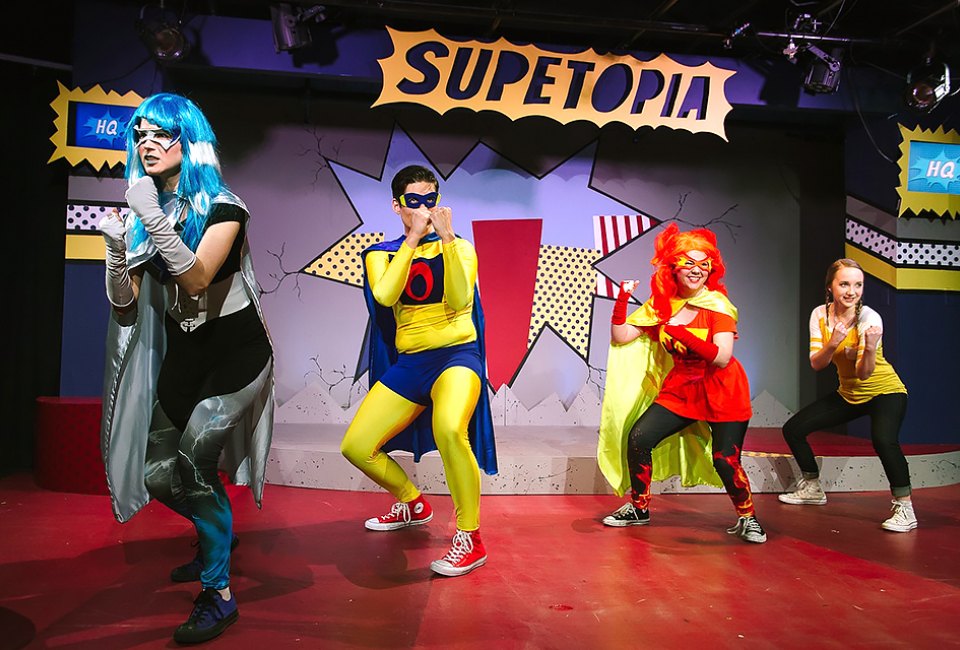 9/18/18
- By
Raven Snook
Autumn marks the start of a new theater season, but you don't need to shell out big bucks on Broadway shows to give your kids a memorable live entertainment experience in NYC. In fact, this fall boasts more high-quality theater productions for young audiences than ever—so many in fact, we have a whopping 25 picks, and that's after whittling down the contenders.
Preschoolers will be excited for the return of old friends Pete the Cat and Angelina Ballerina, plus the debut of a new show based on a Laurie Berkner song. Older kids will be inspired by That Inventions Show, the interactive improv piece Show Up, Kids!, and the immersive Gumshoe, which takes place throughout the 125-year-old Henry Street Settlement. There's also funky fare for tweens at Lincoln Center and the New Victory Theater, plus everyone in your family can enjoy the Big Apple Circus. Best of all, many of our picks are $25 or less per ticket.
Sign up for our FREE newsletters to get posts like this delivered to your inbox.
Click through to our listings for all the details, including times and locations.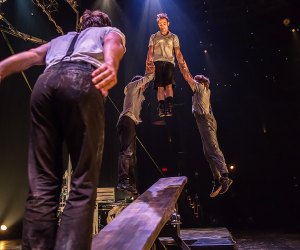 Machine de Cirque swings into the New Victory Theater. Photo by Loup-William Theberge
Machine de Cirque — Midtown West
Friday, September 28 through Sunday, October 7
Ages 8 and older
Five athletes from Quebec tumble, leap, bicycle upside down, and generally thumb their noses at gravity in this high-flying show at the New Victory Theater. The wacky premise finds the acrobatics trying to craft a communications contraption, but ultimately the scrap-metal set becomes a kind of circus playground. They not only use the bars, poles, and tubes to perform their cool tricks, they play them like percussive instruments à la Blue Man Group.
Gumshoe — Lower East Side
Saturday, September 29 through Sunday, October 7
Ages 8 and older
One of the city's most ambitious theater companies for young audiences, Trusty Sidekick, debuts its latest adventure: an immersive show inspired by the life and legacy of Lillian Wald, who founded the Henry Street Settlement back in 1893. Families explore the historic space as they try to solve an old mystery, but first you have to figure out who's your friend and who's your foe, and whether they're feeding you facts or fiction. The troupe developed this site-specific piece with the help of the Young Devisers, a group of adolescents who will perform alongside grown-up actors. Definitely one of the hottest family tickets for fall.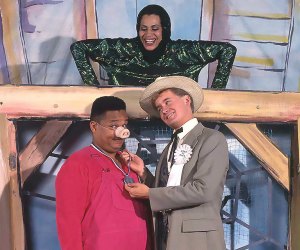 TheaterWorksUSA's adaptation of Charlotte's Web plays the Tribeca Performing Arts Center. Photo by Jean-Marie Guyaux
Charlotte's Web — Tribeca
Saturday, October 6
Ages 5 to 10
Bring tissues to the Tribeca Performing Arts Center for TheaterWorksUSA's stage adaptation of E. B. White's classic novel about the unlikely friendship between Charlotte the spider and Wilbur the pig. That bittersweet ending gets us every time.
FringeJR — West Village
After 20 years of producing FringeNYC every August, the producers took last year off to reimagine the theater festival. Although there have been many changes (fewer shows, new dates, outer-borough offerings), I'm happy to report that FringeJr, its series for young audiences, is returning.
The Odyssey — Saturday, October 6 through Wednesday, October 10
Ages 5 to 12
It's Homer's Odyssey scaled down to kid size. The Classical Remix Theatre Collective is behind this mini epic, which barrels through the action-adventure saga in just over a half hour.

Super! The Musical flies into FringeJR. Photo courtesy of the Maryland Ensemble Theater
Super! The Musical — Saturday, October 6 through Thursday, October 11
Ages 5 to 12
What makes a superhero: powers or personality? Find out in this musical about a motley crew of strivers who step up when the town's superheroes go missing. Will they be able to save the day?

Sammy and "Le Grand Buffet" gets silly at FringeJR. Photo by Paul Franz
Sammy and "Le Grand Buffet" — Tuesday, October 16 through Sunday, October 28
Ages 5 to 12
Clown Jonathan Mirin makes like Keaton and Chaplin in this solo physical comedy about an American waiter trying to survive his gig at a demanding Parisian restaurant. A French food-filled farce ensues.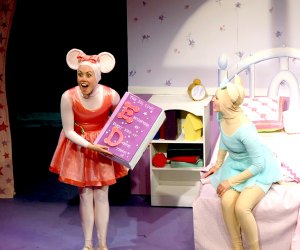 Angelina Ballerina returns to Vital Children's Theatre. Photo by Stephen Rosen
Angelina Ballerina — Upper West Side
Saturday, October 6 through Sunday, November 18
Ages 2 to 7
Vital Children's Theatre revives its popular musical based on the animated series Angelina Ballerina: The Next Steps as the graceful mouse and her pals show off their dancing skills for a very special guest. Catnip for young fans of the TV show or the picture book series by Katharine Holabird.
Laurie Berkner's Pillowland — Tribeca
Select Sundays, October 7 through January 27, 2019
Ages 2 to 5
New York City Children's Theater debuts an interactive show for the sippy-cup set inspired by the hit song "Pillowland" by preschool rock goddess Laurie Berkner. Like many of us, Stanley has difficulty drifting off to sleep. But when he receives an invitation to visit the Kingdom of Pillowland, he sets off on an amazing journey with his pals—and you! Kids remove their shoes and sit on the floor so they can fully participate in this adventure from the company that produced last year's hit Please Bring Balloons.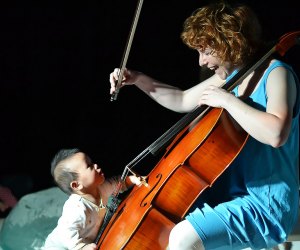 Rain offers multisensory fun for babies at LC Kids. Photo courtesy of Drop Bear Theater
Rain — Lincoln Square
Wednesday, October 10 through Sunday, October 14
Ages infant to 18 months
LC Kids presents a multisensory experience for babies who can't yet walk (sorry, no toddlers allowed). Infants explore the magic of rain through touch, sight, and sound with a trio of musicians serving as guides. An ideal first-time show for tots!.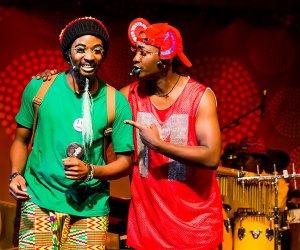 Tinga Tinga Tales — the Musical comes to the New Victory Theater. Photo courtesy of Tinga Rain Productions
Tinga Tinga Tales — the Musical — Midtown West
Saturday, October 13-Saturday, October 20
Ages 4 to 7
Inspired by the international TV series of the same name, this musical from Kenya brings African folktales and songs to the stage. Lion, Monkey, Elephant, and their pals encourage kids to dance and croon along as they make their way to the Festival of Colors. The whole herd's invited—even the humans in the New Victory Theater audience.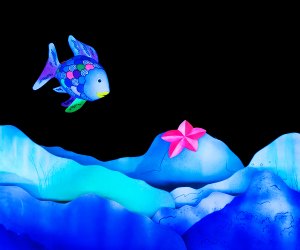 Mermaid Theater of Nova Scotia's The Rainbow Fish swims into Symphony Space. Photo courtesy of Mermaid Theatre of Nova Scotia

The Rainbow Fish — Upper West Side
Saturday, October 20
Ages 2 to 8
Marcus Pfister's classic picture book comes alive courtesy of the Mermaid Theatre of Nova Scotia, which is known for its mesmerizing glow-in-the-dark puppetry. In an effort to make friends, a colorful fish gives one of his fabulous scales to every creature he meets as he explores the sea. An amazing message delivered in an eye-popping package at Symphony Space.
James and the Giant Peach — Chelsea
Saturday, October 20 through Sunday, November 11
Ages 5 and older
Did you know that the songwriters behind Dear Evan Hansen, La La Land, and The Greatest Showman wrote a James and the Giant Peach musical? Well, you do now! One of the best family theaters in town, Atlantic for Kids, mounts this Pasek and Paul tuner based on Roald Dahl's fantastical children's book about a boy who befriends a group of oversize insects living in a massive fruit. Together they go on a global adventure that, ironically, lands the giant peach in the Big Apple.

Spicy Circus takes center stage at the Big Apple Circus. Photo courtesy of Spicy Circus
Big Apple Circus — Lincoln Square
Saturday, October 20 through Sunday, January 27, 2019
Ages 2 and up
Our hometown's homegrown circus returns for its 41st season with a feminist bent. There's the fierce new ringmaster, Stephanie Monseu of the Bindlestiff Family Cirkus, plus lots of female-driven acts including old favorite Jenny Vidbel and her diverse menagerie of trained animals; iron woman Virginia Tuells and her husband Ihosvanys Perez; Andréanne Quintal's Spicy Circus trampoline extravaganza; and aerial straps duo Desire of Flight. Now that's girl power in action—literally.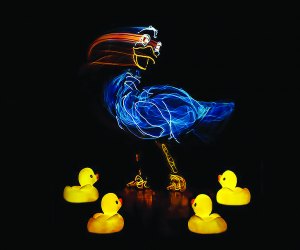 Lightwire Theater's take on The Ugly Duckling lights up the Queens Theatre. Photo courtesy of Lightwire Theater
The Ugly Duckling — Corona
Sunday, October 21
Ages 5 to 10
Lightwire Theater is behind this high-tech fairy tale, which features illuminated puppets and props that seem to float across the stage without assistance. If you're an America's Got Talent fan, you probably saw the company make it to the finals a few seasons back. Their visuals are sure to impress live on stage at the Queens Theatre.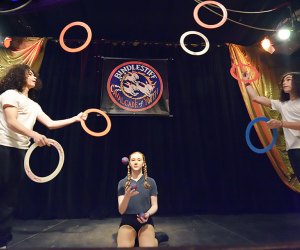 The Bindlestiff Cavalcade of Youth performs at Coney Island. Photo by Norman Blake
Bindlestiff Cavalcade of Youth — Coney Island
Sunday, October 21
Ages 3 and older
Kids can run away and join the circus (or just watch) at the Bindlestiff Family Cirkus' biannual youth variety show at Coney Island USA. All of the performers in this one-day-only showcase are younger than age 21 and perform a variety of feats, including juggling, hula hooping, tumbling, clowning, plate spinning, and even snake charming. Is your child more interested in being in the spotlight than sitting on the sidelines? Find out how your kid can apply to be part of the show.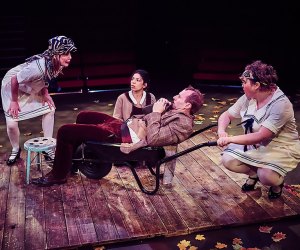 Beauty and the Beast comes to the New Victory Theater. Photo by Mark Dawson
Beauty and the Beast — Midtown West
Friday, October 26 through Sunday, November 11
Ages 6 and older
The French fable gets a theatrical makeover at the New Victory Theater, as six performer-musicians tell the romantic tale through accordion-heavy songs and glorious slapstick. A playful and fresh take on a familiar classic. An Autism-Friendly performance is offered.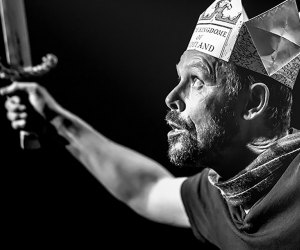 Is This a Dagger? The Story of Macbeth schools tweens in Shakespeare at LC Kids. Photo by Sandy Butler
Is This a Dagger? The Story of Macbeth — Lincoln Square
Saturday, October 27 and Sunday, October 28
Ages 8 and older
Introduce your school-age kids to the Bard's tragedy at LC Kids with this celebrated solo show by Scottish storyteller Andy Cannon, who plays all the parts and adjusts the language and bloody acts for his young audience. Hey, you're never too young (or old) to brush up your Shakespeare. Autism-Friendly performances are offered.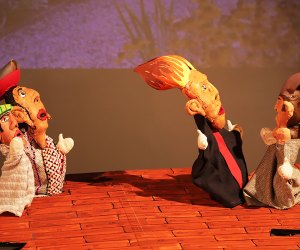 Don Quixote Takes New York resets the tale in the Big Apple. Photo by Theo Cote
Don Quixote Takes New York — East Village
Saturday, November 10 and Sunday, November 11
Ages 4 and older
Miguel de Cervantes' iconic tale gets a funky family-friendly makeover at La MaMa Kids as Don Quixote and his pal Sancho Panza wander the five boroughs on a quest to save humanity from the evil forces of the Orange Knight. Subtle it's not, but oversize puppets, fanciful dances, and toe-tapping music keep the tone light as kids (and parents!) are reminded that no dream is impossible and no fear insurmountable.
The Little Prince — Tribeca
Saturday, November 10 through Sunday, November 18
Ages 6 and older
Antoine de Saint-Exupéry's children's novella about the intergalactic friendship between an aviator and a young royal comes to the stage courtesy of Epic Players, a neuro-inclusive theater company that includes performers on the autism spectrum. It's a wonderful story about looking at the world through a different lens, told by a troupe that does just that.
Sleepover — Chelsea
Friday, November 16 through Sunday, December 2
Ages 5 and older
TADA! Youth Theater's musical chronicles the G-rated adventures of a group of girls when the boys crash their slumber party. It's very sweet and a bit silly, and perfect for short attention spans since it's just under an hour. While there's nothing objectionable for younger kids, children who are old enough to have gone on sleepovers (and understand their pitfalls and politics, like who gets invited) will enjoy it most. As with all TADA! productions, Sleepover stars talented NYC-area tykes ages 8 to 18.
Under the Tree — Park Slope
Saturday, November 17
Ages 2 to 5
The Brooklyn-based Spellbound Theatre specializes in immersive shows for the under-five set featuring puppets, performers, and multimedia elements. In this interactive tale at the Old Stone House, a young girl leaves her stressful everyday life to explore the wonders of her own backyard.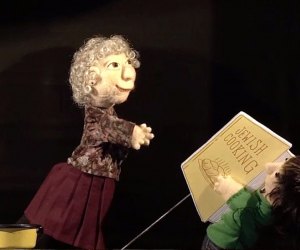 Chicken Soup, Chicken Soup is based on the popular picture book. Photos by @WonderSpark
Chicken Soup, Chicken Soup — East Village
Saturday, November 17 and Sunday, November 18
Ages 4 and older
Based on the picture book of the same name, this puppet show at La MaMa Kids involves two ladies—one Jewish, the other Chinese—who teach their grandchildren about their respective cultures through cooking. A charming story that reflects our city's melting pot.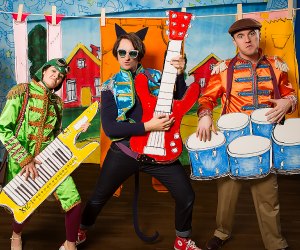 See Pete the Cat shake up his owners' lives at the Tribeca Performing Arts Center. Photo by Jeremy Daniel
Pete the Cat — Tribeca
Saturday, November 24 and Sunday, November 25
Ages 3 to 8
TheaterWorksUSA brings back its hit musicalization of the popular picture book series about a funky feline who shakes up his new owners' lives—for the better, of course. Read our full review for additional details.
That Inventions Show — Midtown West
Select dates through Sunday, December 15
Ages 6 and older
The producers of That Physics Show and That Chemistry Show are behind this new STEM-themed spectacle hosted by Denny Daniel, the exuberant curator of the Museum of Interesting Things. My daughter and I have seen Daniel's act and perused his antiques objects at Maker Faire. I'm thrilled he's getting an interactive platform to show off his inspiring collection.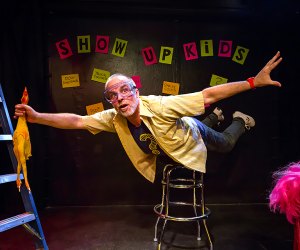 Show Up, Kids! is improvisational theater at its best. Photo by Mikiodo
Show Up, Kids! — East Village
Through Sunday, December 23
Ages 3 to 10
Improviser Peter Michael Marino devises an hourlong comedy on the spot just for kids! But he can't do it without your help. My tween and I saw and loved the adult version of Marino's award-winning autobiographical solo show, which turns the genre on its head by making it about the spectators, too. This family edition was a sellout in NYC last spring and at the Edinburgh Festival Fringe over the summer. Now Marino returns stateside with this singular experience that's completely different at every performance. It all depends on you!