Blue Man Group: A Parent Review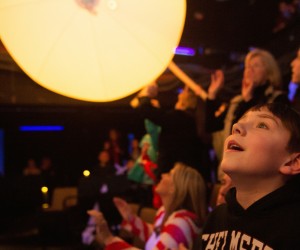 Going to the Blue Man Group performance was the most fun my family has had in ages, and that's really saying something, because we've been doing whole lot of fun springtime activities in Boston lately. During the Blue Man Group show, we laughed until we were blue in the face (ha) and a week later, my kids haven't stopped talking about how cool it was. Keep reading to find out why we think Blue Man Group is a winner, plus what to expect if you decide to go, things to be aware of when taking your kids, and a few bonus tips.
Although we'd heard the Blue Man Group was a must-see show and we've seen the Blue Man Group exhibit at the Boston Children's Museum, I had never taken the kids because I thought they were too young. Turns out, I was absolutely right to wait until the kids were tweens, but it was well worth the wait.
Kids under the age of five aren't allowed, but that doesn't necessarily mean you should take your six-year-old, either. To really get the comedy, kids should be independent readers and old enough to understand satire. However, be forewarned: The downside to bringing kids old enough to understand most of the humor is that they understand most of the humor – including innuendo. For example, after the audience tossed giant glowing balls around the theater, there was an announcement informing us that the Blue Man Group's balls must be returned, even though they know how much we like to touch them. It went on for a bit like that, and I gave my eleven-year-old a sideways glance, thinking, "I know you know all about the birds and the bees, but I hope you don't quite get how inappropriate this is." She gave me a look that said, "I know all about the birds and the bees, and OMG, I can't believe they're saying those super inappropriate things."
That said, the Blue Man Group production staff goes out of its way to welcome families and make kids comfortable. They offer kid-friendly snacks for sale at the bar and there's a cool new interactive light and sound installation called the LOUNGE-U-LUM in the lounge for kids (and adults) to play before and after the show. When we entered the theater, the ushers offered us booster seats and earplugs, and we took both. We didn't need the earplugs – there were only a couple of times when things got loud – but my kids liked having them "just in case" and appreciated the height advantage the seats gave them.The dance party in the theater, with giant rolls of toilet paper (actually crepe paper), spinning pool noodles, and giant glowing balls, is fun for any age.
By design, the show is difficult to characterize, but I'll give it a try: The Blue Man Group show is like being at a party you've always wished you'd been invited to. Wrapped up into a performance there is a sense of camaraderie and community, people to laugh with and to laugh at, food throwing, great music (the band is rockin'), dancing, cool lighting, and just the right amount of irreverence. Best of all, the Blue Man Group is all kinds of funny. Gross-out gags and slapstick comedy are balanced by more nuanced wit and social commentary.
Kudos to the Blue Man Group and the entire staff and crew – they've truly created something unique and wholly entertaining. While we were in the theater, I didn't think about work or the piles of laundry sitting at home. I was completely immersed in the Blue Man world, waiting to see what they would do next. Also, as a mom who is constantly cleaning up after my kids' experiments and antics, I want to give special props to the clean up crew for a huge job well done.
---
Tara's Tips:
The theater is fairly small and intimate. Choose your seats according to the kind of experience you want to have. If you want to play catch with a Blue Man using a blob of Jello or want one of the performers to climb over your chair, choose the seats front and center. If you prefer the show to be less interactive, sit in the back or in the balcony.
If sensory issues are a consideration for your child, go for the balcony seats. You're not likely to get wet from paint or projectile food, the Blue Men won't get close, and you're further removed from the noise. A word of warning: There are strobe lights for a few minutes at the end of the show, and even sitting in the balcony won't temper their effect.
There is street parking on Tremont and Tremont, across from Wang YMCA. Once you park, just cut right through the playground to get to the theater. If you don't snag a spot, there's also validated $10 parking at the Stuart Street Garage on weekends and after 4 pm weekdays.
Warning to owners of small bladders: The bathrooms are small and are not particularly easy to get to. And the 1 hour and 40 minute show has no intermission. The good news: Funny potty songs are playing while you tinkle.
You do not want to arrive late to the show. Trust me on this one.
The lounge houses a bar with soda and snacks, plus tables. You are allowed to take the food in to the theater (it would be kind-of hypocritical of them not to allow it).
Stick around after the show for a meet & greet and photo opps with the Blue Man Group cast and the band.
If you want to play the LOUNGE-U-LUM, get to the theater very early or stay until everyone clears out after the show. We arrived 45 minutes before the show, but the lounge was so crowded we couldn't get anywhere near the installation.
Want to be the coolest parent around? Take your kids during April Vacation Week. Blue Man Group is offering lots of extras and special events like face painting, athlete meet and greets, and free eats for kids at a nearby restaurant. Check our Events Calendar for details.
---
Blue Man Group at the Charles Playhouse | 74 Warrenton Street, Boston, MA 02116 | Box Office: (800) BLUEMAN
Photos courtesy of Blue Man Group Productions