Prince Tea House Arrives in Astoria for Fancy Family Eats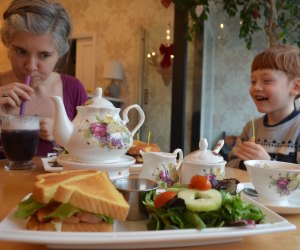 For the past few years, Astoria has been at the forefront of culinary trends. You can eat around the world, from Columbia and Hawaii to Egypt and Germany. But there are a few things that Astoria still hasn't pegged yet – really good pizza, really good Chinese food, and a really good tea spot. You can finally at least cross that last one off the list.
Prince Tea House soft-opened its doors on Steinway Street in September 2017 and officially took off in November. My family and I can't say no to teatime and had to pay a visit on a perfectly chilly and dreary afternoon.
Read on hear about our experience and what you need to know before you go with the kids.

The tea menu is pages long, but I went for a solid, comforting pot of English breakfast.
We were immediately greeted by a friendly server and given a cozy seat by the window. No wait during a weekday afternoon, though I am told weekend brunch can be busy. The décor is bright and airy. Pretty but not saccharin. The tea menu is expansive, filled not only with hot options served in cute pots, but also a delectable array of iced teas and slushes.
Slushes, you say? Yes. Prince Tea House is in the fashion of Asian-Colonial tea houses that you'll find very popular in Flushing, which means on top of the traditional offerings of Earl Grey and English breakfast, there will also be options like Oolong, durian crepes, fresh fruit-topped waffles, and red bean ice cream. We tried everything from the smoked salmon and chicken katsu sandwiches to the waffles and trio dessert platters. Everything was delicious and fresh, although a bit of a wait from the kitchen.
RELATED: Best of Astoria with Kids: Play Spaces and Indoor Attractions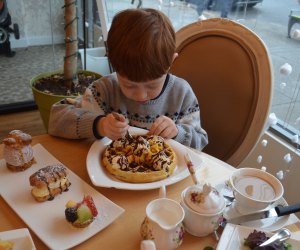 My son was crazy for the freshly made waffle with choice of toppings: Nutella, mango and whipped cream.
What the location does not have is a traditional high-tea tower (sandwiches/scones/desserts) that we here in NYC are so used to ordering. But we made it work with our own a la carte choices. Our server was incredibly informed about the menu and made recommendations. My 5-year-old was not let down by his waffle with Nutella, mango, and whipped cream (his invention).
Pots of tea hold about 4 cups and run under $8. The potted-foam lavender green tea that my friend ordered was about $4.75. A majority of sweets and savories ran in the $4–$8 range, making this an affordable meal for four (except for the fact that we ordered so much!).
RELATED: Tea and Treats at Flushing's Rose House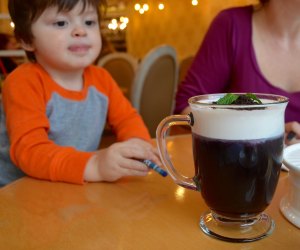 The potted-foam lavender green tea looks like a potted plant, topped with slightly savory-sweet cream-cheese foam and crushed Oreos.
The one thing missing from this family meal was a high chair. My toddler was fine in the booth, but I would think other families might need one and there didn't seem to be any present. There are also no changing tables as of yet. Being new to Astoria, I hope that Prince Tea House transitions to make its eatery a little more baby-friendly. Otherwise, it was a delight to visit.
This place makes for a great princess party, a mommy meet-up, a baby shower, or a date night (it's open until midnight!). My son is already talking about our next teatime.
Prince Tea House is located at 31-47 Steinway Street. The closest trains are the R and M trains at the Steinway Station one block away. The Q101 bus stops just a half block away.
All photos by the author