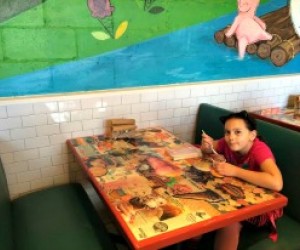 10 Family-Friendly Restaurants in Gowanus Where Kids Can Enjoy Pickles, Pastries, Pie & Artisanal Ice Cream
Our series of posts about Gowanus, Brooklyn ends with a roundup of kid-friendly restaurants in the area. Although Gowanus may not be the family foodie haven that is Park Slope, as more parents move into the neighborhood, new eateries are popping up to meet the demand. These mostly locally owned restaurants and cafes make the most of their transformed industrial spaces. Meanwhile, longtime old-school Italian staple Two Tom Restaurant offers the same hearty Italian eats it's been been serving up for decades.

Here are our top 8 places to eat with kids in Gowanus.
Whole Foods Market
214 3rd Street at Third Avenue
With ample open seating outside and inside on two levels, plus the casual table-service restaurant The Roof on the second floor, Whole Foods offers lots of dining choices for families. The Roof serves seasonal salads and sandwiches, and less healthy but scrumptious options like its mac 'n' cheese served in skillet and topped with buttery bread crumbs. For a more casual and quick bite, grab prepared foods to go and eat at the tables indoors and outside. The small indoor play area on the second floor means parents can eat in peace while their kids are occupied.

Dinosaur Bar-B-Que
604 Union Street between Third and Fourth Avenues
Huge is the word that comes to mind when talking about the Brooklyn outpost of this super-popular barbecue chain. Converted from an old warehouse (surprise!), the restaurant retains an industrial feel with a large dining space with both indoor and outdoor seating. The offerings are meat heavy and there's a decent kids' menu with sliders, fries, and mac 'n' cheese. Extensive gluten-free options are also available. The wait time here is often long, so arrive early or book a table if you can.

The Bahche​
NOTE: This location has closed.
191 7th Street between Second and Third Avenues
This Mediterranean restaurant is uniquely designed. Tucked behind two large brick archways lies a large outdoor patio with a faux facade that looks like an old Mediterranean village. The inside is spacious with a second floor loft area that overlooks the main dining floor. In addition to tables, there are also comfy couches. My family loves its Sunday brunch buffet, which includes traditional American options (pancakes, eggs) and Mediterranean staples (fried cheese, tabouleh, hummus). It's a great way to get children to try different things. Bonus: There's a small kids' room at the front with a few toys that's good for preschoolers.

Runner & Stone
285 Third Avenue between Caroll and President Streets
To be honest, this small and beautiful cafe is a bit too sophisticated for my two energetic young children, but what a delicious place to eat! While full-service lunch, dinner and brunch menus are offered, the space is casual so you'll find lots of folks lingering and working on their laptops while they enjoy freshly made baked goods, pasta and sandwiches. If your kids are too young to hang here, pop in to pick up homemade croissants and breads, and then feast in nearby Thomas Greene playground, which has lots of benches.

Station Cafe
224 Fourth Avenue near Union Street
Classic diner goodness with a large, anything you could possibly want menu. The food won't wow you but it hits the spot. And since it opens at 7am (parents of early risers rejoice!) and has a friendly staff and quick service, it's great for families.

Pizza Cotta Bene
291 Third Avenue at Carroll Street
Located a few doors down from Brooklyn Robot Foundry, this pizzeria has ample seating and a pleasant staff. It offers slices and great pasta selections, all made with fresh ingredients. Gluten-free pies are also available.

Two Tom Restaurant
255 Third Avenue near Union Street
When you walk into this majorly old-school Italian eatery, you'll think you stepped through a time warp. Family owned and operated since the 1950s, Two Tom has wood paneling on the walls, lots of retro photos and is only open for dinner Tuesdays through Saturdays. The menu overflows with classic homemade ethnic dishes like steaks, pork chops, baked clams, shrimp scampi and pasta, and the portions are generous. Great for large groups.

Four & Twenty Blackbirds
439 Third Avenue near 8th Street
Good luck ordering just one slice at this warm and cozy pie shop. The space is small and simple, with mismatched wooden tables and chairs. Although the vibe is quiet I've never felt like my kids were disturbing the peace. And if your worried about them getting a sugar rush, Powerplay's drop-in indoor play space is directly across the street.

Ample Hills Creamery
305 Nevins Street at Union Street
We raved about this Gowanus ice cream parlor when it opened and with good reason: With two stories and 20-plus flavors, it's a true dessert destination. All of the ice cream is made on-site from fresh ingredients and children can even watch the sweet stuff being made through a window. In addition to booths and stools, there's a small toy area for kids, and a roof deck with patio furniture and lounge chairs.

Read all of our posts about exploring Gowanus, Brooklyn with kids.