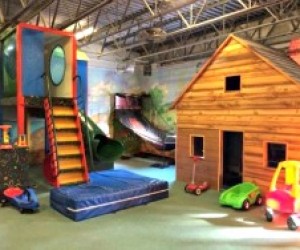 Places to Play in Gowanus: Parks, Drop-in Play Spaces, Rock Climbing & Robots
We continue our series of posts on Gowanus with a roundup of places to play in the area, both indoors and outside. While this historically industrial neighborhood has only one major green space, Thomas Greene Playground, there are many drop-in indoor play spots, from traditional kiddie gyms to more offbeat rock climbing and robot havens. Here are our top 9 places to play with kids in Gowanus, Brooklyn.
Outdoor Play
Thomas Greene Playground
Third Avenue to Nevins Street between Degraw and Douglass Streets
At just two-and-a-half acres, Gowanus' largest park is still pretty small, especially when compared with all the big green spaces in neighboring Park Slope. However, Thomas Greene Playground has an active community org dedicated to maintaining and improving its basketball and handball courts, plentiful benches and picnic tables, and standard playground featuring open space for scooting and cycling. The park's most popular attraction is its outdoor Douglass-Degraw Pool, which is open in summer. Called the Double D Pool by locals, it is only three feet deep and has a smaller wading pool for wee ones.

Nicholas Naquan Heyward Jr. Park
Wyckoff Street between Hoyt and Bond Streets
Also known as Gowanus Playground, this modest romping spot on the border of Boerum Hill features separate play structures for older children and toddlers, plus a good number of big and little kid swings. The parks' mature trees offer much needed shade in summer.

Whole Foods Market
214 3rd Street at Third Avenue
The Gowanus branch of this supermarket opened to great fanfare in 2013 and it's much more than a place to buy groceries. Outside the building, there's a wide walkway along the canal, which is a great place for running and climbing on rocks. There are also plentiful tables and benches if you want to grab a bite alfresco. Meanwhile, there's also a small indoor play space on the second floor right next to an open area with tables. Tots can play with large building blocks, picture books and a couple of toys. Mind you, kids cannot go truly wild in this space but it keeps tykes busy. A few words of warning: The play area gets busy, fast, and there are no age restrictions, so your baby may end up in there with a five-year-old. Supervising your kids here is a must.

Ennis Playground
11th to 12th Streets between Second and Third Avenues
Surrounded by busy industrial warehouses and workshops, this small playground offers one moderate-sized play structure and is usually empty due to its location. It works as a nice quiet spot for families with toddlers who don't want to deal with big kid energy.
Drop-in Indoor Play
Powerplay
432 Third Avenue between 7th and 8th Streets
In addition to offering classes in gymnastics, cheerleading and rock climbing, this kids' gym has a great playroom for children under age 7, with toddler toys, push cars, a wooden clubhouse, a play structure complete with tunnels and slides, and a large sandbox. Open play is offered on weekdays and some weekends, but be sure to call 718-369-9880 before you pop by as it sometimes closes for private parties.

Brooklyn Boulders
575 Degraw Street near Third Avenue
We raved about this family-friendly indoor rock climbing gym when we visited a few years back. In addition to after-school programs and camps, Brooklyn Boulders offers weekend family climbs. There's a kids' wall appropriate for children ages 5-12, and more advanced attractions for teens and adults.

Brooklyn Robot Foundry
303 Third Avenue between 1st and Carroll Streets
My son loves this robot-making studio, both due to its creative hands-on activities and lovely staff. The Foundry offers open play sessions during the summer, and one-off weekend classes for children ages 4 to 11 the rest of the year. Just be sure to register beforehand as they usually sell out.

Homage Skateboard Academy
615 Degraw Street between Third and Fourth Avenues
Although this small indoor skate park doesn't offer open skateboard times, you can sign up for one-off private lessons or day-of programs.

Coming soon: The Rock and Roll Playhouse
280 Bond Street between Degraw and Sackett Streets
Still under construction, this soon-to-open play space will offer music classes and playtime, plus a full-service family-friendly restaurant run by Blue Ribbon. During the warmer months, kids can play in its grassy outdoor area with large blue Imagination Playground-style blocks. Though the opening date has not yet been set, you can sign up for The Rock and Roll Playhouse's email list so you'll be among the first to know.