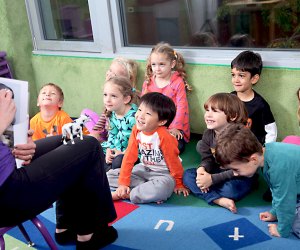 Popular Upper West Side Preschools (and How to Know Which One Is Best for You)
Gearing up for the great preschool hunt? In neighborhoods like the Upper West Side where preschool spots are in high demand, some preschools may require you to send your application in September the year before your child will enroll, after which you'll be invited to visit and confirm your interest in the school (some have early admissions and wait lists!), with final acceptance letters going out in February or March. If that sounds unsettlingly like college admissions to you, you're not alone.
But never fear. The Upper West Side is home to a lot of great preschools, and your odds of finding a comfortable fit for your family are excellent. We've compiled our best Preschool Admissions Tips as well as 10 Questions to Ask During a Preschool Tour, and don't forget that our Preschools Directory is an excellent resource. And to start your preschool search on the right foot, we've highlighted some of our favorite preschools in the Upper West Side and broken them down into categories to help you decide which may be best for your family. Good luck!
A quick overview of the preschool categories below: A traditional preschool follows the NYC public school calendar and runs from September to June, with a curriculum that reflects that school's unique educational mission; a year-round school is similar but is in session over the summer months as well. Co-op preschools require parents to commit some of their own time to school administration, management, and/or activities. Reggio Emilia and Montessori preschools are both focused on child-directed learning, but you may find you prefer teachers who consider themselves "guides" en route to making the child independent (the Montessori approach), or you may be drawn to Reggio's emphasis on communication and documentation. Home-based preschools are run out of a home-like environment, rather than a school, and tend to have small classes and an intimate approach. If your family is interested in religious or dual language preschool instruction, we've also listed a selection of those. Remember that some schools fit multiple categories (co-op and Reggio, for example, like Family Annex).